I will be editing and uploading my draft review either tonight or tomorrow. My apologies for the delay.
In the meantime some Dragons news, the team have signed a second 2-gun hitting-coach for the first time since the Shigekazu Mori regime. The only disappointment perhaps is that it is yet another retread. Yoshinori Ueda, who was part of the Dragons staff between 2009-2015 has been installed as a former left-handed hitting player to coach our hitters along.
Ueda has a long career in coaching. After he left the Dragons in 2015 he joined Alex Ramirez's staff at the Yokohama DeNA Baystars. After Daisuke Miura cleaned house, Ueda moved on to the Hokkaido Nippon Ham Fighters for two years before arriving back in Nagoya. Looks good on paper right? An experienced coach with connection and exposure to other teams? I would have thought so. But hang on, what was his position in these teams again? Base-running and outfield defence coach. Oh. Despite hitting being the biggest issue for the Dragons in recent years, they are bringing in a coach who has zero experience actually coaching players how to hit. Now, this is not to say that he doesn't have some nous when it comes to coaching hitters, but, so far, he has no experience doing so.
Ueda's hiring reeks of more incestuous in-house hiring. While Ueda comes from another team, he still has the Dragons connection as a player and former coach. The Dragons love doing this but it severely limits the pool of ideas and reinforces the power structures in place. If you're used to the Dragons way, you're less likely to question it. A guy like Norihiro Nakamura was a bit of a mercenary and has always been a free thinker, so I'd like to take him away from this conversation, but by and large, particularly for the farm team, the Dragons like to hire from within. Kazuhiro Wada's hiring is just another example in a long line of coaching decisions made for seemingly sentimental reasons. I don't think Wada will be a bad coach per se, but I disagree with the logic of the search conditions.
Out of the current staff members, it is only Shuji Nishiyama, Atsushi Kataoka and Yutaka Nakamura who had no previous Dragons affiliation before joining the team. In a similar vein to drafting local talents, there seems to be a very insular culture at the Dragons. The 2022 draft disproved this somewhat as, for the first time in a very long time, the Dragons did not draft anyone in their immediate catchment area. However, the staff recruiting policy seems to remain the same. The first box that apparently needs to be ticked is "Played for Dragons". I don't know if this is done as a way to maintain some form of uniformity in the ranks or if it's to ensure some kind of loyalty in spite of poor decision making. We'll possibly never no. The Dragons are of course not the only team to hire their own, but I feel it is done to such an extreme degree in with Chunichi that the team seem to be afraid of outside influence. Ironically, the longer this goes on the worse it is going to get. The connections coaches and players have will be limited to players and coaches that have always been with the Dragons. The fact the team don't chase after free agents from other teams only further impacts this. Add in the fact that the team rarely go after polished international signings as well and the influence of outside ideas really is waning.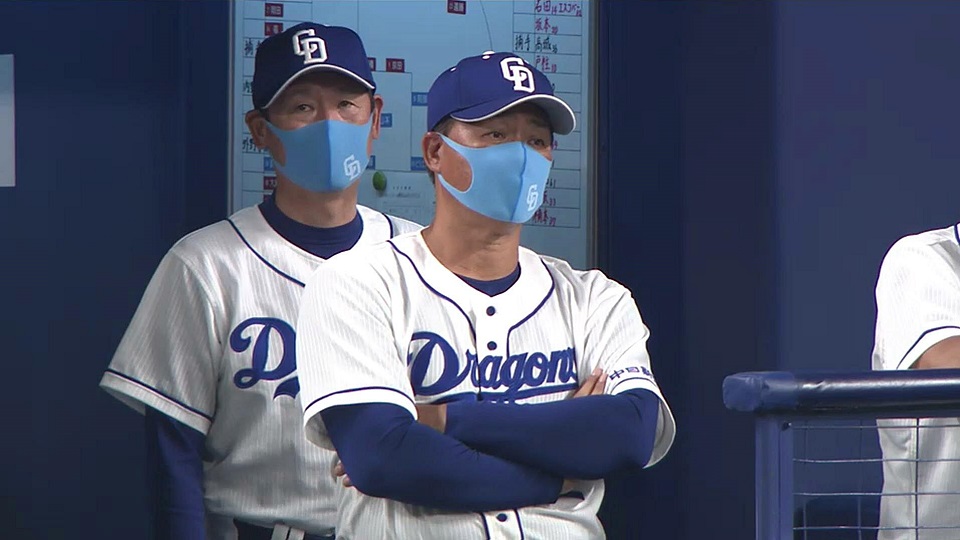 Awano was a big part of revolutionising Dragons' pitcher management.
I understand that managers will often look to old classmates from university and the like as well to bring in new faces. Yoda did this with Hideyuki Awano. Awano brought with him former Hankyu team-mate Motoyuki Akahori and together the trio created one of the most formidable pitching staffs in Japan. The same could not be said for Takayuki Murakami however as he seemed to fail to make an impact on the team's hitting. Unfortunately, beyond this, many of the others of Yoda's staff were made up of former Dragons.
We must therefore respect Hiromitsu Ochiai's personnel selections. Ochiai went out of his way to hire coaches who had nothing to do with the Dragons. Ochiai was responsible for bringing in Shigekazu Mori and Hatsuhiko Suji from the Lions. Of the 2006 staff, Shinji Hata was brought in out of the blue after a failed coaching stint at the Marines. Seiji Kobayashi was picked up out of the blue. Hideki Takayanagi was brought in from the Hawks via the Marines. Shinji Hara had been coaching in Taiwan before being brought into the Dragons fold. Naoyuki Kazuoka, now still coaching with Orix, was a Tigers coach before his tenure. While there are plenty of coaches who previously had either playing or coaching experience with the Dragons before Ochiai appointed them, it is clear that Ochiai was a man with connections that wasn't afraid to go beyond the Dragons pool.
Perhaps it is too much to ask of a manager like Tatsunami who spent his entire career at the Dragons. You would perhaps think that the connections he made during his professional career as a representative of his team, frequent all-star and Meikyuikai member would have yielded slightly better appointments. This is not to mention the various ex-baseball people he would have met in the close to 15 years he had as an analyst.
This turned into a rant very quickly, however I think Ueda's appointment once again falls within the realms of imagination and is overall a disappointing choice. Given the issues that the Dragons have in developing hitters, it is suicidally irresponsible to not address this with a stronger move. While this would have been a first-team appointment, Takuro Ishii, one of the highest regarded hitting coaches in NPB was available last year. He joined Daisuke Miura's backroom at the Baystars. Surely however, this is the kind of appointment that needs to be considered if the team are to get back on the right track. Maybe luck or connection wasn't their with Ishii, but surely there are a bevy of other candidates.
The appointment of Ueda is yet further evidence of a team lacking ambition and leadership. If the rumour is true that certain former players are avoiding coaching for the Dragons because they see it as a sinking ship, then I can't see how the ship is going to righted. In saying all this, I don't know how Ueda will perform as a hitting coach. He could be ready to take on the challenge and be excellent at his job. Who knows; we will have to wait and see. As usual however, I will maintain my skepticism.