As many of you are aware, it is the end of an era. For Japan watchers, it is the end of the reign of the Heisei Emperor. The Emperor, Akihito, will be abdicating at the end of April to make way for his son, Naruhito who will become the Reiwa Emperor, ushering in a new era and, perhaps the most impacting of all, a different way for people to learn how to write the date. Japan still uses the Emperor year for a lot of official documents and historically, it breaks things up to allow for all kind of retrospectives.
People wax lyrical about the "good times" of the Showa era [1925-1988] (not
that
part of it, the other part) while there's been much discussion of the carefree attitude of those born in the Heisei era [1989-2019]. Whatever the case may be, it's a lazy excuse to run off articles that are book-ended by each era, so here I am capitalizing on the same. Here, I'm hoping to give you my thoughts on the most memorable and successful Dragons of the Heisei era. This has been done by local broadcasters, but I disagreed with far too much of it, so here are my thoughts.
To make my analysis a bit easier, I'll only be talking about the players and the impact they made at the Dragons during the Heisei era meaning that I'll be cutting any stats from other leagues, teams or years. The years they were with the team will remain the same. The stats and awards indicated with the players are those achieved only during the Heisei era.
Motonobu Tanishige [2002-2015]
Catcher
Name:
谷繁元信
Birthdate:
21st December 1970
Birthplace:
Shobara, Hiroshima Prefecture
Alma Mater(s):
Gonogawa High School, Taiyo Whales/Yokohama Baystars
Draft Pick:
#1 - 1988 (Taiyo Whales)
Games Played:
1604
Hits:
1106
Homeruns:
126
Runners caught stealing:
601 (.368)
Awards:
* Golden Glove x 5 ( 2006, 2007, 2009, 2011, 2012)
* Most Valuable battery x 3 (2004 & 2006 with Kenshin Kawakami, 2011 with Kazuki Yoshimi)
* Japan Series MVP x 1 (2004)
* All-Star x 6 (
2002、2005、2007、2012-2014)
The easy thing about deciding on a catcher for the era is that there are really only two candidates, now battery coach, Takeshi Nakamura and former manager, Motonobu Tanishige. As much as Nakamura contributed to some of the great teams of the early 90s including helping Shinji Imanaka and Masahiro Yamamoto to Sawamura Awards (as well as Shigeki Noguchi's MVP), I've decided to go with Tanishige.
To keep things simple, Tanishige brought together a pitching staff and helped his team to a number of pennants as well as the 2007 Japan Series. His relationship with staff ace, Kenshin Kawakami is perhaps one of the biggest success stories but the fact of the matter is that he was a standard behind the dish for over a decade during the Dragons most successful era in their history.
Hiromitsu Ochiai [1987-1993]
First Base
Name: 落合博満
Birthdate:
9th December 1953
Birthplace:
Oga, Akita Prefecture
Alma Mater(s):
Akita Commercial High School, Toyo University (drop-out), Toshiba Fuchu, Lotte Orions, Yomiuri Giants, Nippon Ham Fighters
Draft Pick:
3rd - 1978 (Lotte Orions)
Games Played:
608
Hits:
638
Homeruns:
150
OPS
1.000
Awards:
* Homerun King x 2 (1990-1991)
* Best Nine x 3 (1989-1991)
* RBI Leader (1989-1990)
* All-Star x 4 (1989-1991, 1993)
First-base is always hard to get your head around when coming up with a best player for the position as it always comes down to guys with a lot of dingers who are fun to watch. Given the 30 year span we have to look at there's been more than a fair share of hard-hitting first basemen to run the rule over; Hiromitsu Ochiai at the beginning of the era, Tai-Feng Chen, Takeshi Yamasaki, Tyrone Woods, Tony Blanco and even Dayan Viciedo deserve to be in the conversation.
Despite the success that Tyrone Woods brought with him and the recency of it, after much analysis and thought, I've selected none other than Hiromitsu Ochiai as the best first baseman of the Heisei era. While he didn't hit dingers with quite as much proficiency as Woods, his OPS is just ridiculous and his oWAR peak and average is higher than Woods (Woods' peak was 5.7 in 2006, Ochiai's 6.6 in 1989). This is perhaps cheating a little bit as Ochiai started at third and shifted to first, but I will count this anyway as it's just as much about overall contribution as it is contribution at one position.
Ochiai came to the Dragons in 4:1 trade where Katsuhiko Ushijima, Seiji Kamikawa, Sadaharu Hiranuma and Shigeru Kuwata all went to the Orions. A big move by then manager, Senichi Hoshino which proved to be a master stroke in capturing the 1988 Central League pennant where Ochiai had a .998 OPS season with 32 home runs. Ochiai would better that the following year as he slammed 40 homers at 1.036 OPS in 1989 where the team unfortunately slumped to third behind the "Red Helmet" Carp and the Giants. Ochiai's best season with the bat for the Dragons would come in 1991 at age 37 where he lead the league in homeruns, walks, slugging, OBP and OPS slashing a line of .340/.473/.682. The Dragons would finish just 3 games behind the Hiroshima Carp that year and that would be the last elite season we'd see from Ochiai.
Ochiai's 1.155 OPS in 1991 is the highest any Dragon has ever achieved in a single season. That alone puts him on a special mantle. Truly one of the best offensive producers of the era, Ochiai goes down as a legend of the Japanese game on his playing career alone...
Kazuyoshi Tatsunami [1988-2009]
Second Base
Name: 立浪和義
Birthdate:
19th August 1969
Birthplace:
Suita, Osaka Prefecture
Alma Mater(s):
PL Gakuen
Draft Pick:
1st - 1987 (Chunichi Dragons)
Games Played:
2476
Hits:
2405
Homeruns:
167
Doubles:
472
OPS
0.768
Awards:
* Best Nine x 2 (1996, 2004)
* Golden Glove x 4 (1995-1997, 2003)
* NPB All-Star x 10 (1991, 1994 - 1998, 2000, 2002-2004)
Second base has had two stalwarts throughout the Heisei era. Masahiro Araki, who slapped hits and stole bases and the NPB doubles king, Kazuyoshi Tatsunami. Araki had a fantastic career and his defensive contributions underscored by his relationship with Hirokazu Ibata made him a very valuable player, however, Tatsunami provided ample talent with the glove to go along with his longevity and the fact you have to have "Mr Dragons II" somewhere in the team.
Tatsunami started his career with the Dragons as a high school rookie out of the famed PL Gakuen baseball program. Senichi Hoshino stood by his man in his rookie year where he played out the season at short-stop in spite of conventional wisdom and the experience Masaru Uno in his way. Tatsunami would capture ROTY honors despite only managing a .223/.317/.310 slash line.
Life would be a bit harder to Tatsunami in 1989 as he only played in 30 games, but from 1990, Tatsunami would capture a spot in the first team and not let go becoming one the Dragons key men for almost two decades. Tatsunami's greenest patch with the bat would come between 1990 and 1998 where he average 3.77 oWAR each season with a peak of 4.5 in 1996 where he capture Golden Glove, Best 9 and All-Star honours after batting .323/.404/.466 including 10 homeruns and a career high 39 doubles. Tatsunami was largely deployed as a lead-off hitter during this span while also spending time in the #3 slot.
A drop-off in defensive ability made it hard for Tatsunami to appear at second base, but following the departure of Leo Gomez, he found time at third-base where he claimed a Golden Glove in 2003 and a Best 9 selection in 2004. With the rise of Masahiko Morino in 2006 and Nori Nakamura in the seasons following, Tatsunami saw his career close out as an effective pinch-hitter helping his team to a Japan series win in 2007.
Tatsunami essentially flew the flag for the Dragons in the Heisei era and rightfully belongs in this list.
Hirokazu Ibata
[1998-2013]
Short-stop
Name: 井端弘和
Birthdate:
12th May 1975
Birthplace:
Kawasaki, Kanagawa Prefecture
Alma Mater(s):
Horikoshi High School, Asia University, Yomiuri Giants
Draft Pick:
5th - 1997 (Chunichi Dragons)
Games Played:
1711
Hits:
1807
Homeruns:
52
Doubles:
258
OPS
0.692
Awards:
* Best 9 x 5 (2002, 2004-2007)
* Golden Glove x 7 (2004-2009, 2012)
* All-Star x 8 (2001, 2002, 2005, 2007-2011)
Short-stop is yet another position that's fairly straight forward when looking at this era of players. Tatsunami played there early in his career, while Kosuke Fukudome, Masahiro Araki, Yusuke Torigoe, Hitoshi Taneda all had bouts at some point of their careers at that tricky defensive position but all for about 2 seasons each on average. In the end, there's only one man that has made the position his own during this era and that is Hirokazu Ibata.
Ibata started his time with the top team in his rookie year where he only saw 60 plate appearances. He was sent to the farm to work on his game before reappearing in 2000 as a pinch-runner and defensive replacement where he appeared in 90 games of the course of the season. In 2001 Ibata became a regular at short-stop playing all games while regularly appearing at second in the line-up behind Kosuke Fukudome and later Masahiro Araki.
Ibata would form part of the formidable defensive pairing with Araki and as part of the one-two punch at the top of the order. Ibata's best offensive year would come in 2005 where he hit .323/.405/.413 helping lead the team to a respectable finish in second behind the Hanshin Tigers. Ibata would have another influential year in 2009 where he would bat .306 and help the Dragons reach another Japan Series through the playoffs. From 2010 Ibata would see more time at second base with Araki at short where he'd often bat 6th in the line-up but otherwise only appeared in 53 games at age 35. He would however take back his place at short and at 2nd in the line-up the following season 3 seasons and although a .284 average (2.9 oWAR) season in 2012 showed something was left in the tank, Ibata started to slump and was ultimately let go by the club to join the Yomiuri Giants at the end of 2014.
Ibata was a fantastic servant in a very important team role for many years, it is a shame that he left the team the way he did considering his years of service (and in hindsight, his replacements weren't that much better) but he will forever live on in Chunichi folklore.
Leonardo Gómez Vélez
[1997-2002]
Third Base
Name: レオ・ゴメス
Birthdate:
2nd March 1966
Birthplace:
Canóvanas, Puerto Rico
Alma Mater(s):
Luis Hernaiz Verone High School, Baltimore Orioles, Chicago Cubs
Draft Pick:
Free Agent (Baltimore Orioles)
Games Played:
660
Hits:
690
Homeruns:
153
OPS
0.914
Awards:
* Best 9 x 2 (1997, 1999)
* All-Star x 1 (2000)
Third base has had it's share of decent players this era. Most recently Nobumasa Fukuda and Shuhei Takahashi have had their names stamped there but for the best of the era the likes of Leo Gomez, Hector Luna, Masahiko Morino and Kazuyoshi Tatsunami have to be considered. Given that Morino's peak was good but not amazing and he flipped around different positions (the same can be said of Tatsunami) I have gone with a
suketto
that time has forgotten in Leo Gomez.
Gomez came to the Dragons in the era where the Dragons actually had money to pull in names. Gomez had 7 seasons in the majors with Orioles and Cubs before he came over to Japan under the invitation of Senichi Hoshino.
Gomez hit the ground running in his rookie season in Japanese baseball, slugging 31 homers at a .915 OPS which would give him his peak oWAR of 5.5. In 1999, Gomez would slug the most homers by any foreign player with the Dragons to that point with 36 combining with 109 RBIs (oWAR 4.6) earning him a place in the Best 9 once more. Of those 36 homeruns, Gomez knocked in 13 against the Giants earning him the adoration of fans.
At the end of 2000, Gomez left the club to spend more time with family, but due to poor form from new imports, Tim Unroe and Ozzie Timmons, he made a comeback mid-way through the 2001 season hitting 19 homers. He would finish his career with a knee injury that limited appearances and saw him play mostly at first base.
During his tenure, Gomez helped the Dragons to 3 x 2nd place finishes in the Central League and was a staple at 4th in the lineup.
This choice is less straight-forward than others with Morino putting forward a strong case between 2008 and 2010 but given that Gomez played more or less exclusively at third, he gets my nod.
Kosuke Fukudome [1999-2007]
Right-field
Name:
福留孝介
Birthdate:
26th April 1977
Birthplace:
Osaki, Kagoshima Prefecture
Alma Mater(s):
PL Gakuen High School, Nihon Seimei BC, Chicago Cubs, Chicago White Sox, Cleveland Indians, Hanshin Tigers
Draft Pick:
1998 - #1 (Chunichi Dragons)
Games Played:
1074
Hits:
1175
Doubles:
264
Homeruns:
192
OPS:
0.928
Awards:
* Central League MVP x 1 (2006)
* Batting Champion x 2 (2002, 2006)
* OBP Leader x 3 (2003, 2005, 2006)
* Best 9 x 3 (2002, 2003, 2006)
* Golden Glove x 4 (2002, 2003, 2005, 2006)
* NPB All-Star x 5 (1999, 2002-2004, 2006)
There's not quite anyone as studly as Kosuke Fukudome was in a Dragons uniform. Elite defense and elite hitting, Fukudome was the archetypal outfielder excelling in every role put before him. Kazuki Inoue and Ryosuke Hirata are about the only other two worthy of mentioning for roles in the Heisei best team, but Fukudome just about ticks every box even for a Dragons best 9 of all time.
Fukudome was signed from Nihon Seimei baseball club at the 1998 draft after he turned down the Buffaloes in 1995 because he wanted to play for either the Dragons or the Giants (Fukudome was a big fan of Tatsunami growing up).
Fukudome spent his first two years as a short-stop before making the successful conversion to the outfield in 2001. Fukudome was a steady contributor batting around .270 with 10 homeruns or so a season before breaking out in 2002 where he capture batting champion honours and his first best 9 and golden glove selections. A slash line of .343/.406/.537 including a league high 42 doubles and 19 homeruns showed that beginning of what the young man could do. He further improved on this in 2003 leading the league in OBP and triples while mashing 34 homers for a 1.005 OPS. 2004 would be an on/off year for Fukudome as he received a call-up for the Summer Olympics as well as breaking his wrist on return to the team.


2005 however would see a return to true form where he lead the league in OBP once more with 28 homers and a slash line of .328/.430/.490. It was to be 2006 however that would be Fukudome's magnum opus in Japanese baseball. In an MVP winning year, Fukudome helped his team to the Central League pennant while whacking an enormous .351/.438/.653 slash line launching 31 homers into the stands with 104 RBIs. Fukudome lead the league in average, OBP, slugging, OPS doubles and runs scored while also having a historical oWAR season, the most of any Dragon in history, at 8.6.
Fukudome would have one more season in a Dragons uniform in 2007 but injury played it's role in slowing him down as his team powered to a Japan Series victory more or less without him. Fukudome would leave as a free agent at the end of the season to sign with MLB's Chicago Cubs.
Perhaps the fan in me is coming out, but Fukudome is one of the best players to throw on a Dragons uniform in my opinion. The things he achieved offensively are off the grid and we were very, very lucky to have him for some of those amazing years.
Alonzo Powell (1992-1997)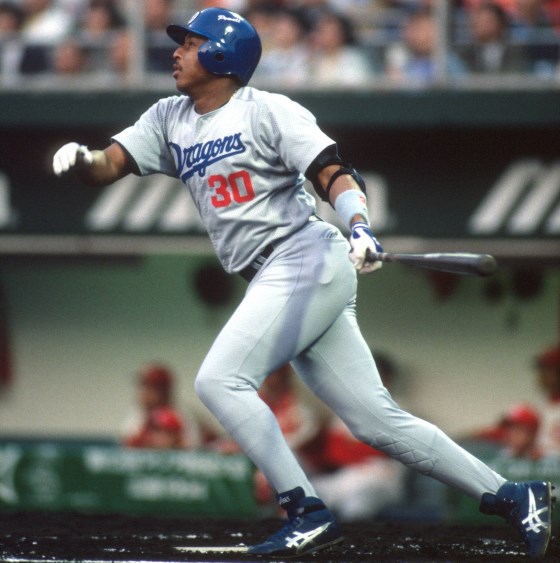 Center field
Name:
アロンゾ・パウエル
Birthdate:
12th December 1964
Birthplace:
San Francisco, California
Alma Mater(s):
Lincoln High School, Montreal Expos, Seattle Mariners, Hanshin Tigers, Newark Bears
Draft Pick:
1989 - Free Agent (San Francisco Giants)
Games Played:
632
Hits:
765
Doubles:
137
Homeruns:
107
OPS
0.888
Awards:
* Batting Champion x 3 (1994-1996)
* Hits Leader x 1 (1996)
* Best 9 x 3 (1993-1996)
* All-Star x 2 (1994, 1996)
To be honest, I'm being a bit of a contrarian here by choosing Alonzo Powell. A lot of people and the Dragons media are going to pick Yohei Oshima. I think on the balance of defense and offense, Oshima has a very strong and compelling case, but given no one had ever won the batting title 3 years in a row before Powell and the fact his offensive production over 6 seasons eclipses what Oshima has achieved in close to 10, I'm going with Powell.
Powell was brought to the Dragons following time spend with Seattle Mariners AAA affiliate, the Calgary Cannons for $350,000. In his first season, Powell had issues with the amount of off-speed pitches thrown in the NPB, but still finished the season batting .308 with and .849 OPS. In 1993, Powell had injury issues but once again passed the amount of plate appearances required to be considered for post season awards hitting doing otherwise quite well in hitting .317 with an improved 0.952 OPS and knocking in 27 homeruns.
It would however be through 1994 to 1996 that Powell would shine as he captured 3 batting titles where he held a 3-year slashline of .339/.395/.538 with 53 homeruns and 212 RBIs and 12.8 oWAR.
Powell had a successful career in Japan mostly as a centre-fielder and my selection here is based on the candle burning brightest rather than longest.
Kazuhiro Wada
[2008-2015]
Left Field
Name:
和田一浩
Birthdate:
19th June 1972
Birthplace:
Gifu, Gifu Prefecture
Alma Mater(s):
Gifu Commercial High School, Tohoku Fukushi University, Kobe Steel, Seibu Lions
Draft Pick:
1996 - #4 (Seibu Lions)
Games Played:
1010
Hits:
1018
Doubles:
184
Homeruns:
142
OPS
0.840
Awards:
* Central League MVP x 1 (2010)
* Best 9 x 1 (2010)
* All Star x 3 (2008, 2010, 2012)
Behind Kazuhiro Wada there is really only Tai-Feng Chen as a reasonable contender in left-field for the Heisei era. Yoshinori Oshima was the last challenger and his career unfortunately ended with the close of the Showa era. Wada will be most fondly remembered for his baldness, but also for that powerful 2010 season where he was utterly unstoppable.
Originally drafted by the Lions as a catcher, Wada had a formidable career with the team mostly as an outfielder before making the switch to the Dragons at age 35 after the departure of Kosuke Fukudome to the Major Leagues. Like many on this list, his first season started off slowly where he pelted 19 homers in his first season batting .302. 2009 would see an uptick in production where Wada showed his wares batting .302/.382/.532 with 29 homeruns. He also shone in the field as he put up put-out numbers topping the Central League for the second year in a row.
His tour de force would however come in 2010 as a then 38 year-old Wada took the NPB by storm as a one man wrecking ball where he hit .339 with 1.061 OPS and 37 homeruns. His contribution with the bat would help propel the Dragons to another Japan series run where Wada would be MVP of the Climax Series while also receiving honours for his performance on the losing side of the Japan Series against the Chiba Lotte Marines.
In 2011, Wada would experience a downturn following a change in stance and a change to the balls in the NPB where he hit .231, the lowest of his career since he became a first team regular. In 2012, further change to his stance sacrificed his power for average as he hit an improve .285 but only cleared the fence 9 times appearing in all 144 games. In 2013 Wada's power would pick-up once more as he hit 18 homers for an average of .275 but was mired by a Central League high of 26 HDP. From 2014, his career would wind down as he was out of the squad more and more often before retiring in 2015.
On that 2010 season alone we must marvel. At his age, adapting to a new league Wada filled the hole left by Fukudome expertly and created one of the best seasons by a Dragon in the Heisei era filled with plenty of contact and plenty of homeruns. Fukudome's 2006 beats this one for me just, but Wada's 2010 will be one to be remembered for the ages.
Shinji Imanaka
[1989-2001]
Starting Pitcher
Name:
今中慎二
Birthdate:
6th March 1971
Birthplace:
Kadoma, Osaka
Alma Mater(s):
Osaka Toin High School
Draft Pick:
1988 - #1 (Chunichi Dragons)
Mound Appearances:
233
Win-Loss Record:
91-61
Innings Pitched:
1395.2
Strikeouts:
1129
Awards:
* Eiji Sawamura Award x 1 (1993)
* Most Valuable Pitcher x 1 (1993)
* Best 9 x 1 (1993)
* Golden Glove x 1 (1993)
* All-Star x 4 (1991, 1993-1995)
Here I'm sure I'm going to get a lot contentious stares. There are more than a few starting pitchers that have made their mark with the Dragons during the Heisei era. Heck, 3 of them have won the Sawamura Award and another won the MVP. Shinji Imanaka, Kenshin Kawakami and Masahiro Yamamoto all took the most prestigious pitching award in Japanese baseball while Shigeki Noguchi took the MVP in 1994. Throw in Kazuki Yoshimi's early career and you've got a very handy rotation. However, there must only be one and while Kawakami or Yamamoto are probably the most obvious answers, I've chosen Imanaka. He was a better pitcher than Yamamoto and had a worse team behind him than Kawakami and a more hitter friendly park.
Imanaka was drafted out of the now famous Osaka Toin High School baseball program in 1988 with a fastball touching as high as 148 km/h and a slow curve that was deemed "unhittable" by some.
Imanaka had a rough introduction to pro-ball in the 1989 season when he had a 1-4 record with a 6.86 ERA in his rookie season. In the 1990 season however, Imanaka would get his first two digit win season following improvements on the movements to his off speed pitches and spin on his fastball. He was able to establish himself as part of the rotation at age 20 while also pitching 8 complete games including 4 complete game shutouts.
In 1991, Imanaka played in his first All-Star. He barely missed out on ERA leader honours in a battle with Shinji Sasaoka of the Hiroshima Carp at a different of 0.08.
Imanaka's time to shine would however come in 1993 where he was opening day pitcher. In a game against the Swallows in July, Imanaka claimed 16 strikeouts which was a tie for the Central League record at the time. In September, Imanaka went 15 innings in an ultimately fruitless endeavour against the Swallows once more and racked up 249 innings in total over the season including 247 strikeouts claiming Best 9, Golden Glove, Sawamura Award and All-Star honors. WAR statistics put Imanaka at 6.7 wins above replacement more than earning his bread.
Imanaka would be apart of the famous 10.8 team where the Dragons fought to the tooth and nail against the Giants for the 1994 pennant. Imanaka had petitioned strongly to pitch the game but was found wanting after conceding 4 runs in 5 innings. The Dragons would lose the game 5-3 to hand the Giants the pennant.
Imanaka would remain a constant in the starting rotation in 1995 and 1996 where he would post respectable 3.29 and 3.31 ERAs and positive a positive win-loss record. In 1997 however, injury would take it's toll after pitching constantly since he was a teenager and unfortunately, Imanaka's opportunity to show off his indomitable slow curve would fade. The memory however will always remain.
At Imanaka's peak he was just about the best in the Heisei era who reportedly had more than his share of MLB suitors. The legend of his unhittable slow curve just about cements him in my mind as the Dragons ace of this period. Kawakami was probably the most successful awards wise, but Imanaka was the better pitcher in this humble bloggers opinion.
Takuya Asao
[2007-2018]
Relief Pitcher
Name:
浅尾拓也
Birthdate:
22nd August 1982
Birthplace:
Chita, Aichi Prefecture
Alma Mater(s):
Tokoname High School, Tohoku Fukushi University
Draft Pick:
2006 - #3 (Chunichi Dragons)
Mound Appearances:
416
Win-Loss Record:
38-21
Innings Pitched:
505.2
Strikeouts:
460
Holds:
200
Awards:
* Central League MVP x 1 (2011)
* Golden Glove x 1 (2011)
* All-Star x 2 (2010, 2011)
Relievers are a dime a dozen but how many win an MVP award? Well, there's a select few and there are two that have played for the Dragons, Yuen-chih Kuo in 1989 and Takuya Asao in 2011. I would have otherwise selected Kuo but because a great majority of his achievements occurred in the Showa era and he also flipped between starting and relieving, I'm giving this to the darling of the Dragons, Takuya Asao.
Asao started off as a catcher in school but eventually was drafted as a pitcher out Tohoku Fukushi University in the 3rd round of the university/industrial league player draft in 2006. Asao had declared before the draft he wouldn't play for anyone but the Dragons.
Asao's first season was mostly as a starter, but it was in 2009 that he became fully established in the Dragons bullpen, claiming 33 holds in 67 mound appearances.
Asao would however reach elite reliever status in 2010 where he aided the teams pennant race win by pitching in 72 games and claiming a league high 47 holds at an ERA of 1.68 where he also earned his first All-Star call. Asao was deployed as a fireman often pitching more than one inning at a time but it was in 2011 that he showed nothing less than miraculous pitching fanning 100 batters over 87 1/3 innings giving up 0 homeruns and registering a 7-2 record with 45 hold and 10 saves. As a reliever, Asao claimed 3.8 WAR and was awarded for his efforts by being given the MVP for the 2011 season. A 0.41 ERA is unheard of for a reliever, but Asao somehow did it in the best style possible.
His work over the years however would eventually take it's toll as he experienced a downturn in velocity in 2012, resulting in only 29 appearances. Asao would never pitch more than 30 innings in a season following that after he appeared continually to be in rehab. At his peak, Asao had 156 km/h fastball as well as a sweeping slider, devastating fork and a very handy palm ball. A great armoury to draw from, but at the time of retirement, the main gun was only firing at 146 km/h on a good day.
Most likely overworked, Asao experienced a short but amazing career where he actively contributed to a fantastic pitching team. His 2011 will go down in history as one of the greatest seasons by a reliever for all time.
Hitoki Iwase
[1999-2018]
Closing pitcher
Name:
岩瀬仁紀
Birthdate:
17th September 1975
Birthplace:
Nagoya, Aichi Prefecture
Alma Mater(s):
Aichi Prefectural Nishio East High School, Aichi University, NTT Tokai BC
Draft Pick:
#2 - 1998 (Chunichi Dragons)
Mound Appearances:
1003
Innings Pitched:
950
Strikeouts:
813
Saves:
406
Awards:
* Most Valuable Reliever (1999, 2000, 2003)
* Most Saves (2005, 2006, 2009, 2010, 2012)
* Come Back Award (2017)
* NPB All-Star (2000, 2001, 2003, 2005-2007, 2010-2013)
* Central League record for season saves (46, 2005)
* Combined perfect game with Daisuke Yamai (v Nippon Ham Fighters, 1 November, 2007)
Well, this is probably the most predictable of all the selections that have come before it.
I say closer, you say: IWASE!
Was there ever any doubt? Hitoki Iwase is just about the greatest closer of all time let alone the best of the Dragons in the Heisei Era. To be fair, there were some good closers in between with Akinori Otsuka, Eddy Gaillard, Dong-Yul Sun, Tsuyoshi Yoda and Yuen-chih Kuo. As much as all of those guys were good, Iwase was better.
Iwase never left Aichi prefecture on his way to being drafted by the Dragons in 1998. Iwase was flagged as a reliever from the start of his career with only one start registered in 2000. After solid seasons in the back of the bullpen in support of Otsuka and Gaillard, Iwase was made the full-time closer in 2004 by Hiromitsu Ochiai. The birth of the "God of Death" aided the Dragons to their first pennant win in 5 years.
Iwase would top the league in saves in 2005 setting a Japanese record in the process with 46 and an ERA of 1.88 while never surrendering a homerun. Known and feared for his slider, the southpaw built on his reputation in 2006 by going out and claiming a further 40 saves and aiding his team to the Central League pennant and claiming his 100th save in the process.
In 2007 Iwase would break the club saves record held by Kuo and become the 8th player in NPB history to 500 mound appearances. Iwase would also claim the spotlight in the decider of the Japan Series where despite his starter Daisuke Yamai being en-route to a perfect game, was put in to close out to what has become known as a combined perfect game in a 1-0 win over the Nippon Ham Fighters.
In 2013, Iwase would become the holder of the NPB title for most saves after surpassing Kazuhiro Sasaki's combined NPB and MLB title of 382.
Between 2004 and 2014 Iwase would put up seasons of 20 saves or more which holds as an NPB record.
In 2018, Iwase would record 1002 career mound appearances, the most for any pitcher in NPB history while also adding to his save record ending his career with an almost unsurmountable 407 saves.
There's no doubt that Iwase's legacy will be a lasting one and the Dragons will and still are having all sorts of fun looking for his long-term successor but no one will ever be that good or long lasting ever again. Dennis Sarfate of the Hawks has taken some of the luster off Iwase's sparkling career by encompassing his single season save record, but in terms of longevity, there's nothing that beats the best closer there ever was.
Let's build a roster
Well, now we have our team, we can build a line-up and a 28 man roster.
1. CF Alonzo Powell
2. SS Hirokazu Ibata
3. RF Kosuke Fukudome
4. 1B Hiromitsu Ochiai
5. LF Kazuhiro Wada
6. 3B Leo Gomez
7. 2B Kazuhiro Tatsunami
8. C Motonobu Tanshige
9. P Shinji Imanaka
Bench: C Takeshi Nakamura, 2B Masahiro Araki, CF Yohei Oshima, 1B Tyrone Woods, 3B Masahiko Morino, 1B/LF Tai-feng Chen
Starting Rotation:
1. Shinji Imanaka
2. Masahiro Yamamoto
3. Kenshin Kawakami
4. Shigeki Noguchi
5. Kazuki Yoshimi
6. Wei-Yin Chen
Bullpen:
1. Yuen-chih Kuo
2. Shinya Okamoto
3. Takuya Asao
4. Dong-Yul Sun
5. Eiji Ochiai
6. Akifumi Takahashi
7. Hitoki Iwase
This is how I'd imagine the best roster of the Heisei era would look like. I've been generous on the import spots for this team, there's generally only four but I couldn't leave out anyone from roster I've put forward here. I ended up with 7 foreign players in total with 3 from Taiwan, 3 from the USA and 1 from the Republic of Korea.
Overall, this has taken me quite a bit of time to put together but it's been fun doing it. I really enjoy doing these retrospectives and I'm hoping my selections cause a bit of conversation. There's quite a few borderline and perhaps bias calls among my selections but feel free to debate me.