Matsuzaka-gyu hits shelves
On the 23rd of January, former major league, koshien hero and all round good guy Daisuke Matsuzaka passed his "test" with the Dragons signing a one year deal at ¥15,000,000 ($135k USD). From all reports the test was all but a formality in the lead-up with Mori apparently already indicating he was planning on taking Matsuzaka to spring training, but it has all be made official as Dice-K showed enough in a closed bullpen session at Nagoya dome to give the Dragons some hope that he's not completely cooked.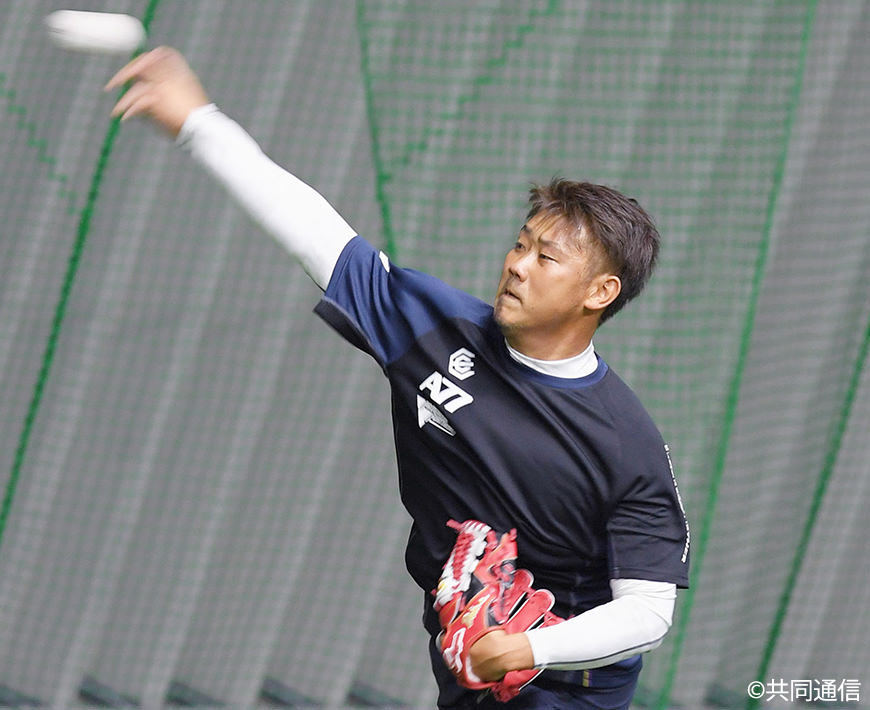 Matsuzaka apparently passed the test after only 5 minutes after throwing only 22 pitches. For all the attention the test gathered, including over 60 members of the media hanging outside Nagoya dome, it was over very concisely and a contract was drawn up and signed only hours after. Given how quickly everything went down, it's fairly obvious that both sides had already had a basic agreement in place before the test which makes the media circus surrounding the test all the more silly.
The Heisei Monster joined the first team at Chatan, Okinawa for Spring training and will be aiming for a spot in the starting rotation. Given the need for righties, he may have a chance but to my mind there's really only one spot available to fight for and as much as Kazuki Yoshimi has regressed, I feel he's probably still a better option to start with at least.
The Dragons become Matsuzaka's first central league team after stints with the Seibu Lions and the Fukuoka Softbank Hawks. He also becomes one of probably a very select few to play in all 4 major leagues in the MLB and NPB. (Boston - AL, Mets - NL, Hawks, Lions - PL, Dragons - CL)
There are some doubts as to how merit based this contract is apart from generating interest in the club with thoughts that Matsuzaka's relationship with Shigekazu Mori, who was the Seibu 2-gun coach when the 37 year old was a rookie, and Yui Tomori, whom he played alongside played a role in taking him to Nagoya in the first place. Mori strikes me as a guy who exploits his networks and connections so I don't see this as a suprise.
In terms of tempering excitement, well, there's plenty of that. There's really nothing to be excited about with this signing unless you're a diehard Matsuzaka fan of which there are plenty. I'm not sold on this being anymore than a headline generator. There is however slight hope that Matsuzaka's signing could help the team link up with the pitcher's former Samurai Japan team-mate, Ichiro. Who knows what's going to happen at this point.
In terms of team reactions, the resident clown, Yudai Ono has already started teasing him by calling him by his first name, Daisuke which if you understand Japanese baseball culture is a bit of faux pas for a junior player to do to one of such seniority and standing, but by all accounts Matsuzaka seems to have taken it in his stride. Early picture out of camp have the aging star seemingly settling in well with a big grin on his face. Questions remain over his fitness given his somewhat bulky appearance but given the archaic training methods that are often employed, we might see him shed a few kilos before the start of season.
He is however looking good so far with an improved pitching motion on last year so far in his showing during individual training sessions in Okinawa
— DragonsNews2ch | 原点回帰-Dragons愛!- (@DragonsNews2ch) 2018年1月30日
On the first day of camp, Matsuzaka's merchandise flew out the window with the store manager remarking he'd never seen such fervor before. All Matsuzaka face towels sold out while a third of replica uniforms joined cash handed fans.
Shigeru Sugishita, the 92 year old, 3-time Sawamura Award winning pitcher was on hand as a guest coach dealing out advice and he was on hand to comment on Matsuzaka's path to redemption. 3 golden pieces of advice, open to interpretation, were given. 1. Don't become small, throw big. 2. Make strong legs your foundation. 3. Don't push yourself. If you're feeling right, throw.
Spring training member-list
The Dragons enter spring training proper next week and we now know who is going where, so here is the list of players starting in 1-gun and 2-gun. This isn't really a reflection of what the starting day roster will look like as often aging or recovering players will start with the second team and younger players may start with the top team to be given the run over by the bosses.
1-Gun
| Pitchers | Catchers | Infielders | Outfielders |
| --- | --- | --- | --- |
| 11 Shinnosuke Ogasawara | 27 Shota Ohno | 3 Shuhei Takahashi | 1 Shota Tomonaga |
| 12 Shinji Tajima | 35 Takuya Kinoshita | 5 Toshiki Abe | 8 Yohei Ohshima |
| 13 Hitoki Iwase | 38 Masato Matsui | 9 Shun Ishikawa | 23 Issei Endō |
| 14 Keisuke Tanimoto | 52 Takuma Kato | 36 Ryota Ishioka | 26 Masataka Iryo |
| 16 Katsuki Matayoshi | | 51 Yota Kyoda | 42 Zoilo Almonte |
| 17 Yuya Yanagi | | 53 Kyohei Kamezawa | 44 Steven Moya |
| 18 Shota Suzuki | | 55 Nobumasa Fukuda | 56 Yusuke Matsui |
| 19 Kazuki Yoshimi | | 63 Naomichi Donoue | |
| 22 Yudai Ohno | | 66 Dayán Viciedo | |
| 24 Koji Fukutani | | | |
| 28 Taisuke Maruyama | | | |
| 29 Daisuke Yamai | | | |
| 43 Takuya Mitsuma | | | |
| 46 Hiroshi Suzuki | | | |
| 47 Shotaro Kasahara | | | |
| 60 Dillon Gee | | | |
| 64 Ryosuke Oguma | | | |
| 65 Junki Ito | | | |
| 70 Onelki García | | | |
| 99 Daisuke Matsuzaka | | | |
2-Gun
| Pitchers | Catchers | Infielders | Outfielders |
| --- | --- | --- | --- |
| 21 Toshiya Okada | 39 Shingo Takeyama | 0 Wataru Takamatsu | 4 Atsushi Fujii |
| 25 Yu Sato | 45 Shota Sugiyama | 2 Masahiro Araki | 6 Ryosuke Hirata |
| 30 Takuma Achira | 68 Iori Katsura | 31 Kei Nomoto | 49 Kosuke Itō |
| 33 Daisuke Sobue | | 32 Masami Ishigaki | 62 Takahito Kudo |
| 40 Shō Ishikawa | | 37 Taiki Mitsumata | 67 Hiroki Kondoh |
| 41 Takuya Asao | | 48 Hayato Mizowaki | |
| 50 Tatsuya Shimizu | | 59 Tetsuya Tani | |
| 54 Kento Fujishima | | | |
| 57 Ryuya Ogawa | | | |
| 59 Takumi Yamamoto | | | |
| 61 Shunta Wakamatsu | | | |
As you can probably already tell, the 2-gun team starts of pretty small but there'll be a lot of chopping and changing as Spring training progresses. The only 2017 draftee to make the 1-gun team from the start is Hiroshi Suzuki which is no real surprise while all the foreign legion start from the top as well. Also, something a little different this year, but all international signings have been asked to report from the beginning of Spring training whereas in previous years this was not the case.
I haven't listed development players as they usually start with the 2-gun team, but interestingly enough, Yusuke Kinoshita will be starting with the first-team. Maybe this is an avenue for promotion to the roster?
For the international signings, first impressions are everything and Zoilo Almonte started strong on the first day striking 13 homers left handed and a further 4 right handed. Almonte felt himself that he was very comfortable batting left but overall felt fairly comfortable.
Dillon Gee met with some Dragons luminaries, as he introduced himself to former slugger turned pundit, Takeshi Yamasaki. As the rest of team lined up to greet the former Chunichi position player, Gee followed suit with a "
hajimemashite."
This has impressed the Japanese media who immediately praised his handle on the Japanese language but Gee, professionally, dismissed the praise as "something the staff taught me." Regardless, this is a good first impression on the team from the Texan.
So far, we don't know much about what's going to happen to the shape of the team moving toward opening day, but we'll see how things pan out. The team is showing some training sessions on their official Facebook page, so keep an eye out there if you want to catch some sessions.
In Other News
One of my favourite Dragons fans, a man that wears a Jack Elliot uniform to 2-gun games, appeared on the weekly program 燃えドラ (
Moedora
- short for 燃えよドラゴンズ! which is the team's song). He gave a crash course in the finer points of player analysis including bat speed, spin rate, strike-out percentage and a lot of other data that isn't traditionally used inside the Dragons. You can have a look at the video here.
Interesting takeaways here are that Steven Moya had the 2nd highest bat speed in the MLB after Aaron Judge. Hiroki Kondo generates significant backspin with his hits, Zoilo Almonte projects to be similar in ability to Ricardo Nanita and Yusuke Kinoshita has the highest spin rate out of any Chunichi pitcher. His co-guest, Yukio Fujinami, a former Dragon, seemed gushing with praise and who knows, we might see more of "Jack" in and around the Dragons over the next few years.
Otherwise, new uniforms were also released for the 2018 season. As previously announced the change from Asics to Mizuno did not affect the immediate design however one of the alternative uniforms for summer is a new one. It looks uh, interesting. The uniform with the red trim that Hiroshi Suzuki is wearing is a continuation of the fan club uniforms from the last two years.
— サンデードラゴンズ (@sundaydragons) 2018年1月30日
Otherwise, in terms of whoever Spring training so far and top pick rookie watch, Hiroshi Suzuki has reached 148km/h in bullpen sessions so far which is about 8km/h of his recorded top speed. He has also set his sights on being like former starter cum closer, Genji Kaku who is one of only a handful of players with 100 wins and 100 saves. Mori has been impressed with what he's seen of Suzuki so far calling his pitches in bullpen sessions "fantastic." Not bad praise coming from a former fireman closer.
Otherwise, in batting practice last week Fukuda continues to impress in batting as he hit 14 in 40 swings with Shinnosuke Ogasawara pitching, while Steven Moya hit 11 bombs in 49 swings on Sunday.
Toshiya Okada, who was injured for much of last season, is on his way back. In Yuntan with the 2-gun team, Okada was seen doing catch-ball with Takuma Achira and later threw a practice session to Hiroki Kondo indoors. Okada returning to the bullpen in full swing would be a massive boon to what is already looking like an improved bullpen.