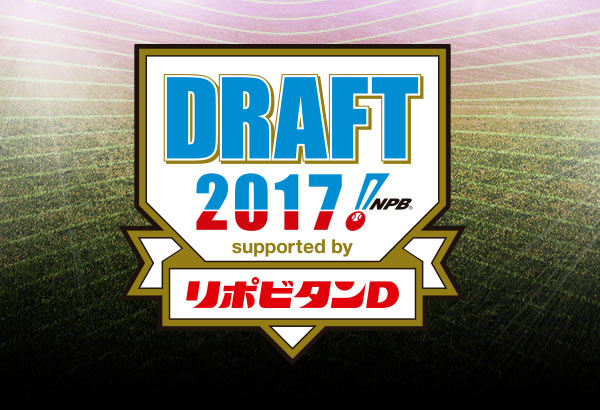 The 2017 NPB Draft kicked off with a bevy of talent on the board to be snapped up by awaiting pro-teams. Topping the bill was Waseda Jikyo High School's record breaking slugger, Kotaro Kiyomiya. While Chunichi was hot in pursuit of Kiyomiya, in the last two weeks leading up to the draft, interest appeared to cool off and the Chunichi heads decided upon a more attainable option. Having settled on 5 names for their first pick, the Dragons announced they would be selecting Koshien hero, Koryo High School's Shosei Nakamura. The hard-hitting catcher was looked at as the long-term successor to the catcher's role in Nagoya and would help put minds at ease about who would put on the mask in future. Nakamura's hometown team, the Hiroshima Carp also announced their intention to go after the youngster as their first pick.
On draft day, 7 clubs went in for Kiyomiya where he was eventually won by the Nippon Ham Fighters and it was only the Dragons and the Carp after Nakamura in the end. Mori's hand proved not to be magic as he failed to pull the right card but the Dragons fall-back option, Yamaha's RHP, Hiroshi Suzuki, ended up being an uncontested pick.
The Dragons ended up drafting 6 in the professional draft including 5 high schoolers, staying in line with the strategy of picking up younger players this year. 4 pitchers and 2 outfielders were the spoils from what looks like a fairly good draft class on first glance. To finish things off, the Dragons picked up two more pitchers in the development draft, one college and one independent league.
Time is likely to be a big factor on how this class will be judged as they are all so young. Even Suzuki is only 21. If nothing else however, there is a lot here to be excited about. Another pitcher heavy draft, but given that their are weaknesses in the bullpen and among the starters, it's not a surprise the powers that be have made this a priority going forward. High school arms will be coming ripe around the time we see the likes of Yoshimi and Ono really take a dive so the timing isn't awful.
Let us now look at our newest acquisitions and learn a bit more about them and why they were selected.
1. Hiroshi Suzuki (Yamaha Motors)
Right-handed pitcher
Name: 鈴木 博志
Birthdate: 22nd March 1997
Birthplace: Kakegawa, Shizuoka
Height: 181cm (5'9")
Weight: 95kg (209lb)
High School: Iwata Higashi High (Shizuoka)
Bats: Right
Throws: Right
Max Velocity: 157km/h (97 mp/h)
Pitches: Four-seam fastball, forkball, slider, cutter, change-up, curve
Hiroshi Suzuki was mentioned as the front runner for the Dragons before all sorts of claims were made about Kiyomiya and Nakamura. The right-hander has shown impressive velocity in the industrial leagues with Yamaha Motors whom he joined directly after graduating from Iwata Higashi High School.
In high school Suzuki topped out at around 145 km/h and attracted scouts with his throwing motion. A number of injuries hampered his development as a teenager but he was still expected to send in his intention to turn pro at the 2014 draft alongside teammate and eventual Softbank Hawks recruit, Seiya Saito. Suzuki however decided to skip the draft and directly entered the industrial league with Yamaha.
After entering Yamaha, Suzuki hit the weights and put on 10 kilograms to his 181cm frame and in his second year was able to boost his maximum velocity to 152k/h in a practice game. Through his Yamaha career, Suzuki was used both in a starting role and a relief role and in Summer 2017 in the Inner-City Baseball Tournament, Suzuki clocked 156km/h on the gun in Game 2 against Honda. In the All-Japan Championships as a starter, Suzuki also marked a 1-hit complete game shut-out against Eiwa.
Suzuki was later selected for the industrial league based Japanese national team in the BFA Asia Championships where he threw a total 13.1 innings with 15 strikeouts and a 0.68 ERA.
Suzuki's velocity sits at 147km/h and tops out at 157km/h. He also possesses a lethal forkball that has been clocked at 140km/h. This year he was apparently only pitching at 70 to 80% power so there is a very big possibility that he could eventually hit 160 km/h given some more training. According to scout reports, Suzuki's pitching form throws batters off. He is also said to throw "heavy pitches" which can be interpreted as being just hard to hit. This is likely due to the amount of spin he gets on his fastball.
Due to injuries in the past there's no doubt that Suzuki needs to be used as a reliever or as a closer. The only major concern surrounding him as there is with anyone that throws this hard is his control.

In the wake of his selection, Suzuki set himself the lofty goal of 40 saves in his first season and is hoping to hit the 160km/h mark. He is said to be very happy to be able to play for a club that has so many fans in his home town. Suzuki also said that he wants to give the Nagoya Dome a reason to be called a "Pitcher Heaven" again.
He sounds a lot like Koji Fukutani in a lot of ways. A hard throwing reliever with control issues, but unlike Fukutani I hope Suzuki has the right mentality to be thrown into those high pressure situations. Should he pan out, we have another set-up man and a future closer that could very well slot straight into the bullpen. Therre are however some hopes that if he can instill some strength in his frame he may be a starter. I'd say that he will be on the roster for opening day in 2018 should he be healthy.

My hope for Suzuki is to see him become our full-time closer with Shinji Tajima moving back into the set-upper role. This of course will depend on what way managements wants to go with him as the appeal of a ready to go right hander to throw in the rotation might see him prepped for longer dashes of innings.
2. Sho Ishikawa (Seirantaito High School)
Right-handed pitcher
Name:
石川 翔
Birthdate:
14th December 1999
Birthplace:
Itabashi Ward, Tokyo
Height:
179cm (5'8")
Weight:
82kg (180lb)
Bats:
Left
Throws:
Right
Max Velocity:
151km/h (93 mp/h)
Pitches:
Four-seam fastball, slider, cutter, change-up, curve
Sho Ishikawa was regarded by many as the best high school pitcher at the draft. He was originally a back-up plan for Chunichi should their first-pick not go as planned. Somehow, the Dragons pulled of a small coup by taking the talented righty in the second round of the draft after 3 teams skipped over him in the second round before he was taken. Personally, I'm over the moon that he'll be wearing Dragons colours next year.
Born in Tokyo to a Japanese father and Filipino mother, Ishikawa became a bench member of the Serantaito High School baseball club in his second year. Employed as either a centre-fielder or as a pitcher, Ishikawa helped lead his school to runner-up honours in the Spring Tochigi Prefectural tournament. At the following Kanto Tournament he was able to hit a personal best 146km/h in the second game against Maebashi Ikuei High School. In the Summer Prefectural Tournament, Ishikawa helped his team once again to the semi-final where he pitched an 11K shutout and went 4-3 with 3RBIs against Utsunomiya High School. In the off season with more training Ishikawa was able to push his velocity up to 148km/h. In the following Summer tournament, Seirantaito would once again push into the finals but Ishikawa would give up 4 earned runs in the final. Over 4 games in the tournament, he pitched a total of 21.1 innings for 29Ks. He was also able to show his peak velocity of 151km/h in the quarter finals.
Scout reports are glowing of Sho's potential. He is said to possess a pitch low and outside that simply cannot be hit. He has a dangerous cutter and a vertically spinning slider that takes a fair share of strikeouts. He's also said to have a personality that hates to lose making him a valuable asset for a professional club. He has had a fair share of injuries to his ankles, shoulder, you name it, but if he can work on building his core strength he'll be a front of the rotation starter in 3-4 years.
Ishikawa proclaimed in the wake of his selection that he wants to become Japanese baseball's best pitcher. He also expressed a fondness for former Giants pitcher Suguru Egawa whom he mentioned he could watch hours of footage of and not get bored. In other comments he also mentioned that he would not lose out to Kotaro Kiyomiya.
A fantastic acquisition that has astuteness written all over it. Ishikawa is certainly one for the future that contains a lot of potential. It may be a few years before we see him regularly run out for the first team but we'll likely see him get the odd start or bullpen appearance in 2018.
3. Wataru Takamatsu (Takikawa Daini High School)
Short-stop/Outfielder
Name:
高松 渡
Birthdate:
2nd July 1999
Birthplace:
Kakogawa, Hyogo
Height:
176cm (5'7")
Weight:
63kg (138lb)
Bats:
Left
Throws:
Right
Base-running:
50m in 5.9 seconds, home to first in 3.8 seconds
Known as the "Takikawa Ichiro," Takamatsu has an eye for a hit and has legs that he knows how to use. Takamatsu has been clocked at running home to first in 3.5 seconds according to his coach and head Dragons scout Muneo Tanaka has claimed that there has been no one that fast in pro-ball in recent years.
Most likely the fastest player in the 2017 draft class, the Dragons have nabbed themselves an interesting piece.
Takamatsu started as a bench player in fall of his first year wearing the number 7. The following summer during qualifiers, he played 3 our of 4 games hitting 4 in 9 plate appearances where he played mostly short-stop and right field.
In his third and final year in the Hyogo Summer Tournament, he batted at 3 fielding at short-stop, leading his team to the best four where he hit .333 with one stolen base.
It is said that Takamatsu could be a first team pinch-runner in his first year. Along with his speed he also has a strong arm that could be deployed in the outfield. Short-term, he will be a defensive specialist and pinch-runner, not unlike the role that Takahito Kudo currently plays, but as his batting develops he could definitely be in the running (pardon the pun) for stolen base champion in the future. He's the type of player we would see in the 1/2 slot in the batting line-up once his hitting tools develop.
On his selection Takamatsu said "I was relieved to be picked. I had goosebumps thinking that I needed to do my best going into the professional world. I'm very happy to be rated so highly by the Dragons." He also expressed that he would like to become a fast contact batter like Yota Kyoda preferably at short-stop.
I think we definitely will see the speedster a fair bit in 2018. I can see him mostly used in the outfield as defensive strengthening at short can usually be handled by Donoue. Like most batting prospects, expect to see Takamatsu starting to see more regular first team time when he hits his early 20s should he develop the way the Dragons hope.
4. Tatsuya Shimizu (Hanasakitokuharu High School)
Right-handed pitcher
Name:
清水 達也
Birthdate:
3rd November 1999
Birthplace:
Fukaya, Saitama
Height:
182cm (5'9")
Weight:
83kg (180lb)
Bats:
Right
Throws:
Right
Max Velocity:
150km/h (93 mp/h)
Pitches:
Four-seam fastball, slider, forkball, curve
Another right-hander with high velocity potential, Tatsuya Shimizu helped his school to a win in the Koshien finals this year mostly as a reliever. He was the only pitcher at Koshien this year to clock 150km/h on the gun and showed good control of his fastball despite his change-ups not always working in the desired fashion. An interesting pick but certainly one that spells with it an interesting possible potential.
Shimizu is another who immediately found space on the bench in Summer of his first year. In his second year he didn't find many opportunities to pitch but by was able to make his Summer Koshien debut in his second year where he threw 1.1 inning for one strikeout when his team was 5 runs behind. In summer of his 3rd year he threw 18 innings to help his team win the Saitama prefectural tournament once more and advance to Koshien. He appeared in all 6 games pitching 21 innings to help close out games and in game 3 of the tournament showed his peak 150km/h velocity. After leading his team to victory he was selected for representation with the U-18 national team and played in 5 out of 9 games taking 9 strikeouts in 5 innings.
In post draft comments, Shimzu expressed hopes of being able to play in the first team for over 10 years as his main goal and said he was happy pitching in whatever role that the Dragons had for him. He also mentioned that he hopes to become like DeNA Baystars closer, Yasuaki Yamasaki.
As previously mentioned, Shimizu has issues with getting his off-speed and breaking pitches working properly but still has plenty of very attractive attributes. As it looks, he may work out to be another stopper in the bullpen. Increased velocity through his development could also see another flame throwing arm that can bolster what is already looking like a dangerous future pitching line-up.
5. Kosuke Ito (Chukyo University High School)
Outfielder
Name:
伊藤 康祐
Birthdate:
2rd February 2000
Birthplace:
Gamagori, Aichi
Height:
173cm (5'6")
Weight:
76kg (167lb)
Bats:
Right
Throws:
Right
Base-running:
50m in 5.8 seconds
The second outfielder of the draft class, Ito comes in at number 5 as a local pick much like Kento Fujishima last year. He's a centre-fielder and lead-off man much like Yohei Oshima but is also known to play second base when asked. Unlike Takamatsu, Ito has a more developed hitting tool and has had Koshien experience this summer where in his first and only game he went 6-3 with a homerun and 2RBIs.
Ito missed out on debuting at Koshien in his first year after he was left out of the final 18 players but in Autumn he found his change playing at first base and in his first appearance in the Aichi Prefectural tournament, Ito hit two RBIs. In his second year he started in left field but after being appointed captain, was placed at second-base and at the top of the order. In his final year he found his position at centre-field and hit .407 through summer that year helping his team to Aichi prefectural victory and a place in the summer Koshien.
After showing off his wares at Koshien, he was called up to the U-18 Japanese team alongside Kotaro Kiyomiya and new team-mate Tatsuya Shimizu where he played at centre in all 9 games.
Ito has speed and a good hitting tool which as mentioned before, is a little reminiscent of Yohei Oshima. Ito might well be the heir apparent to Oshima, another Aichi native if all things go well down the track.
This seems like a good backyard pick-up which will get the locals excited. We'll just have to wait and see what he can do. At least now we'll have a couple more players on the farm that can play center-field.
6. Takumi Yamamoto (Nishinomiya Municipal High School)
Right-handed pitcher
Name:
山本 拓実
Birthdate:
31st January 2000
Birthplace:
Takarazuka, Hyogo
Height:
167cm (5'4")
Weight:
70kg (154lb)
Bats:
Right
Throws:
Right
Max Velocity:
148km/h (91 mp/h)
Pitches:
Four-seam fastball, slider, cutter, curve, change
The diminutive Takumi Yamamoto ends the full roster draftees and he's certainly an interesting looking player. Despite being quite short in height, this hasn't stopped him from clocking up close to 150km/h on the gun. He has a variety of off-speed pitches.
Yamamoto first made a name for himself in Spring of his 3rd years in the Hyogo prefectural tournament's quarter finals where he held Spring Senbatsu participants Hotoku Gakuen to two run in a complete game. He also showed his mettle against perennial giants Osaka Toin High School where pitched very well in a practice game. In the first game in the summer tournament, Yamamoto clocked his personal best of 148 km/h and in the 4th game of the same tournament he took 15Ks in a complete game performance.
In terms of mechanics, Yamamoto doesn't have much of a wind-up but has a very soft throw. He throws his off-speed stuff at a slightly changed arm position. It's a pitching form that uses his entire body and he he said to get the same kind of spin on his four-seam as a certain Daisuke Matsuzaka. Yamamoto also appears to have very good control.
Post draft, a very happy Yamamoto proclaimed that he wanted to become Japanese champion, throw 160 km/h and become a role model for all smaller players.
Yamamoto becomes the first player from his school to be drafted since 1975.
When you get this far down the draft list it gets hard to say who's going to be good. I'm generally an optimist though and I think there's certainly something about this kid. He seems very mature for his age and should be a bit of a battler. He won't come in with any kind of primadonna attitude given his lower draft rank so he might surprise. I think we'll see him groomed as a starter given his stuff. Look forward to see what he can do on the farm next year.
Development Draft
1. Akito Okura (Tokushima Indigo Socks)
Right-handed Pitcher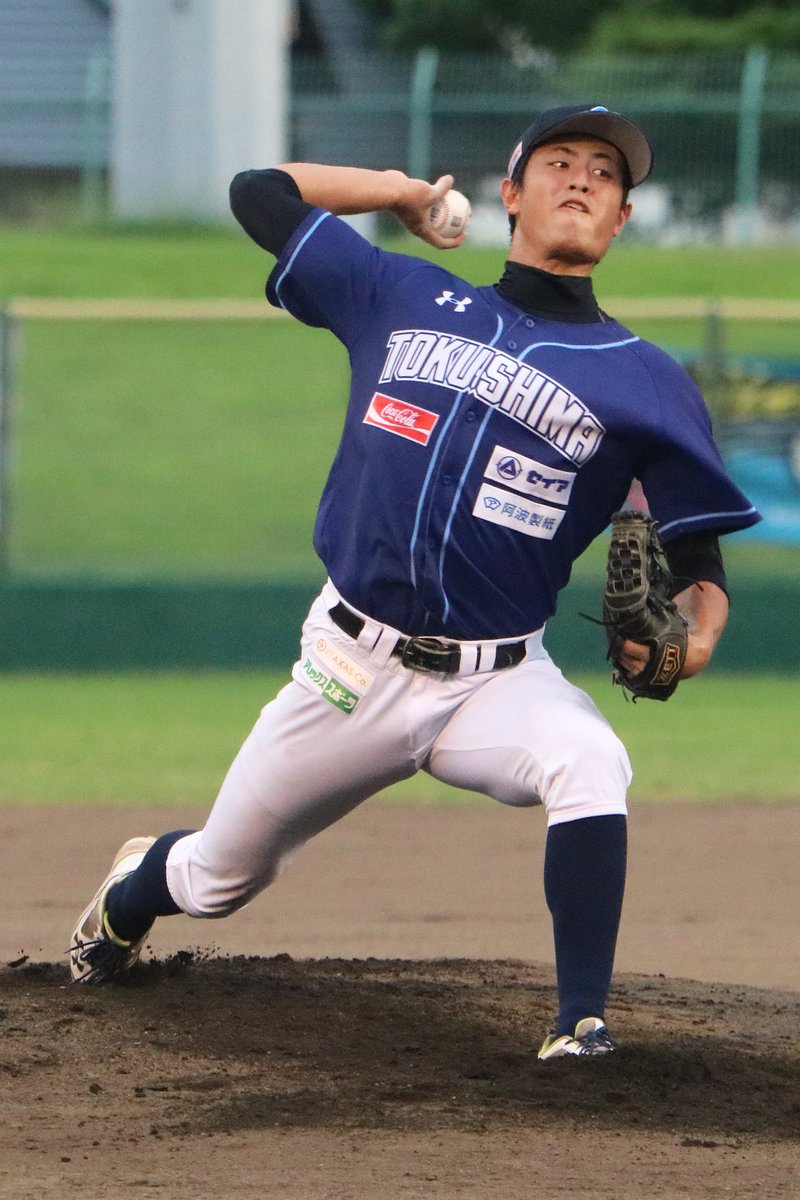 Name:
大藏 彰人
Birthdate:
15th May 1994
Birthplace:
Toyokawa, Aichi
Height:
191cm (6'2")
Weight:
88kg (194lb)
High School:
Ogaki West (Gifu)
University:
Aichi Gakuin University (Aichi)
Bats:
Right
Throws:
Right
Max Velocity:
146km/h (90.7 mp/h)
Pitches:
Four-seam fastball, slider, curve, two-seam
Some more local flavour to the draft as another Aichi native, Akito Okura was brought on board as first development draft pick. The Dragons often dip into the independent leagues and Okura looks like an interesting albeit not jaw-dropping choice. His ability with a higher releases point than most pitchers Chunchi has is an interesting selling point but his velocity is nothing to be staggered about.
At university, Okura was no lout as he topped the ERA standings in Spring of his second year and was selected in the Aichi University League Best 9. In his third year he came second in ERA but managed to capture an MVP award for his troubles posting a 2-2 record with 49.1 IP 29SO and 9ER and 1.64ERA. His MVP season was followed by a case of the ips as he lost all semblance of form in the fall tournament. He however bounced back in the fall of his final year sharing time between starting and relief having two starts with over 10K.
Following university, Okura entered the independent leagues with the Tokushima Indigo Sox where he played in 10 games ending with a 3-3 record with 48SO and a 3.00 ERA.
Hard to say what will happen with Okura, but he looks interested in any case. Could be a relief option should he get that far.
2. Kento Mark Ishida (Ryukoku University)
Right-handed pitcher
Name:
石田 健人 マルク
Birthdate:
18th July 1995
Birthplace:
Nagoya, Aichi
Height:
184cm (6'0")
Weight:
83kg (182lb)
High School:
Toho High School (Aichi)
Bats:
Right
Throws:
Right
Max Velocity:
147km/h (91 mp/h)
Pitches:
Four-seam fastball, slider, forkball
Kento or Mark Ishida is a half-Belgian pitcher who came through one of Aichi's most successful high schools, Toho High School. He is however rated higher now than when he was at school however worries remain about his control
In Autumn of his second year at high school he was given the ace number and held Toyokawa High School to a 7 inning shut out in the final of the Aichi tournament. Rated at 140km/h Ishida was earmarked by scouts at the time as someone to keep an eye on. In his third year he was knocked out after 6.2 innings in the Tokai tournament in Game 2 to end his high school career inconspicuously.
He went on to Ryukoku University, one of the Big6 in the Kansai region where he pitched mostly in relief. While he pitched out a fair share of walks, he also threw down plenty of strikes taking a S/9 average of 8.13. In his university career he played a total of 16 games going 1-3 with 44IP and a 5.11 ERA.
This is a lottery ticket pick and it's low risk. He really doesn't appear to have much about him apart from the potential to hit upward of 150km/h with a bit of training. Either way, this is a developmental contract and the kid is local so why not.