The Dragons traveled to the historic the historic ballpark, Jingu stadium. Jingu turns 90 this year and still remains one of the best places to watch ball in Japan, at least in this humble writer's opinion. Jingu of course, is the home of the reigning Central League champions the Tokyo Yakult Swallows and would be a tough challenge for the young Chunichi team. Jingu generally dishes out some mixed results for us, but with 3 wins from 6 so far this season, there was cause for some optimism. The return of the first-half of the rotation, pitchers that we can usually believe in a bit more, also caused a bit of optimism, at least for me, going into some tough match-ups. Yudai Ohno, Daisuke Yamai and Drew Naylor would be the men to ascend the mound in Tokyo.
Game 1
would be an affair between the two aces Yasuhiro Ogawa of the Swallows and Yudai Ohno of the Dragons. Things started out in earnest with both teams going tit for tat up until the 4th inning when last year's "Triple 3" champion, Tetsuto Yamada slapped a homerun off Ohno that nestled among the visiting fans in the left field stand in the bottom of the 4th.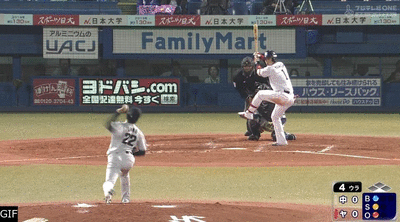 However, Ryosuke Hirata would pick up the gauntlet that Yamada threw down, hitting his own homer in the following inning even placing it in much the same spot to even up the scores immediately at 1-1.
It wasn't to last long as in the following inning Yakult batting inning, Ohno started to lose his bearings.After getting Atsushi Ugumori removed, Ohno would walk Nishiura and Nakamura to put two on base for only one out. Ogawa would attempt a bunt to no success, but former Buffalo, Tomotaka Sakaguchi would find put wood on ball flinging a ball into centre field to send Nishiura home to make it 2-1. Kawabata would make it worse for the Dragons he hit safely to send Nakamura home, making it 3-1. Hernandez's wild throw after would but Sakaguchi and Kawabata on 3rd and 2nd respectively, but Ohno would put an end to the inning as he struck out Yamada in a worrying pinch situation. There was to be nothing but a meek response from the Dragons batting line-up as no progression onto base was forthcoming and in the bottom of the 7th they would be further made to pay as another walk from Ohno set-off another scoring play as Sakaguchi sent Nakamura to score once again to set the final score at 4-1. Chunichi would go out with a whimper as no one was able to muster a hit in the final two innings. The Dragons could only muster 3 hits today which must have done nothing to please Tanishige who has been bemoaning his batting line-up performances. Viciedo would continue to do what he does and register another hit to ensure his perfect record of registering at least one hit per game.
Game 2
would bring further bad news for the Dragons fans, and not just because Yamai was starting. Previous to this game, Yamai was privileged to a very unflattering set of statistics for a pitcher of his stature and experience. His career statistics at Jingu are mind bogglingly awful:
1 Win, 8 Losses, 9.67 ERA and no win in 9 years. Seriously, ouch.
Yamai has been labelled as 病 (sick) by some of the Dragons online community for his recent run of performances where he has failed to win a game even in pre-season.The best he could muster was a 1-1 draw against Chiba in the open-games. Not a good look. Still, the veteran has amazing experience and has been at the heart of the the Dragons pitching staff for the best part of 10 years including a shared perfect game in the 2007 Japan Series decider with fellow veteran, Hitoki Iwase.
The batting started in earnest with Ohshima hitting onto base and stealing second. Ohshima would however bugger it up when Araki tried to hit through the middle and found himself the victim of a double play. Endo would then continue his poor run of form, grounding out to short.
The start of the game looked promising from Yamai as he sunk plenty of strikes, including striking out Kawabata, and managed to get out some tight situations.
In the second Viciedo would continue to put his hit streak to 8 games but this time find himself victim to another double play after Hirata was dismissed with Fujii putting the Cuban in a poor situation.
It would all start to fall apart in the 4th inning as a double from Imanami and a single Ueda put 3-0 on the board. Tanishige must have been pulling out what little hair he had as his team went behind again for the 7th time this season. (that is, every single game this season). Yamai would be replaced by Okada in the 6th following further impotence from the Dragons line-up with no one offering up a hit in the 5th of 6th.
Okada's start however wouldn't be the best either as the young southpaw threw consecutive walks to start his tenure while allowing Imanami to load the bases. Okada would claim the out of Ueda flew out to second, but it was the backstop, Nakamura that would take the chance, hitting a double to make the score 5-0.
There would be some light in the game for Chunichi fans as Dayan Viciedo would strike his 4th homer of the year in a ground that you would expect him to with a hit that just cleared the fence and the left fielder.
The Dragons would attempt to muster a defense in the 8th as Shuhei continued his good run followed by a successful hit by Nanita who was pinch-hitting for Sugiyama. Tetsuya Tani would continue his fine form by watching off Suigiura to walk on to first with no outs and bases loaded. With the top 3 to come in you would expect to see at least one go in, but a fly out from Ohshima and another forced double play off Araki's bat ended the inning prematurely with the scores still locked at 5-1.
The Swallows however would show the Dragons how it was done in the next section with Ueda getting on base and Nakamura getting out but helping the former get to second. Takahiro Araki would then take the initiative with a 3-base hit to make it 6-1 and Sakaguchi would put the final nail in the coffin as his single allowed Araki to score to make it 7-1.
Another poor showing from the batting line-up in particular that
ran into 4 double-plays
today. Barely acceptable to have one in a game let alone 4. The poor showing from the pitching staff as well ensured the Dragons team ERA would be the
worst in the league at 5.29
. Tanishige would comment that
"Both the batting and pitching have hit a bad slope. We keep getting into scoring positions. But if I'm to put it lightly, it's been pretty disappointing."
As for notable heroes and villains of the day, I'll give a hero mention to Viciedo for his single and homer. The villain mention goes to Atsushi Fujii who struck out twice, ran into a double-play and hit one to the pitcher in 4 very disappointing at-bats to continue his poor form. F
ujii has struck out 11 times this season at an average of .138 which is
the second poorest record in the league so far. Not something you expect from a guy that's not a fence-hitter.
In
Game 3
, it was no surprise then that Fujii and Endo found themselves on the bench and Takuya Okada dropped to seconds. With both hitting well below what was expected of them, Tanshige decided to toss them and bring in Ricardo Nanita who had been filling in for Hirata as well as Naomichi Donoue for his first start of the season. Donoue is more a specialist utility fielder than anything, but after some okay performances in pre-season with the bat, Tanishige obviously felt that the infielder could do better than Endo. The line-up would change as a result:
8 Ohshima
2 Araki
6 Hirata
66 Viciedo
60 Nanita
3 Takahashi
63 Donoue
40 Katsura
54 Naylor
Hirata, who had been earmarked for a run at 3 this year was given his chance in the key spot while Takahashi moved up the order to take Fujii's place while Donoue fell in behind. I, along with many other fans, was much more satisfied with this line-up Donoue could do no worse with the bat than Endo, and would at least be as good defensively, our best bat in at 3 meant we might actually get someone on base and Shuhei's minor promotion ensured a more solid spine to the clean-up.
Drew Naylor as well got his chance to show off at Jingu again where
I have fond memories of him winning the game as pitcher and hitting a homer in the process.
2015, #1 draft pick, Juri Hara would start on the mound for the Swallows. Things would start off in earnest with the pitchers on top from the beginning keeping the tie scoreless for the first 3 innings. It was however to be the Dragons that would take their first lead of the season. Araki would get on base and successfully steal another. Hirata would then take a walk to first base bringing Viciedo to the plate. Viciedo always turns it on when there's an opportunity and the big Cuban struck one down the middle to allow Araki to score to make it 1-0.
Naylor would start to waver in the 5th inning as he gave up ground to a returned Vladimir Balentien and Imanami. He was able to see out the inning, but if felt as though his discipline might be fading with his stamina. That doubt would hold root in the 6th as the tiring Naylor gave up a 2-base hit to, that man again, Yamada to see the Swallows overturn the 1-0 losing score to a 2-1 winning one. It wouldn't last long however. In the top of the 7th inning, Nanita would fly out to left field but young Shuhei Takahashi would find base for the first time of the day. Donoue would strike out giving the plate to Iori Katsura, the catcher. Katsura would however give Tanishige even more headaches over who to play behind the plate as the bespectacled from Osaka blasted his first home-run for the season sending he and Shuhei home to score to overturn a 2-1 losing margin to a 2-3 winning one!
It would be enough to hold out as Koji Fukutani continued his return to form by superbly closing out the inning and getting himself his second save of the season.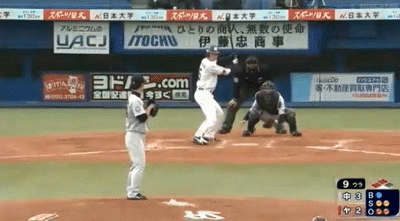 Drew Naylor can just about call himself the "Swallows slayer" after is 4th win in 4 against the Tokyo based team. A great performance from the Aussie to back up his loss against Hanshin.
The final game proved to be a good piece of redemption for the Dragons as a line-up tinkering seemed to sort out some of the hitting issues. Donoue did just as good as one would expect and Hirata may have found a new home at 3.