Weeeee're back on the farm after a very short intermission as I'm trying my best to catch up on some reports. We are in for a 3 gamer in today's report as for whatever reason no game was called off this time around. The Dragons took on the Hanshin Tigers in the second farm series clash of the Western League season. It would be an unfortunate overall loss to the Dragons, but there were lots of runs in an exciting three games against our geographically closest rivals.
The first game
saw 2-gun regular starter, Yudai Kawai take the mound once again while Masaru Iwasaki took up duties for the Tigers. There would be a number of first-team hopefuls in the side as Okada took up the ball again today while Kamezawa, Hernandez and Akasaka played roles in the field and with the bat.
Pitching
I better shape up, coz we
need a....relief pitcher...
It would be the ubiquitous, Yudai to start things off and he would keep things tidy until his last inning where he allowed the Tigers back in the game with Naomasa Yokawa and others striking back to make the score 4-3 in the 6th. Yudai would finish with 6 strikeouts giving up 6 hits and a walk. Achira would clean up the 6th inning as he run through 3 batters for no loss. Toshiya Okada would unfortunately give up 2 runs, including a homer, against the 4 batters he faced, taking one strikeout in the process. Takeshi Kaneko restored some respectability as he remained scoreless after 1 1/3 innings giving up a walk and a hit but taking a strikeout. Mitsuma would take up closing duties and let go of another run. He would end his one inning with a strike, a walk and a hit to his name.
Not the greatest of work from the pitching staff.
Homerun to the Tokyo
suburb, Akasaka
Batting
Batting started off well in the first inning. Hernandez would send Kamezawa to make it 1-0 with 2 outs before Akasaka, fielding at first-base today, sent one over the fence to bring himself and Hernandez home to make it 3-0 in the first. A further RBI would be added by the man of the moment, Kondo to make it 4-0 in the 5th. Kondo would grab two hits today and strikeout twice in his 4 at-bats. Other notable performances go to Ishikawa who milked two walks as well as Kamezawa and Hernandez who both claimed two hits a piece.
Not a great day at the office for the bullpen, but these are the lessons that must be be learned at this level. A 4-6 loss at home is never a good look.
Game 2 of the series
would be even less close as the Tigers made a blowout in the 5th against Iwata to pile on the runs and claim a 3-7 win.
Among the starting members today were some familiar faces with Muto returning to the second squad while Akasaka, Yusuke Matsui, Hernandez and Takeyama would make some contributions with the bat. New draftees, Takuya Kinoshita and Toshiki Abe would start while Yuu Satoh would relieve. Starting on the mound again was the ever erratic Shinji Iwata while Kouki Moriya took the mound for the Tigers.
Pitching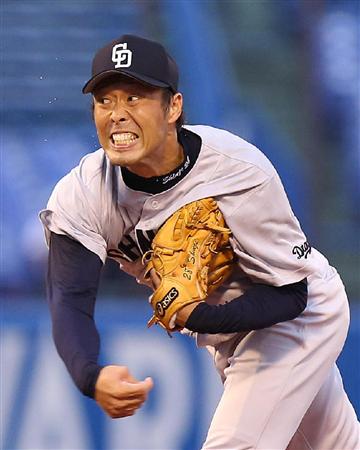 Iwata continues to struggle.
Iwata did well until the 6th inning but the remaining stats are what matters. The experienced starter conceded 5 in 4 1/3 innings giving up 6 hits and 3 walks while taking 6 strikes. Mitsuma finished off the 6th inning, gave up a hit and a walk but remained scoreless. Yuu Satoh took 2 strikeouts in his two scoreless innings against 6 batters. Unfortunately, Mutoh would give up a further two runs in his disappointing relief inning. Nishikawa took the tail inning and was able to remain scoreless as he took down his 3 batters with 9 balls.
Iwata might be lucky to keep his contract by the end of this year if he shows no further improvement.
Not to be confused with
ヒルナンデス
Batting
Hernandez would be the pick of the batters as he picked off two RBIs in two hits. Two strikeouts however tarnished that good record. Mizowaki would be the only other to register an RBI today for the Dragons as he helped the team to a 1-0 lead in the 3rd. Mizowaki would also make another hit as well as striking out to end his day. Watanabe, playing in left-field, would also hit two, striking out once. Akasaka could make no notable contribution today while Matsui and Takeyama both struck-out as pinch hitters. Furumoto would be the only other to register some meaningful statistics as he got a hit and a walk as DH today.
2 losses in a row and both have been mostly due to blow-outs by the starting pitchers. All in all though, this is the development team. The main worry however is that the experienced ones are the one's stuffing it up.
The last game of the series
taking place on Sunday, would be a refreshing but nail-biting win. Shinnosuke Ogasawara would continue in the starting rotation for the second team but once again find himself a bit lacking. Kamezawa, Hernandez and Takeyama would start in the field while Yusuke Matsui found himself at the DH.
Kohyo Aoyanagi would start on the mound for the Tigers.
Adapting to big ball takes time.
Pitching
Ogasawara opened things up and his starting jitters would continue as he gave up 3 in his second inning. Control seems to still be an issue as the youngster game up 4 walks and 4 hits to accompany his 4 strikes in 5 0/3 innings. Kaneko would not slow down the scoring either as he gave up a hit and a run to go with his single strikeout in 1 1/3 innings. Okada would restore some essence of sanity by keeping things scoreless against 5 batter in 1 inning. Muto would take home winning honours despite pitching only 2/3 of an inning, giving up a hit and a walk. Daisuke Sobue would grab another save for his collection, once again running through 3 batters in quick succession taking two strikeouts.
A much better showing...or at least a luckier one but the slow progress of Ogasawara is a minor worry. Easy to forget he is only 18 though.
A man that needs No-motto.
Batting
Kamezawa would be one of the scorers today after he walked twice. Hernandez grabbed two RBIs and walked once while Matsui grabbed a hit and walk for his troubles. Furumoto was the pick of the bunch as he hit twice and walked twice to do very little wrong. An unlikely hero would however emerge as Kei Nomoto came in as a pinch-hitter to claim a game winning double. Takeyama unfortunately would only trouble the scorers with a strikeout.
Young Watanabe would also show good form today as he picked up an RBI, took a walk, stole a base and struck out once.
A good performance from the batters saw this one out, but it did take some 8th inning heroics from Nomoto to make it possible.
A very mixed bag of results for the 2-gun team this round, with no huge standouts. Hernandez did his reputation no harm, but with Jordan and Naylor in the starting rotation and Ricardo Nanita in decent form, it's currently unlikely we'll see a return for the Dominican for a little while. My guess would be a drop in form from Nanita and disappointment with Donoue might bring the stocky infielder back into the fold.
In other roster news, Shota Tomonaga has been spending time with the first team, while Kazuki Yoshimi will be taking time off to recover after being de-reg'd despite starting against the Giants on Saturday. Akasaka as well is currently with the first team side after his home-run performance.