Oooooh..give me a home where Ogasawaras doth roam, and the youths and the veterans
plaaaayyyy...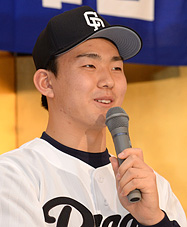 One Ogasawara?
Two Ogasawaras?
Oh my medication!
That's right, it's time for another farm update! We only have two games this round again as poor weather cancelled the final fixture. The Dragons 2-gun team has been in pretty good nick this year and they remain perched on the top of the table in the Western League.
The two games this week are the only farm games scheduled for the week so I can relax a little bit and focus on the weekend games (and the Hiroshima report) for the rest of the week.
We were back in Nagoya for these games and it would be a good series for the Dragons as they walked away with 2 wins in 2 to continue their time at the top of the table. A sold 7-2 win would accompany a more modest 6-5 win as the Chunichi batters continue to show prowess that we could only dream of with the first team at the moment.
Game 1
of the round would be played in decent weather with Junki Ito taking up the mound as part of the regular rotation with 20 year old, Koki Saito taking to the mound for Orix. It was to be a bad day for Saito but a very good one for Ito as the latter kept his composure to see out the win.
Pitching
Ito looks on.
Not too much to say about the pitching today, not in any detail at least, as only two pitchers took the mound today for the Dragons. Junki Ito was the man today as he pitched out 8 innings. It was only in his 7th that he conceded 2 runs as the young man showed what he's made of. Ito ended his bracket with lots of fours. 4 hits, 4 strikeouts, 4 walks. He faced 33 batters and threw just a touch over 100 balls in a very good effort from the youngster. A few more of these kinds of performances might have Tanishige having a closer look at him in future.
Toshiya Okada took the 9th inning and took a strikeout from the 3 batters he faced.
Batting
古本? More like 振本 amirite?
Some very good performances from the batting line-up overall as there were plenty of hits. The Greatest Hits collection would come from Furumoto who, fielding in the right today, hit two with two RBIs in his 4 at-bats. Yusuke Matsui would show why he was called up to the firsts not so long ago as he hit and scored twice as well as claiming an RBI. Hernandez and Nomoto would both end with two hits a piece as well. One significant statistic goes to Masato Matsui who managed to reap 3 walks and a sacrificial hit in his 4 at-bats. Not bad. Other RBIs went to Kondo, Watanabe, Mizowaki and Abe as the Dragons ran out deserved winners.
The development players have played consistently well for for Michihiro Ogasawara's side, and he must surely be happy with how the team is going.
Other interesting news to come out of the game was a first appearance for "development" player, former Baystars and Samurai Japan outfielder, Hitoshi Tamura. T
he veteran had been looking for work after he was released by Yokohama
, and the Dragons extended a helping hand. Tamura was once a team-mate of our manager, Tanishige back when they played together at Yokohama. Tamura came in as a pinch-hitter but was unable to contribute.
Game 2
and subsequently the final game of the series would be a much closer affair as both teams were quick out of the blocks to pile on the runs. Dragons would take advantage in the 1st by piling on 3 runs after Orix added one at the top of the inning. Orix would continue to take advantage of Tatsuro Hamada's pitching and went 3-5 to the good by the top of the 3rd. Once Hamada was removed from the mound, Achira calmed things down and counter-attack would start in the 4th to make it 4-5. Now keeping the Buffaloes quiet, the equalizer came in the fourth inning, 5-5. The Dragons would have the last laugh with a walk-off double from Hernandez in the 9th inning.
The starting pitchers today would be the aforementioned Hamada and for the Buffaloes, Daiki Aoyama.
Pitching
Takuma Achira - あちらへどうぞう
Well, Hamada's form in pre-season is looking all the more miraculous as he got yoinked after 2 1/3 innings after giving up 5 runs to the Buffaloes. He gave up 7 hits and a walk to pile on the misery in what has been a terror year so far. An error from Mizowaki in the field didn't help either but I suppose if we're to be positive, he didn't walk too many today?
Achira would come into to calm things down and he pitched 2 full innings only giving up a single hit and 2 walks. Kaneko took over with 1 1/3 innings and took one strikeout, conceding a hit and a walk. Muto as well would have 1 1/3 innings to show his stuff and allowed one hit and threw two strikeouts against his 5 batters. Toshiya Okada would have another chance to shape up as he conceded a hit and managed a strikeout in his 2/3 of an inning against 4 batters. Daisuke Sobue would walk away with the win however after he pitched the 9th inning and the last part of the 8th, taking two strike and giving up a walks and two hits.
Apart from Hamada, the bullpen really put the halt on the Orix attack and helped the batters as much as they could to turn the game around.
Mr No-motto continues his good touch
Batting
Kei Nomoto was at his industrious best as he took to the Buffaloes with 4 hits including 2 RBIs. A perfect outing from a man that has hit some good form of late. 6/8 against the Buffaloes this series. Not bad at all. Watanabe would also show more of what he has to offer as he chipped in with two hits, a walk and an RBI. Kondo, another trainee, kept his run of hits going as he hit one and walked once. Hernandez and Yusuke Matsui would be the other RBI hitters today and it was the diminutive Domincan that would hit the winning RBI, a double in the final bracket in a sayonara win.
All in all a good couple of wins to keep the team on top. No significant movement between the rosters at present. Although with 3 straight losses for the first team, it's possible someone might get a call-up.