ODELAY-HI-HOOO
It's time for a slightly delayed, but another, farm report! For the first time in a while the 2-gun team was able to have a 3 game series and it was up against the Buffaloes again, this time in Nagoya. The Buffaloes have been pretty bad in the Pacific League and the Western League with the Dragons having the best of most of the match-ups in the latter.
It wouldn't be all that straightforward for the Dragons this time around as they recorded a win and two losses. There would however be a couple of rare homers through this series to give me a little bit more to write about.
Game 1
was to mark the return of Raul Valdes who has been out of reckoning since sustaining an injury either early this year or late last year. The 38 year-old Cuban and former Phillie, is probably not going to see a whole lot of first team action this year, but looked very good on his return. 23 year old Hiroki Kondo would however go some way to taking the limelight away from Valdes with his key performance with the bat.
Pitching
Valdes back in business.
Valdes threw down a strong 5 innings where he only gave up 2 hits and a walk while fanning 3 to keep things scoreless. A strong comeback. Yuu Satoh took up a relief inning and also kept things scoreless, giving up 2 hits and fanning 1. Achira continued his great form with a scoreless inning while Ogawa took two strikeouts in 2/3 of an inning. Kaneko fanned 3 in his full inning and Yamamoto, also coming back from injury, threw out his one batter to end the game.
Kondo in fine form.
Batting
Kei Nomoto would be the first to tee off against Umida in the 5th, sending one of two Dragons homeruns over the fence. As mentioned, Hiroki Kondo continued his great form in the 2-gun as he hit a marvelous homerun in the 7th against Tsukada and grabbed a hit to continue building up his burgeoning reputation. Akasaka would also raise some eyebrows as he made the best two at-bats as he scored 3 from 2 hits. Hitoshi Tamura, the veteran, also picked up a hit and a walk in his 4 at-bats.
A 5-0 win were the spoils in a fairly dominant performance from the bullpen and a some good hitting from some key batters. Nomoto and Kondo have certainly been pushing for first team selection and I wouldn't be surprised if the latter is offered a full-time contract before the year is out.
Game 2
marked another return to a man on the comeback trail as Tomoya Yagi, a former Buffalo, made his first start of the year. This was also a game where Shinnosuke Ogasawara was given a relief role for the first time in his 2-gun career. It is worth mentioning that Hikaru Itoh, the starting catcher for Orix last year and Takahiro Okada another usual starter were in the line-up for the Buffaloes. Kondo would rock some worlds again, but it would the Orix who would leave victorious.
Yagi, more goat than man.
Pitching
Yagi didn't cover himself in glory as he gave up 4 runs, including a 2-run homerun to Okada, and 6 hits in only 3 innings. Ogaswara didn't do much better as the youngster continues to adjust. The lefty gave up 3 runs including a home run to Sugimoto plus 5 hits and a walk in 4 innings. Nomura would be another returning from injury as he saw off 3 batters taking one strikeout as Ohba finished things as he gave up one hit but kept things scoreless in the final inning.
Batting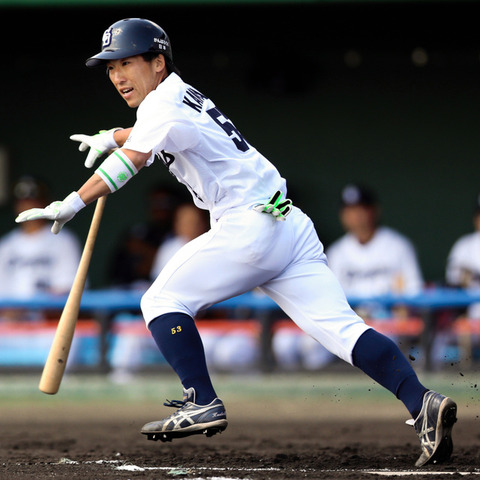 Kamezawa promoted
The only real positive and scoring moment was from Kondo as he hit a 2-run homerun in the 4th against Matsuba. Kondo also managed to milk a walk as he did just about all he could to try and push the Dragons along. Kamezawa hit two and stole a base to help build his case for a return while no other batters really stood out in an unfortunate loss.
Not a great game for the team as a whole but Kamezawa and Kondo ensured it wasn't an amazing embarrassment, 2-7.
In
Game 3
the ball would be put in the safe hands of Junki Ito who is 2-0 this season in the Western League so far. It would however end up being a bit of a massacre as Orix ran out 4-11 winners. Things would start well for the Dragons as they put up 2 runs on the board in the first two inning, but a 3-run homerun from Hikaru Ito in the 3rd off Ito's pitching gave the Buffaloes the lead. A Tamura double would put the Dragons ahead in the 4th. In the 5th Hamada gave up 2 runs and a Nishikawa blow-out in the 7th, where he leaked 5 runs, ensured a pretty bad loss.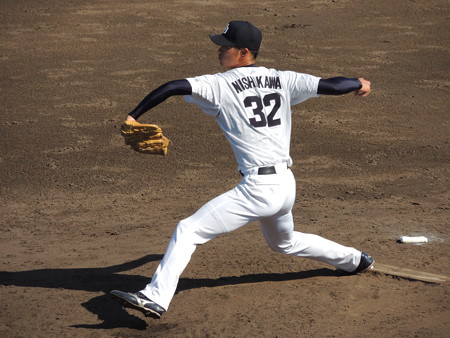 Nishikawa a bust?
Pitching
Junki Ito would only throw three innings as he gave up 4 hits and 2 walks along with Itoh's homer to finish off very shakily. Considering how good he has been of late, it's a surprise that he was taken apart so quickly. Hamada picked up where Ito left off as he gave up two runs in his 2 innings. Yamamoto would keep things quiet in his 1 inning as he struckout one and gave up a single hit. Nishikawa however would face 7 batters however and only manage to take two outs as he haemorraged 5 runs. Ohba took the last out of the inning and kept the Buffaloes quiet in the 8th as he took 2 strikouts but gave away 3 walks and a hit. Nomura pitched out the 9th inning in 11 balls taking 3 straight outs.
Batting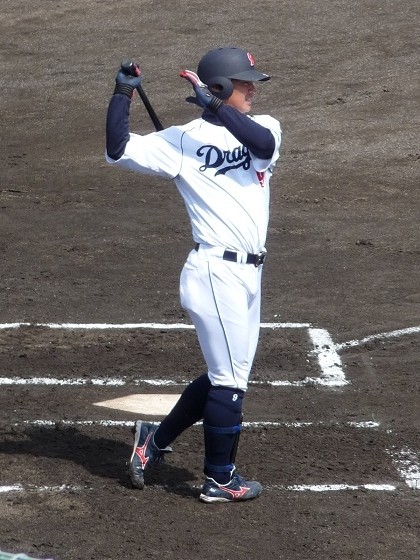 Nomoto continues to impress
Kei Nomoto picked up 3 hits today including an RBI and a walk in a fantastic display at the number 5 batting spot. Kondo only managed a walk today despite his consecutive homers. Tamura picked up 2 RBIs and a walk to add to his good performance in the previous game. Kamezawa grabbed another 2 hits and a walk in his 4 at-bats in what would be enough to earn himself a recall to for the series against the Baystars. Abe would be one of the worst of the day as he made an error and struck out three times.
A big 4-11 win for the Orix and a pretty disappointing loss for the Dragons. Some good performances from Tamura, Kondo and Kamezawa in there however helped alleviate some of the heavy feelings about the series.