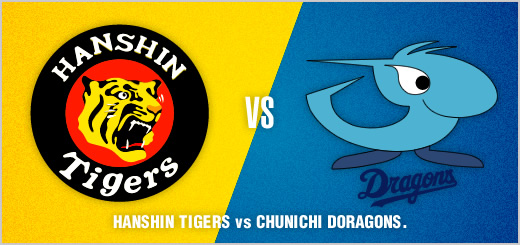 In the final game of the weekend at the Kyocera Dome
it was to be an interesting contest
between the pitchers with Kyuji Fujikawa making his triumphant return to the mound since his ill-fated trip to the Majors, this time notably as a starter. Drew Naylor for the Dragons made his first appearance this year having put behind him a very solid pre-season. It was however to be Fujikawa who would come out the winner with a very active contribution from Chunichi old-boy, Kosuke Fukudome, who sent a runner home in the first and sent one into the stands in the third.
Line-up changes:
Yamai -> Naylor, Sugiyama -> Katsura, Araki ->Hernandez; Jordan sent to the farm to allow Naylor to play. Will be eligible for selection again on the 7th of April with a
view to entering the starting rotation.
Fujikawa would take to the mound to start the innings. The man who made his name as a closer for Hanshin showed good form to get rid of the Ohshima, Hernandez and Endo. Naylor however had a less assured start. After striking out Shun Takayama with an absolutely wicked curve ball, he proceeded to hit Shintaro Yokata with a pitch with only his 10th delivery of the day. Matt Hague's first appearance of the day saw him ground out at second but allow Yokota to move to second base. That then allowed for Kosuke Fukudome, who has been quiet the last couple of games, to step up and take control with a two base hit line-drive, sending Yokota home to make it 1-0 in the first. Naylor put himself in further trouble by allowing Mauro Gomez to get a two-base hit, allowing Fukudome to move to third. A walk to Hanshin captain, Takashi Toritani loaded the bases to create the first real tense moment of the game. Luckily for the Australian however, Tsuyoshi Nishioka could only manage a hit to second base where he was found short of his ground at 1st.
Fujikawa would take his turn to hit someone with a pitch as he walked Viciedo to first in the Cuban's first at bat of the day. It wouldn't however affect anything as both Hirata and Fujii flied out with Takahashi ending the innings by grounding out.
The pain would continue for Naylor in the bottom of the second as Ryutaro Umeno hit through short-stop to get on base. Fujikawa would strike-out, but the rookie Shun Takayama had his revenge as he picked-up Naylor's curve ball and struck back with a three-base hit to send Umeno home. Yokota would then send Takayama home but find himself stranded out. Matt Hague would finish the inning with a ground-out to Endo at short-stop. 3-0
Chunichi would fail to muster a defence in the 3rd, and Kosuku Fukudome took advantage of an inconsistent Naylor by hitting an inside straight into the left-side stand to make it 4-0.
Naylor would however take three strike-outs in the aftermath with Gomez and Toritani caught looking, Nishioka getting a hit, and Umeno striking out on a cutter.
Things were looking dim for the Dragons, going down 4 early on is never a good look, but they mustered some courage and started their counter-attack. Endo opened the stanza grounding out to the pitcher, but it was the former White Sox slugger, Dayan Viciedo who stepped up and crunched his third homer in as many games. Who can stop this guy? A massive hit straight down the middle to cap a fantastic debut series. (Hopefully we can see some of that at the Nagoya Dome)
More pain would be inflicted on Fujikawa as Hirata hit through the middle to get onto first. Fujii would strike-out but consecutive hits from Takahashi and Katsura put the Dragons back in with a chance. 4-2.
Naylor would start the bottom of the 4th inning with 3 consecutive strike-outs, downing Fujikawa, Takayama and Yokota in succession to continue his revival in the game.
More action would game in the opening of the 5th as the fleet-footed Ohshima took to the second delivery served up at him to get a two base-hit. A walk to Hernandez would follow and a sacrifice hit from Endo would move the aforementioned duo to second and third. We all know now what comes in at 4, and the Cuban tank, Dayan Viciedo continued to put tread-marks all over the Kyocera dome hitting both runners home to even up the scores at 4-4.
Naylor would see out the bottom of the 5th scoreless, while Shuhei Takahashi's hard work went unrewarded after being stranded on 3rd base after a fantastic two-base hit to start the stanza.The young Kanagawa Prefecture native looks to be really hitting his straps early on which spells great things for the future. The gap left by Luna seems to be have been suitably filled with by the bat and glove of Shuhei.
The scoreline would not last forever. Naylor was put to rest after an up and down first outing, and one of the bullpen's brightest, Toshiya Okada came out to relieve the big man from Brisbane. Okada would last only 14 pitches however after walking Umeno, striking out Takayama and allowing a hit against Yokota to move runners to 1st and 3rd. A pinch moment must have been sensed by Tanishige. With Matt Hague coming up to bat, the Chunichi manager decided to send out the right-handed Shinji Tajima to relieve the southpaw, Okada. It was however to be a perhaps, poor decision in hindsight as Hague struck one between first and second to send Umeno home to make it 5-4. Tajima would then walk Fukudome to load the bases, but luckily complete failure was avoided as he struck out Gomez to end the innings.
The game from there would peeter out with neither team making any massive offensive plays. Closing pitchers on both sides did their jobs well and new Hanshin acquisition, Marcos Mateo threw down another un-hittable innings to claim his first save of the season.
An unfortunate end for the Dragons for what was an exciting game. This is however a worrying pattern where we are giving runs away early and having to chase. This was something we saw a lot of in pre-season as well. It's as though our pitchers aren't set before heading out and they lose their heads if things don't go there way early on. Ohno showed on Friday what to do, Yamai showed you the opposite and Naylor on Sunday made a concerted effort to big back the Tigers after the 4-0 breach.
Big wraps again for Dayan Viciedo who drew a walk, struck 3 hits (including a homer and an RBI) and one strike-out in his third NPB outing. Very positive signs early in the season. It will be interesting to see how the other NPB pitchers adapt and if Viciedo can still hit some dongers in the pitcher paradise that is the Nagoya Dome. Praise also goes to some of the young guard, Katsura and Takahashi who both had two hits to their names to go along with their otherwise solid performances.
Tanishige was obviously disappointed with the loss, but concluded that "
it was better than last year
." He did however
voice concerns
about there being a lack of runners on base when Viciedo was coming up to bat to maximise the big man's impact.
As for some final thoughts, I think we are progressing and we are already looking better than last year. The extra pop provided by Viciedo is really going to raise the team as a whole. Pitching depth with starters will be an issue, but I'm quietly confident we'll finish 4th or above this year. Just a hunch. There seems to be a lot more hits and youth in this team this year and I'm looking forward to seeing how everyone develops.
Here are some highlights from the game to enjoy!
NB: Just a reminder that this will be the last individual match report until I either get the chance to go to a match (not super likely at the moment with...life events) or the first round of inter-league games Whichever comes first.