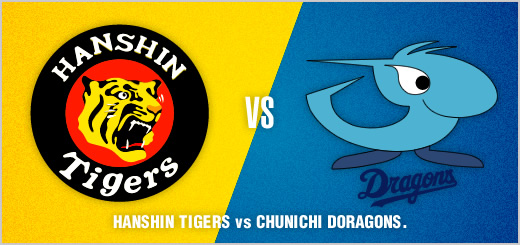 It was a performance to forget for the veteran, Daisuke Yamai who gave up 6 earned runs in 5 innings including a 3-run homer to Hanshin slugger, Mauro Gomez. The Dragons attempted to pick themselves up in the 6th and 7th, including a second consecutive homer for Dayan Viciedo, but it would be to no avail as the
Osaka giants marched to victory in a 7-3 win.
On a lighter note, Hiroto Fuku made his professional debut with 3 balls to get rid of Ryota Imanari in the 8th.
Before we get underway with the match report, you can watch most of the game yourself thanks to a kind soul uploading the game to Youtube. Thanks to @NPB_reddit on twitter for the link.
So, let's get down to business.
Chunichi started the batting today against the might of the skillful Atsushi Nohmi. Issei Endo and Dayan Viciedo managed to get on base after two outs, but Ryosuke Hirata was unable to capitalize on the first inch into enemy territory getting caught out at short-stop.
The Tigers had similar fortunes in their first inning at the plate with Hague getting a 2 base hit on two outs before Kosuke Fukudome grounded out to second. Blows were exchanged equally until the bottom of the third inning.
Anyone who has watched Yamai in pre-season this year would have been extremely worried with him being in the starting rotation. He failed to impress at all and the best result he could muster was 1 run conceded against the Lotte Marines in a 1-1 draw. However, all looks good in hindsight and Yamai's errant run continued allowing two 2-base hits from Shun Takayama and Hague to score to put the Dragons 2-0 down. Credit must go to the Hanshin rookie Takayama who has not looked out of his depth at this level at all, so far making some very important contributions in his first two outings.
Yamai would continue to look shaky, giving up a number of walks and otherwise living dangerously but it wouldn't come to bite him until the 5th inning. After allowing a hit to Shintaro Yokota, Yamai then struck Hague enforcing a walk to allow two runners on base. Fukudome would fly-out leaving the count at two down, but it was the big man Mauro Gomez that would punish the error-prone pitcher by pulverizing a change-up delivery into the left stand making it 5-0.
Yamai would continue the rot by giving up 3 consecutive hits to Toritani, Nishioka and Okazaki to allow another run in pushing the score to 6-0. It would prove to be a knock-out for Yamai who would find himself relieved in the next inning.
Chunichi were able to launch a minor counter-attack in the following batting section as Dayan "Big Vic" Viciedo pummeled his second homer in as many games into the stands of the Kyocera Stadium to give the fans a little bit to feel better for. An error from Takashi Toritani against Shota Sugiyama would allow Atsushi Fujii to score as well making it 6-2
Jordan Norberto, the new southpaw Dominican recruit, would come in as relief for Yamai in the following inning giving up 3 hits where Hague once again helped himself to an RBI pushing the score up to 7-2. It wouldn't quite be the end of the scoring though as in the following stanza, Issei Endo would hit Yohei Oshima home to make it 7-3 in the top of the 7th.
Tajima, Fuku and Ogawa would see out the game as relief pitchers in a somewhat sullen end to a very action packed game.
If it weren't for the performance from Yamai, this could have been a lot closer. Chunichi batters did well enough to get into good positions and get on base, but in the end it wasn't enough. We were 3 hits short on the previous game
which had Tanishige wondering where another production point would come from
.. Big wraps must go to Viciedo who helped himself to two hits apart from his homer in a very productive day at bat. Making contact 4 times out of 4 (finding an outfielder once) for a bloke we were told would strike-out a lot makes me think he has what it takes to make a big impact this year.
Tanishige was rather unspectacular post-match remarking that "
it's only one game
"which you would expect. But is that also a prophecy to see out the rest of the season with only wins!? I hope so!
One more game in Osaka left before we go back to Nagoya to face Hiroshima!