The Dragons were meant to take a game to Hamamatsu in their annual face-off with the Swallows in Shizuoka but as is often the case with outdoor games at this time of the year, one needs to compete with the rain. The rain unfortunately won the battle in Hamamatsu with the rest of the games to be played out at Nagoya Dome.
The Dragons did a handy job in a shared series despite the loss of key reliever Joely Rodriguez. Zoilo Almonte was given a recall while Hiroshi Suzuki also rejoined the team.
Game 75: Swallows 3-1 Dragons
Game 76: Swallows 1-7 Dragons
Game 75
The Dragons took the lead through Dayan Viciedo's single in the bottom of the first but it would be the Swallows who would capitalise with Tetsuto Yamada's 21st homerun of the season equalizing the scores in the third while Takahiro Araki gave the Swallows breathing space in the top of the 5th.
Yudai Ono pitched 8 innings with 9 strikeouts but those 3 earned runs blemished what was otherwise a good start. The Dragons lineup couldn't muster the runs needed to support their starter however but Shuhei did his best going 4-4.
Game 76
The team once again rose to the occasion for Yuya Yanagi's start as he claimed his 9th win of the season. Yanagi continues the high value from the starters as he tossed 8, 1-run innings with 8 strikeouts in a comfortable win where the Swallow's Yuki Takanashi continued his poor run against the Dragons (ERA v CD 10.57; 5 starts).
All the runs but one came in a destructive first inning. Tetsuto Yamada had put the Swallows ahead with his 2nd homer in as many games, but the Dragons stepped on the gas with Dayan Viciedo hitting a 2RBI double, Naomichi Donoue smashing a 3-run homer and Yuya Yanagi claiming and XBH RBI.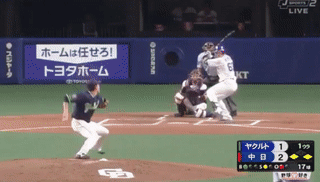 A Ryosuke Hirata single in the 3rd would end the scoring. Yanagi would keep hurling his way through 8 innings while Daisuke Sobue mopped up in the 9th.
Yanagi continues the great form that earned him an All-Star call-up this year.