While I may not be able to report that often anymore, I would like to do what I can in the off-season as deadlines are far less demanding. As part of that I'd like to provide a bit of a wrap-up to the 2019 season with some assessments of the 2018 draftees and their performance as well as highlight key players this year who broke-out or otherwise performed above expectations. I will also throw shade on those that didn't live up to expectations as well.
First of all I'd like to take a quick look at the 2018 Draft Class and what they did for us this year.
#1 Akira Neo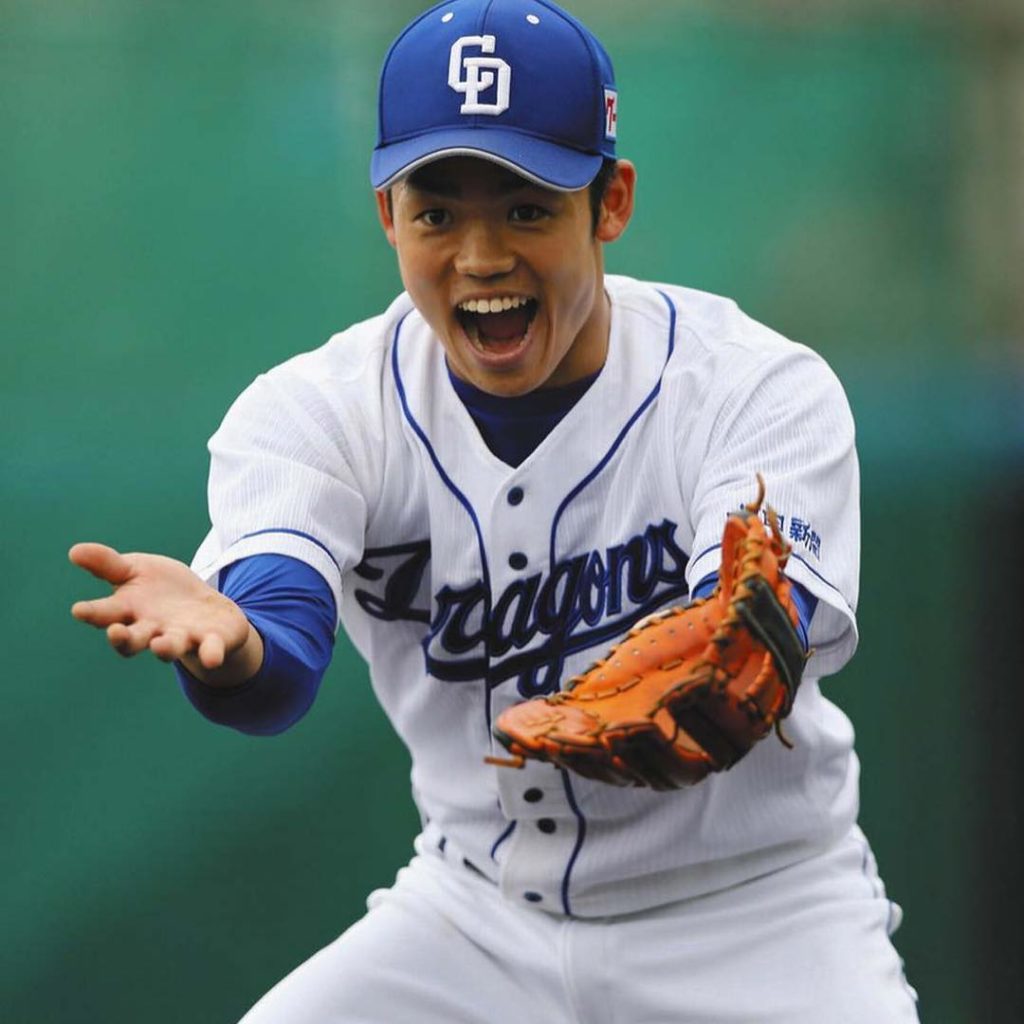 Neo was slated to start with the first team in Spring training but a minor injury in the lead-up saw him start on the farm and stay there. Neo had some struggles at the start of the year adapting to professional ball where he was averaging below .200. Even his famed fielding came under attack as he led the league in errors. A strong second half however showed what looked like something had clicked for the teenager where he finished the season with a .212/.268/.300 clip and a call-up to the senior team for the remainder of the season following a confirmed B-Class finish.
Neo learned a lot this year and while he struggled early on, he was able to pick himself up a little bit. Over the course of the season, his stats aren't super flattering but he certainly received a lot of much needed experience. Given that Yota Kyoda and Toshiki Abe pulled together a good season together in the middle of infield means there's less urgency for Neo to take his place in the top team any time soon which will hopefully allow him to relax and slowly build year by year.
Final Grade: B-
#2 Kodai Umetsu
Another marred by injury to start the year, Umetsu became an important part of the starting rotation in the late half push for third place and a spot in the Climax Series. The "Giants Killer" (as I hope he continues to be known) took down the league leaders twice in his first two appearances against them. He otherwise left behind a superb record with 4 quality starts in 6 appearances and a 2.34 ERA. Umetsu truly looked the part and we can only hope that he will come back even stronger with even filthier stuff next year.
Final Grade: A
#3 Akiyoshi Katsuno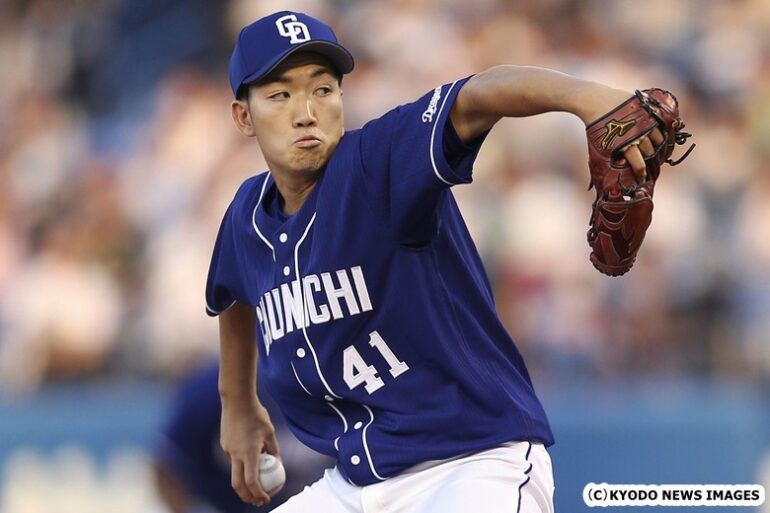 Katsuno was somewhat surprisingly the first of the 2018 draftees to get a run in the top team. He had a superb sub 2.50 ERA on the farm before his call up, at the time only Tatsuya Shimizu had a better start to the season an he experience a period with the starting rotation as well. Katsuno had a rough start of things unfortunately as he gave up 11 runs over 3 starts and 16.1 innings including 2 blow-outs.
On the farm Katsuno dropped off to finish with a 4.82 ERA over 14 appearances with a 1-4 record.
Not the greatest start for Katsuno who didn't quite cut it when he was with the starting rotation in the top team. Still, at worse Katsuno projects to be a good reliever so we'll see how the Dragons want to develop him in future. A strong off-season however might see him return all the stronger for 2020.
Final Grade: B-
#4 Kota Ishibashi
A personal favourite of mine, Ishibashi made himself well known to the Dragons staff early on by showing confidence well beyond his years vocalising and showing leadership behind the plate. With the bat, he also made an impact early on with a few fence clearing bombs but it was perhaps behind it that earned him a call-up to the first team.
Ishibashi was introduced to the top-team half way through the year and what was made immediately apparent is that he didn't need the bench to help he lead a game like his colleague, Takuma Kato. Ishibashi made a good account of himself and managed to stick around with the big guys as a third-choice catcher likely to get to know the pitching staff in bullpen sessions.
Tsutomu Ito has a track-record for nuturing promising catchers and his work with Ryuhei Tamura at the Marines is well publicized. It was at that time too that he chose 3 catchers of differing ages to work with, including the relatively young Tamura, where, in the end, Tamura worked his way up to become one of the top men with a mask in the Pacific League. A similar pattern seems to be emerging with the use of Ishibashi, so we may yet see some interested developments in that regard.
Final Grade: A
#5 Kenshin Kakikoshi
Raw but with potential, Kakikoshi unsurprisingly spent the majority of the year on the farm building up experience through extended relief appearances.
His year was a respectable one for a first year as he held a 3.58 ERA over 32.2 IP fanning 16 and walking 16. Still a long way to go with Kakikoshi, but early signs are good. Hopefully he can build on his experience in his first year.
Final Grade: B
#6 Kaname Takino
Given his age, Takino was one of the more likely contributors this year, but injury slowed him down and he wasn't able to make the impact he would have liked to. Takino spend his year down on the farm where he collected 209 ABs for a slash line of .239/.299/.277 including 5 doubles and a triple.
Not exactly impressive but the Western League is not particularly kind to batters in general. Takino will likely be disappointed with his first year but, he's still got plenty of years ahead of him to figure it out.
Final Grade
: C+
Surprise, Surprise!
Next up, I'd like to talk about the biggest surprises of the season and those players that made a big leap forward. The top 5 candidates are Yudai Ono, Yuya Yanagi, Toshiki Abe, Shuhei Takahashi and Hiroto Fuku. All of these guys either bounced back in a big way or showed exponential growth.
Ono has had a torrid couple of years but the current pitching staff have helped him turn a corner and more importantly turn in an ace quality season. I was bemoaning Ono's lack of effectiveness last year, but he bounced back in a big way in 2019 taking ERA leader honours for his first ever title. There was rarely a time where Ono exploded this year (rare for him) and he proved to be the pitcher that other teams hate to face. He even threw the Dragons first no-hitter since 2013 against the Hanshin Tigers this year.Back to his destructive best, Ono had a fantastic season which resulted in his recall to the national team for the Premier 12 at the end of the year.
Yuya Yanagi broke out is a big way this year. The former Meiji University captain turned in a number of a double digit strikeout games where he showed increased velocity on his fast ball and a better command of his secondary pitches. My best memory of Yanagi was throwing up an in-course change-up that absolutely befuddled a batter to take the K. Yanagi was meant to shake things up from the beginning after he was drafted but he has had injury issues in the past. Yanagi went 11-7 to have the best record among Dragons pitchers this year with a respectable 3.53 ERA.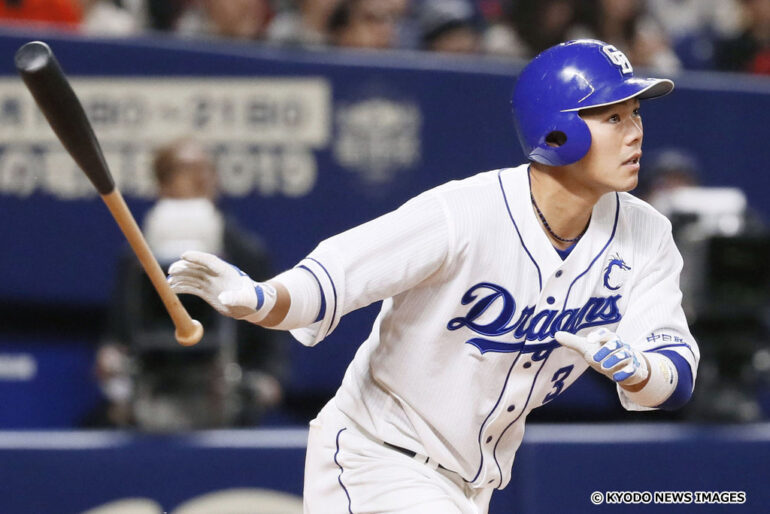 Shuhei Takahashi was given the captaincy of the team this year and truly lead by example for the first half of the season. The heard beat of the line-up until an untimely injury hustling into first base, Shuhei was all that was good about the Dragons. The third-baseman was hitting over .350 at one stage before BABIP took it's toll. Shuhei ended the season with a .293 average but ultimately cemented his spot once more in the line-up backing up on a breakout season in 2018.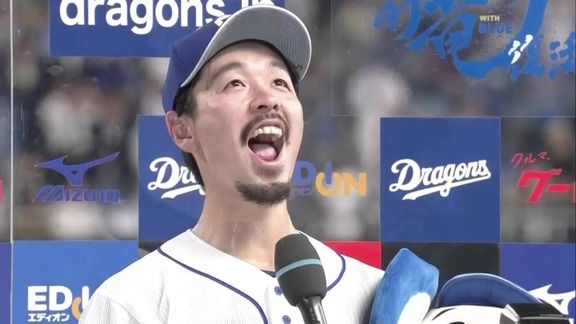 Toshiki Abe was nowhere near my calculations for the first team this year, but a solid spring training and a new skipper to impress put him directly in the line-up from the starting day. He initially shared duties at second-base with Naomichi Donoue but Abe soon became the regular at his position showing off impressive batting skills and good glovework to back it up. Abe had previously been restricted to being used as a utility infielder, filling in where needed, but the 29 year old broke out in a big way this year slapping .291 and playing in 129 games over the course of the season.
Hiroto Fuku is another that bares mentioning here after solidifying himself as
the
lefty out of the bullpen this year, putting up impressive numbers.
Fuku was drafted in 2015 but an injury in 2017 had him put on a development contract for the majority of the season. After Ryuya Ogawa was traded to the Lions for cash in 2018, Fuku was restored to the first team roster. This year, with Toshiya Okada being given closing duties, another lefty in addition to Joely Rodriguez was required and Fuku slotted straight in.
Fuku played in a a career high 52 games this year pitching 52.2 innings for a 2.05 ERA. Definitely a prime contender for being a comeback kid along with Ono.
In terms of shear "where did that come from?" factor,
Toshiki Abe
takes the cake for me. I never knew he had it in him and I can still hardly believe he was as productive as he proved to be. In terms of biggest growth, I think
Yanagi
has to be up there. He proved to be an excellent #2 starter behind Ono and really showed fans and the managerial team his potential to succeed at NPB level. For a team that had a lot of questions marks over it's rotation at the beginning of the year, Yanagi's emergence removed a lot of them.
Top of the pops
I'd now like to put forward my "best" players for some different areas:
Outstanding Outfielder/Batter
:
Yohei Oshima
Oshima powered through with another fantastic season. The 33 year-old shows no signs of stopping as he topped the Central League in hits. Oshima once again found himself mostly at the head of the line-up and put in a respectable .376 OBP with his .312 average. Defensively, Oshima looked a little off the pace, but still did just about enough. Arguably the most productive of any Dragons batter this year with an oWAR of 3.5 which is his second best season as a professional.
His contract is up at the end of the season and the team are doing everything to tie him down to another multi-year deal.
Outstanding Inflielder
:
Dayan Viciedo
The entire team performed admirably this year, but Viciedo put in another solid season's work. He didn't hit nearly as many homers as we would have liked with 18 for the year (his equal lowest total in 4 years) but the other numbers were still good. He slashed .315/.374/.496 to maintain the second highest OPS on the team behind Nobumasa Fukuda despite his lackluster homerun numbers. Not as impressive as his 2018 season, Viciedo still showed his value over the course of the year also chipping in with 93 RBIs which was far an away the best a Dragon mustered.
Outstanding Catcher
:
Takuma Kato
It's not really fair to award a catcher, but I'm doing it for everyone else so here we are. Kato had a breakout season this year as the Dragons threw their trust in him and his bazooka arm. Once Central League runners figured out they couldn't run on him as often the theatrical highlight reels stopped, but Kato otherwise put in a repsectable season behind the dish albeit sharing it with Takuya Kinoshita, Shoto Ono and the departed Masato Matsui.
Outstanding Starter
:
Yudai Ono
Ono was back to his electric best this year and while Yanagi took big steps forward this year, Ono showed his absolute class. Ono struck out 156 batters (a career high) and pitched 177 innings for a 9-8 record and 2.58 ERA. He barely looked like the same pitcher that struggled aimlessly last year, but we saw a return to the Ono's best as he started mixing more pitches higher in the zone to take more Ks. He even pitched a no-no against the Tigers this year to really cap-off his return to form.
A great season, unfortunately somewhat short of the Sawamura categories, Ono had his best year on the mound since 2015.
Outstanding reliever/closer
:
Joely Rodriguez
Rodriguez got through a lot of work this year but proved to be an integral piece of the Dragons' bullpen. He showed glimpses of just how good he could be when he came in half way through last year, but 44 hold points later and we're looking at one of the most dominant relievers in the Central League. The Domincan pitched 60 innings this year which is a bit more than you'd really want for a reliever but a measley 1.64 ERA was followed by a scary K/9 of 12.8. MLB scouts have been circling and it might take a big deal from the Dragons to keep the southpaw in Nagoya. Clearly a benchmark season, we'll just have to wait and see what happens next year...
Young Achievers
Apart from the rookies there were a few younger players that got a good run in the first team this year and that mainly includes 2017 draftees, Tatsuya Shimizu and Takumi Yamamoto. 2016 draftee, Kosuke Ito had a look-in with the top team before he suffered from injury while I've already mentioned the contributions of Kota Ishibashi.
At the beginning of the season, Shimizu topped the farm team in ERA and as such was given an extended run in the top team rotation. He managed to get in 35.1 IP over 8 games with a 4.33 ERA. A couple of poor starts ballooned those statistics, but overall the 19 year-old put in a good account of himself in the limited appearances he was given.
Similarly, Takumi Yamomoto was given time in the rotation as well. The dimunitive pitcher showed plenty of grit and determination in his first real season with the top team where he pitched 45.1 innings for a 3-3 record and a very impressive 2.98 ERA. For someone in their second year that's impressive regardless of age but for a 19 year old who's only 160 something centremeters tall, that's a fantastic achievement.
As such,
Yamamoto
gets my vote as the most impressive young achiever this year.
Bottom of the Barrel
Under-performing veterans is the flavour of the day with these 2019 flops. Tends to be the way to go as expectation is a lot higher for them. 2 pitchers and a catcher make my list of the biggest flops this year.
Well, you have to take the good with the bad and there were some bad and a few players taking a further step back.
Kazuki Yoshimi
was perhaps the biggest culprit as, despite signing a new 2-year deal in the off-season, showed how woefully off pace he is getting a shellacking in almost every start with the top team. He had a 6.41 ERA over 5 starts lasting only 19.1 innings.
Apart from the former star starter, it was
Shota Ono
who also proved to be underwhelming. The catcher moved to the Dragons via free agency in the 2017 off-season where he has never really settled. He was meant to be the team's next full-time catcher but he's been anything but. There's been a merry-go-round of catchers over the past two years and while Ono had his injury worries last year, he's been just not with is this year. Ono did often see time with the first-team roster this year but often played second fiddle to Takuma Kato, Takuya Kinoshita and Masato Matsui. I know it takes time for a catcher to get to know his pitching staff, but even first year Kota Ishibashi has shown equally as good calling skills and relationships with his pitchers. A big bummer. Apart from helping to lead Yudai Ono's no-hitter, there's not much to be happy about with Ono's performance this year.
Lastly, because I don't want to dwell on the negatives too much, is
Daisuke Matsuzaka
. The merchandising magnet broke down this year and we saw no benefit to him being with the team aside from 2 starts, 5.1 innings and no less than 10 earned runs. The former Lions hurler had a decent comeback season last year so it was a real disappointment to see that 2018 may well have just been a fluke. Yoda also seems to have been hesitant to use him given his age, but it looks like he'll no longer be a problem...
What we learned about Yoda and Co
The course of a season for a new management team is a good way for us to finally gauge what kind of style they're going with and I've noticed a few things.
Semi-Abandonment of the long-ball
It appears, at least on the surface that the hitting philosophy has seen a switch to a focus on line drives rather than anything fence clearing. The Dragons 90 homeruns was the lowest in the NPB however the team set the record for fewest errors over the course of a season. There seems, at least on the surface, to be a preference for hitting for average and picking the gaps. Perhaps management see Nagoya Dome as too big a fortress to overcome and are simply not challenging their hitters to blast the ball.
Defense has been the focus once more with, as mentioned, the Dragons giving up the fewest errors over the course of the season and in doing so equalising the 2004 Dragons for the Central League record. The absence of Zoilo Almonte in left field for the majority of the season along with the acrobatics of Shuhei at 3rd and Kyoda at short have made for a very tough little team.
Unlike the Mori Dragons, the Yoda Dragons appear to have a much better handle on bullpen management. The bullpen was moved around well and even the closer role wasn't stuck to any particular player. Even with Toshiya Okada pitching as the main designated closer in the latter half, we occasionally saw Raidel Martinez and Joely Rodriguez out in the 9th as well. Otherwise, bullpen arms have been a strength this year which certainly helped the late season push. The bullpen itself underwent significant renewal with old hands Shinji Tajima and Katsuki Matayoshi being given only limited innings this year. Hiroto Fuku was perhaps the largest benefactor of this revamp while Martinez and Rodriguez became important cogs in the late inning.
Revamp the catching staff
Tsutomu Ito and Takeshi Nakamura were two of the best catchers of their respective generations and under their watch, the catching stocks have been reassessed and revitalised. Masato Matsui was just about the regular catcher last year, but he was ousted early on in 2019 for a mix of Takuma Kato, Takuya Kinoshita and Shota Ono. This trio would chop and change a bit throughout the season with Kato proving to be the regular this year. Matsui was eventually traded to the Buffaloes with Yusuke Matsui for Takahiro Matsuba and Kengo Takeda. Shingo Takeyama and Shota Sugiyama have since left the club while Kota Ishibashi enjoyed time with the top team. There's a much clearer philosophy here now and with Ito and Nakamura at the helm and a new battery coach to come in on the farm, the team is doing their best to educate the next generation of Chunichi catcher.
On the back of this assessment, albeit a layman's one, the foundations seem to be in place for a return to a team with a focus on a strong pitching/defensive unit. The lack of homeruns however is a problem. 90 is the lowest total for the Dragons since 2015 when they only hit 71. Compare that to the heady days of the dominant line-up through the mid-to-late 2000s and we're still a Tyrone Woods away from reaching that. Hitting philosophy may have changed but the fact of the matter is that the long ball is incredibly valuable in the modern game and an absolute game changer. One can only hope that next year we will see an uptick in production from Fukuda, Viciedo and one or two others in that department to really make a difference.
How was 2019?
From my perspective, it was a great year. Yoda came in with a mission to fix the pitching staff and he's done a great job of that so far. The rotation looked very solid toward the end of the year particularly when the likes of Ogasawara and Umetsu came back from injury. Kento Fujishima took another step forward as he pitched a great season in relief and I think I've already waxed lyrical about the effectiveness of the bullpen this year.
The line-up was about on par with last year's offering apart from Ryosuke Hirata's lack of effectiveness and injuries this year and Viciedo's downtick in production made the line-up a bit lacking in umpf. The bullpen being propped up by Martinez and Rodriguez meant that some power was sacrificed from the line-up with Zoilo Almonte missing but Nobumasa Fukuda had another great year hitting 18 homers while fielding in left. Fukuda had a team high OPS as well and seems to be showing what a late-bloomer he is.
The team came withing half a dozen wins of the Climax Series this year and had an extremely scary run in the back half of the season that made them look like contenders. Had Shuhei stayed fit through the entire season we may have seen a different team but given the injury and the team's slump following, it's not surprise this is where we ended up.
Looking to next year, if we can pick up another talented pitcher in the draft like Yasunobu Okugawa or Roki Sasaki, this team is going to look very solid. The rotation already looks like one that could last the next 5-7 years (minus Ono). With Yanagi, Kasahara, Umetsu, Ogasawara, Fujishima and Yamamoto all showing bright sparks this year, the future looks promising. Add in a high ceiling talent like Okugawa and Sasaki followed by a return from injury by Sho Ishikawa and there's suddenly quite a few options. If all these guys are fit to start the year, we are going to have a very solid crack at the top 3 next year.
All in all, a lot of positives to be taken away from this year.