Time for another wrap up of the news. Some rumours and some bits and pieces going on.
The
Phoenix League in Miyazaki
is in full swing. With Michihiro Ogasawara leaving the club and Toru Nimura not quite ready to step in, roaming outfield coach, Mitsuo Tateishi has been given charge of the team.
As per in previous years, the Phoenix League is an educational league more than anything that usually contains a mix of rehabbing 1-gun players and a host of promising young stars that could do with some extra work. Yota Kyoda played the host of games with the top squad this year, but he's joined the team hoping to improve his power output. Takuma Kato gets time for more practice after his breakout season while his battery mate, Takuya Kinoshita also hopes to get some time behind the plate.
| Name | Position |
| --- | --- |
| Koji Fukutani | Pitcher |
| Takuma Achira | Pitcher |
| Hiroshi Suzuki | Pitcher |
| Shotaro Kasahara | Pitcher |
| Tatsuya Shimizu | Pitcher |
| Takumi Yamamoto | Pitcher |
| Kenshin Kakikoshi | Pitcher |
| Yusuke Kinoshita | Pitcher |
| Tomohiro Hamada | Pitcher |
| Tatsuro Hamada | Pitcher |
| Takuya Kinoshita | Catcher |
| Takuma Kato | Catcher |
| Kota Ishibashi | Catcher |
| Iori Katsura | Catcher |
| Wataru Takamatsu | Infield |
| Yota Kyoda | Infield |
| Akira Neo | Infield |
| Shun Ishikawa | Infield |
| Masami Ishigaki | Infield |
| Hayato Mizowaki | Infield |
| Issei Endo | Outfield |
| Masataka Iryo | Outfield |
| Masaru Watanabe | Outfield |
| Kosuke Ito | Outfield |
| Kaname Takino | Outfield |
| Kengo Takeda | Outfield |
In addition to the
2-gun staff leaving
, 1-gun base-running coach,
Hiroshi Narahara
has been told he's free to leave the club after 3 years in his second stint. Despite the team having a superb defensive record this year, it looks as though Yoda wants to bring in his own man to replace him. Masahiro Araki has been mentioned as a replacement after his single season on the farm.
The Matsuzaka hype train has departed for new pastures
Daisuke Matsuzaka
has officially left the club after the team failed to reach an agreement with the aging hurler. Speculation that without Mori and Tomori in the head office, Matsuzaka didn't feel inclined to stay given the reduced deal given to him. Mori and Tomori both had a big role in luring Matsuzaka to the Dragons after he left the Softbank Hawks 2 years ago. Matsuzaka made just two starts with the top team this year.
Naomichi Donoue
was rumoured to be eligible for free agency this year, but the utility infielder who has a breakout season in power numbers this year, revealed that he had signed a 3-year deal with the Dragons last off-season and will be staying put. Donoue will be 33 when that deal ends so it looks like he's likely to remain a Dragon for the remainder of his playing days.
Okugawa and Yamase could be a great pair to grab.
In tomorrow's draft, the Dragons have listed up a number of candidates they'd like to look at including Seiryo high school stars
Yasunobu Okugawa
,
Shinnosuke Yamase
and Riseisha slugger
Kota Inoue
. The scout team has mentioned that it will be yet another pitcher focus at this year's draft while they're also hoping to grab another catcher. Alongside Yamase, it is said that Chiben's
Junpei Azuma
and Chukyo's
Kento Fujita
are being considered. The reason being that at present, the Dragons only have one young catcher in
Kota Ishibashi
and it would be the hope that one of these 3 of a similar age could push Ishibashi to become a better player.
By all reports, the Dragons should select Yasunobu Okugawa first up and go to a lottery with at least 2 or 3 other teams. What the next pick after that will be may be interesting to see but
Kazuaki Tateno
of Tokai Rika in the industrial league, who tops out at 152 km/h has been mentioned as a likely top 2 pick.
On the contract renewal front,
Daisuke Yamai
,
Shinji Tajima
and
Keisuke Tanimoto
have all been earmarked for the highest possible decrease to their annual salary's (25%) after all having down years. All 3 players are said to be re-signing despite all being eligible to elect for free agency if they wish.
Will Almonte come back? He says he wants to.
The team wants
Zoilo Almonte
to return but there have been rumours of resigning him to a development contract deal. This doesn't make a lot of sense as it would at best be a roster spot saving measure. Almonte will not return for too much less than his current deal so the only possible explanation is roster flexibility. I don't really see much of a point and if I were Almonte, I might be a bit offended by that deal. In the end, that might be the point. While they'd like the convenience of holding on to him, it is possible that management want to focus on using left-field to train other outfield options coming through the ranks and focus on having international acquisitions making contributions in the pitching ranks. We'll see how it unfolds.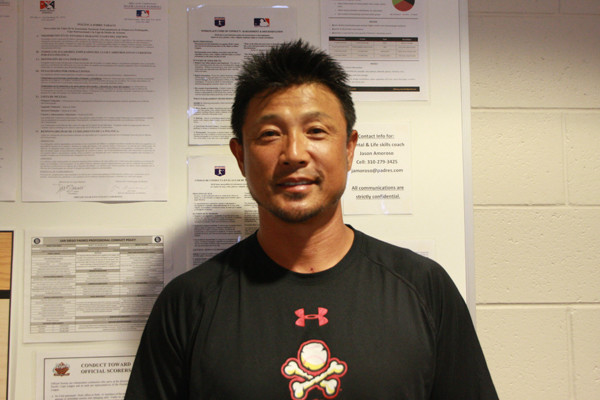 Akinori Otsuka will continue to aid the team from the US
More on
acquisitions and contracts
, but the team will seemingly be relying on Shigekazu Mori again to secure talent from the Dominican Republic. Reportedly the Dragons are doing due diligence into looking at who might be available despite showing a willingness to bring back Raidel Martinez, Joely Rodriguez, Enny Romero and Almonte. Rodriguez might be the only worry though as he is attracting interest from the MLB and most likely elsewhere. The team have also confirmed that San Diego Padres AAA affilate, pitching coach,
Akinori Otsuka
, will be returning as US scout. The former closer has said that he's seen a lot of players that would be useful in the NPB.
Finally, the idea of a
homerun terrace at Nagoya dome
had been floated around mid-season but it looks like they'll be going ahead with the idea with discussions with the Dome planners well underway. The team had a NPB worst 90 home runs this year and look to be taking a leaf out of the Chiba Lotte Marines playbook whom had success with "lagoons" at ZoZo Marine Stadium this year.
We won't likely see any terraces until the 2021 season however. The idea would be to push out the left and right field terraces and allow them to be taken out not unlike the Softbank Hawks homeground at Yahoo Auctions Dome in Fukuoka.
The right and left fences are currently 100 metres away while it's 122 metres to the centrefield fence. At 4.8 metres, the fence is the tallest in the NPB which, of course, limits homeruns.
Whether or not any changes will actually help the Dragons is another question. Teams of the past have been able to hit for the fences without the help of these terraces and once the team is strong again, they will be able to do it again. I personally want to protect the style of baseball that the Nagoya Dome promotes and while I like dingers, I like to see dominant pitchers even more.