After Chunichi's 3-0 loss to the Hanshin Tigers on the final day of play, they allowed the Tigers to leapfrog the Carp to be the last team to qualify for the Climax Series. It did however spell the end of the Dragons season where the team walked away with a season they can be relatively happy about particularly considering the torrid periods the team endured this year.
It hasn't taken long for things to transpire and renewal to be afoot however as the 2-gun team has already received a shake-up as it has been confirmed that manager, Michihiro Ogasawara has left the club following the end of his contract. He has been linked to the vacant Nippon Ham Fighters managerial hot seat. Batting coaches Masahiko Morino and Akio Ishii have also been told they won't be a part of the farm staff next year with both seemingly taking the fall for the lack of progress among the team's hitters. Fujio Tamura, battery coach, has also been allowed to leave after he was demoted from the top team following Yoda's appointment late last year.
Guts and Morino gone.
Former Dragons captain, Toru Nimura has been instated as the new farm manager. Nimura played for the Dragons between 1983 and 1995. He was also the farm manager while the likes of Hirokazu Ibata were making their way through. This is another appointment that links to the generation of players that Yoda played with and we may well see more to fill out the remaining staff positions on the farm.
Toru Nimura captained the Dragons in 1994
Speculation will be rife with who will take over and while I've tried my best to speculate, I can't come up with any appropriate choices. Masaru Uno struck me as a possibility but his one year coaching in 2013 wasn't an overly successful one which makes me think they won't bring the Chunichi homerun leader back. We'll just have to wait and see.
In the back office, Shigekazu Mori has left the club as well. He was installed as Senior Director on the board after his 2 years managing the club. Mori leaves with a diverse knowledge of the Caribbean baseball scene and connections to the Dominican Republic Winter League among other things. Denny Tomori, once pitching coach turned international scout, has also been told he can leave the club.
Mori and Tomori both served on Motonobu Tanishige's staff.
How these two leaving will affect the club is hard to see but one can only assume Mori's connections to Latin players will affect recruitment in future.
Finally, 5 players have already received their marching orders as they were informed they were no longer needed. These include:
Hiroki Kondo
Shota Tomonaga
Shota Sugiyama
Shingo Takeyama
Kyohei Kamezawa
Kondo, Tomonaga and Takeyama never quite secured starting jobs in the top team during their tenure. Tomonaga and Kondo were 2014 draftees but failed to break into the first team in any meaningful way. Poor farm results this year meant that both were deemed to be no longer needed with the more youthful Kanami Takino and Kosuke Ito requiring more at-bats on the. Takeyama will retire now after being told his contract wouldn't be renewed. The veteran catcher had spells with the top team over the past 3 years with Mori even favouring him for a long stretch during his time managing the team however, the club have deemed him surplus to requirements with several other options being available.
Sugiyama, the almost man.
Sugiyama and Kamezawa were both first-team regulars at different stages of their careers. Sugiyama even led the team in OBP in 2016 however a change in philosophy regarding using a catcher that had stronger game calling and defensive skills meant that Sugiyama was dumped from first team duties and eventually didn't improve enough to be considered again for the top team.
Kamezawa says he wants to do something "funky".
Kamezawa was a team leader and kept the dressing room fun and lively. He joined the Dragons as a free agent from the Softbank Hawks and spent some quality time on the farm. His hustle and determination were well received by the team, but the emergence of Toshiki Abe and Naomichi Donoue's defensive prowess means that Kamezawa's time with the team has come to and end.
Finally, end of year awards have been decided. Yohei Oshima topped the Central League in hits while Yudai Ono, finishing with his 4 1/3 innings against the Tigers, was able to to take the ERA leader award away from the Carp's Kris Johnson. Lastly, Joely Rodriguez claimed most effective relieve honours with his 44 hold points.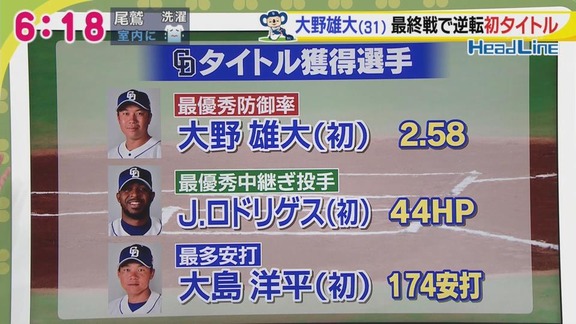 Overall, a lot to sift through and a process already but it will make for an interesting off-season.