A short series involving a regional game in Hiroshima's regional stadium of Miyoshi in Hiroshima's north and a home game at Mazda was to be a fairly depressing one for Dragons fans as the Carp rotation's #1 and #3 starters kept the bats very quiet despite Yudai Ono and Enny Romero having an okay outing each.
Game 42: Dragons 2-3 Carp
Game 43: Dragons 1-3 Carp
Game 42
Yusuke Nomura didn't have the best of outing against the Dragons last time in Nagoya when he was rocked by 5 ER. It would however be sweet revenge for the Okayama-born starter as he threw 7 shut-out innings. Yudai Ohno on the mound for the Dragons was perhaps a little lucky to get away with only two earned runs as he gave up 8 hits over his 7 innings. A double given up to Ryosuke Kikuchi in the 5th. Toshiya Okada made the situation worse in the 8th as he loaded up the bases. He was swapped out for Ryosuke Oguma but he only succeeded in walking in a run on a 3-2 count against Ryuhei Matsuyama. The Dragons would give the Carp a nervous finish as Nobumasa Fukuda struck a solo homer which was followed up by consecutive hits from Yohei Oshima, Dayan Vicedo and Shuhei Takahashi, the latter of whom sent Oshima home.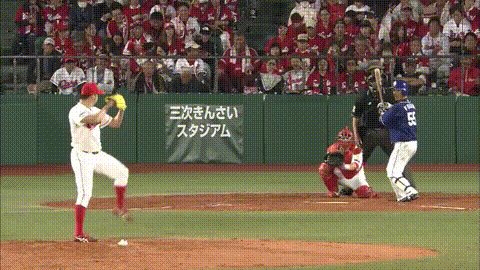 Naomichi Donoue would get a pinch-hit walk batting for Kosuke Ito following Yota Kyoda's fly-out to load the bases. But Masato Matsui was unable to convert, forcing an end to the game with a grounder to third base.
What could have been, but ultimately what would not be. A better team would have won this game in the dying moments. Perhaps the absence of Ryosuke Hirata is being felt as the added punch from his bat could have made a difference.
In the end, Oshima was the only Dragon to register a multi-hit game.
Hayato Mizowaki started this game at the top of the order once more but failed to register a hit while Nobumasa Fukuda continues his interesting role at second in the line-up.
Game 43
Daiichi Ohsera has the Dragons number this year throwing two complete games against us in his last two appearances. Ohsera had a perfect game going until the 6th inning when Takuma Kato saved the Dragons blushes registering the first of only 3 hits on the night for the visitors. He would however complete his 3rd complete game in a row against the team.
The Carp had taken the lead in the 2nd inning through an Shuhei Takahashi error at third followed up but a 5th innings 2-run homer from Tsubasa Aizawa. Takahashi would go some way to making up for his error as he stroked an RBI home in the top of the 7th. Enny Romero pitched 5 innings for 9 hits and only 3 strikeouts while a scoreless relay of Shinji Tajima, Keisuke Tanimoto and Hiroto Fuku closed out the game.
Only three hits on the board through Kato, Shuhei and Dayan Viciedo is a pretty sad state of affairs but Ohsera just seems to be the bogey pitcher for the Dragons this year and he has otherwise been very dominant this season posting a 1.85 ERA over 9 starts with a WHIP of 1.00 and a K/BB of 8.25. He has a 1.00 ERA against the Dragons in 3 starts with 20 Ks.
The Carp have really heated up again but at this point in time any game against Ohsera has been a foregone conclusion. On the face of how many hits the Carp collected to our line-up, they deserved to win both series. An unfortunately reality, but one I think we have to swallow. We weren't good enough.
Speaking of swallowing, we take on the Yakult Swallows this weekend at Meiji Jingu Stadium. Akiyoshi Katsuno, Yuya Yanagi and Tatsuya Shimizu will all likely start in what at least is exciting as they're all young a fun to watch. How the results will fall is something else entirely.
In other news, after Yudai Ohno went hitless in Miyoshi, he's currently second of all-time in the Central League for a hitless streak. He's 5 hitless PA's away from the record.

Lastly, the Dragons are 0-17 when trailing by the 6th innings. Don't bet on these guys to turn a game around. As depressing as it is, this has been a theme for the last few years.