This year's draft was underlined by two institutions with high level talent available. That of the summer Koshien winning Osaka Toin High School and the overflowing treasure chest of pitching at Toyo University.
Expected to be top of the bill as early as last year was Osaka Toin's Akira Neo. Neo, a native of Gifu Prefecture, was highlighted by Chunichi scouts very early on as someone that was going to be targeted in 2018. With their sights set on Neo as their first round pick, come draft day the major outlets were reporting up to 6 clubs being interested in selecting the young possible 2-way talent. The Dragons hadn't won a contest with more than 4 clubs in over 32 years, but it was to prove to be Chunichi's victory as new manager, Tsuyoshi Yoda's first job would prove to be a pivotal one, securing the ticket for the rights to negotiate with Neo.
The Dragons ended up drafting 3 players from high school, 2 from college and 1 from the industrial leagues this year in a draft still heavily focusing on youth. 3 pitchers, an outfielder, catcher and an immensely talented infielder were the spoils in a draft that can only be ranked as probably the best of any club this year where key areas were addressed with plus talents. Akira Neo of course will be the one to watch, but the pickups of Umetsu, Katsuno and Ishibashi in particularly will be very interesting to keep an eye on.
With the drafting of Neo, who prefers to play short, there are already talks of moving Kyoda to second or perhaps converting Neo to second as well with Shuhei Takahashi taking back his rightful place at third base. I still think it's a little bit early to be talking about Neo as a first team regular, but after I explain a bit more about his talents, you might understand why this conversation is occurring.
Let's now have a look at the A+ draftees for the year 2018:
1. Akira Neo (Osaka Toin High School)
Infielder/Right-handed pitcher
Name:
根尾 昂
Birthdate:
19th April 2000
Birthplace:
Hida, Gifu Prefecture
Height:
177cm (5'9")
Weight:
80kg (176lb)
Bats:
Left
Throws:
Right
Max Velocity:
150 km/h (93 mp/h)
Pitches:
Four-seam, slider, curveball, change-up
Base-running:
50m in 6 secs.
Akira Neo was quite simply the hottest talent available at this year's draft and the Dragons have snatched him. Potentially a 2-way talent, Neo represents someone that could, all going well, have a franchise built around. Long has it been since fans have been so excited about a talent like this before and it won't be long before Kazuyoshi Tatsunami comparisons abound should Neo find his way into the starting line-up next year. High ceiling talent with superstar potential, there's a lot to be excited about.
It is fate to see Neo in a Dragons
uniform again.
Neo was born in the Hida area of northern Gifu Prefecture, an area well known for it's beef products, and started playing baseball as in grade 2 at lementary school. During his final year of elementary school, Neo was picked up to play for the Dragons Junior team.
In junior high, Neo played for the local club team, Hida Takayama Boys where he would meet future teammate, Kenshin Kakikoshi (below). In his senior year of junior high, Neo was part of a touring team of the US with Nomo Japan (incidentally related to former Dodgers starter, Hideo Nomo), a team comprised of talented junior high students across Japan.
After being admitted to the prestigious baseball program at Osaka Toin High School, Neo sat on the bench in his first summer. In his freshman year, Neo's first appearance of note would come as a pinch-hitter against Osaka Kaisei in the Osaka Prefectural tournament's 4th round where he registered his first official hit, a solo home run to give his team the lead. In the Kinki regional tournament, Neo played a key role in 3 games batting 4th in the lineup and launched a solo homer in the quarter finals against Chiben Gakuen.
In spring of his second year, Neo played the field at short and centre while also pitching and played in every game of the Senbatsu tournament except for the final mostly batting 5th in the line-up. Although he was able to show his power, he struggled at the plate with a .211 average (19-4). He however showed his ability to hit in clutch situations where he helped start a winning rally in the 2nd round.
Neo helped the team otherwise win the tournament.
In his 3rd and final year, Neo helped the team to yet another Senbatsu victory and played in a total of 18 games including the qualifying rounds in fall, hitting .371 with 3 homers and 20 RBIs while playing 10 games at short, 4 in the outfield and 4 as pitcher. Through these games, Neo started to get noticed by scouts for his defensive skills. Neo found most of his success hitting fastballs from the centre to the outside, hitting 9 extra-base hits pulling between left and centre field.
At Koshien in 2018 against Urawa Gakuin ace and Seibu Lions #2 pick, Yutaro Watanabe, Neo hit a weak 140 km/h fastball into the left stand. Neo also went yard in the Koshien final against Kosei Yoshida (Fighters #1 pick) leading to Osaka Toin winning the tournament.
Neo was selected as to represent the U-18 Samurai Japan team as a result of his heroics and played at the Asian Baseball Championships as the starting right-fielder. Starting all 5 games in the #5 slot, Neo went 18-7 with one homer and 7 RBIs. In the 26-0 drubbing of Hong Kong, Neo also hit for the cycle by the 5th inning in the first game of the tournament. In the pre-tournament warm-up against the Japanese Collegiate Team, Neo also shone with a 2-hit game.
Neo is short-stop who can play the outfield and has great athletic ability. He is a lefty who can put-up medium-high power numbers with a no-care swing. At the summer Koshien this year, he hit the back screen with 2 homers and hit another over the left stand fence. Whilst his athleticism has been praised, he also has a great mentality and it known for his intelligence on and off the field. As someone who can pitch at 150 km/h, Neo has a strong arm that could potentially play anywhere on the left side of the diamond or in outfield.
As a pitcher, Neo throws with an overthrow action and tops out at 150 km/h while he generally averages in the mid 140's. He has a vertically moving slider that is around 120~130km/h a 110 km/h curveball and a 130 km/h change-up. Neo came to the attention of scouts in junior high when he threw down a 146km/h heater. At this year's Koshien he had a 8.79 K/9 and a 4.07 BB/9.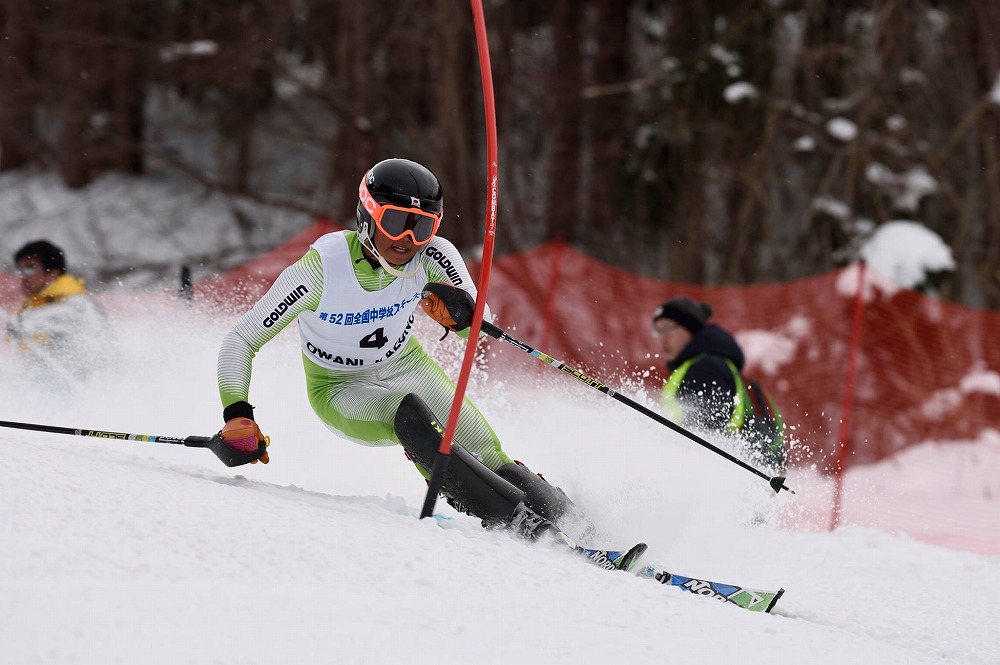 Mr Athletic was a premier skier.
As a 5th grade elementary schooler, Neo came second in the nationals for the 100m sprint and in the 6th grade set the Japanese record for the softball throw at 88m 92cm. The multi-talented Neo also achieved victory in the junior high school nationals for alpine skiiing.
Scouts have been understandably effusive in praise with Chunichi Scouting director, Muneo Tanaka comparing Neo's style to former major leaguer, Kazuo Matsui. Vice-Director and Orix has called his swing collegiate level and was impressed at his ability to not only defend in the infield but also the outfield also praising his ability to adapt between wooden and alumnium bats. Fighters manager, Hideo Kuriyama commented that anyone can see that Neo has the goods as a batter and praised his baseball intelligence as both pitcher and as a position player. Hanshin's chief scout Shunji Hatakeyama commented that Neo has the same kind talent as Tomoya Mori (Lions) and Shohei Otani (Angels) had in high school also saying there is no mistake that he has all the tools to be a star.
Upon being selected in a radio interview immediately following the draft, Neo mentioned his connection to the Dragons as it was the team that he grew up watching on TV where the team were one of the strongest in Japan. On being asked about returning to his home region, Neo commented he has warm feelings for the Tokai region as it is the place that started his baseball adventure and he is happy to be able to return. When asked who his favourite Dragons players was he replied with "all of them." A rarer answer than you might think. Asked who left the biggest impression on him when he was growing up, he mentioned the 
Araiba
pairing of Masahiro Araki and Hirokazu Ibata. Upon being requested for a comment toward Dragons fans he said "I am very honoured to have been selected by the team and I will do my best to level up so that I can contribute to the success of the team. I look forward to hearing your cheers."
New manager, Tsuyoshi Yoda immediately went out to meet his man to hear his initial thoughts about being a 2-way player and to welcome Neo to the Dragons family.
Neo, upon sigining his contract with
a bat incribed with「継続は力になり」
(Persistence pays off)
As of this week, Neo became the fastest player to receive a contract among the 2018 draftees in the NPB where he secured a
¥15,000,000
($132,000) per year deal, an
¥100,000,000 (
$885,000) sign-on bonus with incentives that could amount to
¥50,000,000
($440,000). At the presser it was also made clear that Neo would be focusing on being a position player, ignoring the allure of being a 2-way player at least for now.
Neo certainly appears to have all the goods and could, theoretically at least, see time in the first-team lineup this year. Much talk has been made about converting either he or Kyoda to second-base but there's still a lot to happen before then. Neo could be used to fill the outfield where we have the aging Oshima and Hirata outside of his preferred position at short. Kyoda certainly didn't set the world alight in 2018, Shuhei had a good season albeit not a great one and Nobumasa Fukuda falls into a similar category. The performances of these four in particular will probably shape how early Neo gets into the team. In the meantime, let's be excited to have such a wonderful talent coming to play in Nagoya. He will be a joy to watch.
2. Kodai Umetsu (Toyo University)
Right-handed pitcher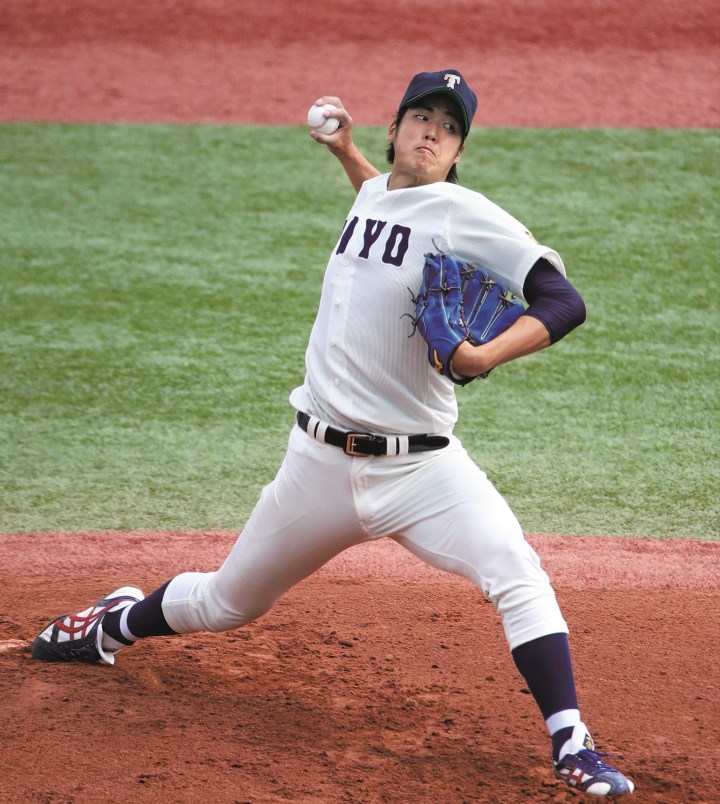 Name:
梅津 晃大
Birthdate:
24th October 1996
Birthplace:
Fukushima, Fukushima Prefecture
Height:
187cm (6'1")
Weight:
90kg (198lb)
High School:
Sendai Ikuei High School
Bats:
Right
Throws:
Right
Max Velocity:
153 km/h (95 mp/h)
Pitches:
Four-seam, slider, cutter, forkball, curveball
Kodai Umetsu was actually mentioned as a possible back-up first round pick for Neo, but much like Sho Ishikawa last year, the Dragons have grabbed a sneaky second round pick in the lofty, Tohoku-born righty. Umetsu was one of three talented pitchers out of Toyo University this year with the other two, Taiga Kamichatani (Baystars) and Hiroshi Kaino (Hawks) going first round this year. Probably the most polished of the pitcher's taken this year, Umetsu could fight for a spot in the rotation from the get go.
Umetsu started playing baseball in grade two of elementary school and played for Shuko Junior High School (affiliated with Sendai Ikuei) after moving up.
At powerhouse Sendai Ikuei High School, Umetsu found space on the bench wearing the 11 in his second year. In the beginning of spring he made a good impression at a camp in Okinawa and became a member of the Senbatsu squad as a result. In a warm-up game against Kanto Daiichi, Umetsu threw down 3 innings for 3K in a scoreless showing. Unfortunately at the Senbatsu tournament, there was to be no place for Umetsu to make a showing and he was left off the summer Koshien roster but claimed the ace number 1 to begin the fall season.
At the Tohoku tournament, still with team that kept winning, Umetsu had only one appearance to speak of, 1 inning of relief in the semi-final against Rifu High School.
In spring of his senior year in the scond game of the regional tournament against Kogata Norin High School, he threw down 13Ks in a complete game shut-out. At the following Senbatsu tournament against Toryo High School he threw a complete game in a 7-2 win. Unfortunately, following his superb performances, Umetsu had issues with his left wrist and was excluded from the squad for that year's Tohoku regional tournament. In summer however he would return and threw 5 inning for 3 earned runs against Tohoku Gakuin High School where his team would eventually lose 4-3 in the 13th inning.
At high school, Umetsu was highlighted by pro scouts with Rakuten particularly interested, but he did not apply to be considered for that year's draft and he went straight to Toyo University.
In spring of his 1st year, he entered the bench of the second team at Toyo and played in 4 games registering 4IP, 4BB and a 4.50 ERA. As he was only 80kg, he increased his weight to 92kg and in his 3rd year against Hosei University, threw a PB velocity of 153 km/h. In the fall league of the same year, Umetsu made appearances as a starter and in relief and recorded 150km/h plus speeds in every game he pitched.
In Toyo's first apperance in 5 years at the national collegiate championships, Umetsu played in the opening game and registered 151km/h on the gun bringing the attention of pro scouts. In the second game of the tournament, he threw down an appealing 6 innings for 1 hit and 1 earned run (he was withdrawn due to injury).
In his final year, he pitched in 13 games including 10 as a starter throwing 53.2 innings and in the fall league he recorded his first win ( a relief appearance) in his final game. In the spring and the All-Japan Championships against Kyushu Sangyo University, he came into the game at a 0-3 cound in the bottom of the 3rd with one out on the board and loaded bases. On the back of his injury recover, he threw 4.1 innings for 5K but ultimately had issues with control leading to giving up 2 homeruns and 7 hits in a 3-10 loss.
In the league, Umetsu finished with a 1-3 record with 53.2 IP and a 1.94 ERA.
Umetsu's velocity sits in the mid 140's often touching the early 150's with a 120~130km/h slider, 140km/h forkball and a 100km/h curveball. Umetsu favours attacking the inside with a mix of his four-seam, slider and forkball. As a high schooler he was praised for his balance and flexibility.
Scouts across the country have had their eyes on Umetsu and there's no shortage
of glowing reports. Hiroshima scouts have said that Umetsu is not quite there yet, but has the potential to be a 20-win player. Muneo Tanaka has previously said that Umetsu is at about 50% of his total power suggesting he has a lot of potential yet to be tapped into even suggesting he could become a pitcher like Shohei Otani.
Upon being drafted, Umetsu expressed his relief and said that he was glad to have happy news to give to his recently hospitalized mother who had had a brain haemorrhage 3 days previous. After the draft, new manager Tsuyoshi Yoda went to meet his new man and proclaimed he expects Umetsu to be in the mix for the starting rotation next year. Yoda also spoke of how he had the chance to see a few games that Umetsu pitched in claiming he was the best of the 3 Toyo pitchers available this year.
In an interview with CBC announcer, Keiichi Wakasa post-draft Umetsu commented on his difficulty coming up through the ranks at Toyo where he suffered from a lack of motivation. Determined however, he put on the necessary weight and started throwing fireballs. He commented that that his difficulty at Toyo was perhaps the biggest turning point in his baseball career.
Umetsu seems to be a high celing, medium-low floor kind of player. When he's off he doesn't seem to do well, but there's lots of parts to him that make him an interesting piece for this team. Compared to his colleagues Taiga Kamichatani and Hiroshi Kaino he may be less NPB ready, but according to scouts could well surpass them if he reaches his potential.
3. Akiyoshi Katsuno (Mitsubishi Heavy Industries, Nagoya)
Right-handed Pitcher
Name:
勝野 昌慶
Birthdate:
12th June 1997
Birthplace:
Kani, Gifu Prefecture
Height:
183cm (6'0)
Weight:
89kg (196lb)
High School:
Gifu Toki Commercial High School
Bats:
Right
Throws:
Right
Max Velocity:
152 km/h (94 mp/h)
Pitches:
Four-seam, slider, curveball, forkball
Like Neo, Katsuno hails from Gifu prefecture. Katsuno appears to be billed as someone that could immediately slip in to a bullpen role.
Katsuno started playing baseball in primary school and played for his local team in Kani when he reached middle-school.
At Toki Commercial, Katsuno was given the 18 in his first year and found a place on the bench. Through experience as an ace at his junior high team, Katsuno developed and in fall of his second year helped his team to 3rd in the prefectural tournament.
In summer of his third year, Katsuno gave up 5 ER in 1.1 IP against Hashima North High School in a 7-2 come from behind loss where his team were knocked out in the 3rd round of the Gifu prefectural tournament. Katsuno however shone in earlier performances throwing 10K in 7 shut-out innings in Game 1, also hitting a 3-run homer over the left fence.
His best results as a high schooler was a semi-final appearance in the Gifu Prefectural Tournament and a 2nd round appearance in the Tokai tournament.
From his first year with Mitsubishi Heavy Industries, Katsuno appeared in official games. From spring, Katsuno was used as both a starter and a reliever. In the 2nd round of qualifiers for the inter-city tournament, Katsuno posted a 3.06 ERA in 17.2 innings pitched. Despite conceding 17 hits and giving up 14 walks, Katsuno took 16 SO (8.15 SO/9) showing off strong mental application.
At the following tournament, Katsuno threw down 7.2 innings including 5.1 innings as a starter in game 1 for only one hit.
While in his first year at Mitsubishi, he was called up for the U-23 Samurai Japan team for the U-23 World Cup. He was entrusted with starting the first game against Australia where he threw 4 innings with 4 Ks in while also recording his highest velocity of 147 km/h.
In spring of the following year, in the Nagano Tournament against Segasammy, Katsuno recorded a complete game shutout with 4 hits and 6K.
Due to pain in his elbow, he would miss the summer inter-city tournament, but would make a comeback in December's Asian Winter League Baseball team in Taiwan where he marked another PB velocity of 150 km/h.
In his final year, in the Sponichi Tournament, Katsuno shut-out Nitsu and won rookie of the tournament honours at the subsequent Shizuoka Tournament. Katsuno failed to make an appearance at the summer inter-city tournament but played again for the Samurai Japan team in the Asian Championships where he clocked 152 km/h on the gun.
While Katsuno can top out at 152 km/h, he sits in the high 130s to the lower 140s. He has a 120~130km/h slider, 110 km/h 12-6 curveball and a 130 km/h forkball. His four-seam is his main weapon. He still gives up walks and hits frequently so his control needs to be worked on. He can last long in games and favours attacking the on the inside of the plate.
Scouts claim Katsuno is very mature for his age and doesn't strike one as someone 3 years out of high school. He is said to have an aura before he pitches and can pitch anywhere across the batters line of sight. He also appear to get good break on his secondary pitches.
On draft night, Katsuno was said to be stoic but when selected that poker face turned into a wide smile.
Dragons have a guy here that could be used, I feel, in a swing role. His pitch mix gives him enough to be a starter, but his trouble with control means he might not be able to go too deep into a game which means that a relief role could also be suitable. In whatever case, he's at an age where he could certainly be tested in the NPB in 2019.
4. Kota Ishibashi (Kanto Daiichi High School)
Catcher
Name:
石橋 康太
Birthdate:
7th December 2000
Birthplace:
Yotsukaido, Chiba Prefecture
Height:
180cm (5'10")
Weight:
87kg (191lb)
Bats:
Right
Throws:
Right
Pop time
:
Home to second in 1.9 seconds
Base-running:
50m in 6.3 seconds
Chunichi were murmured to be going after another catcher at this year's draft and it seems they've got a gem in Kota Ishibashi. Ishibashi was widely regarded as the best high school aged catcher at the draft whom has a strong arm and a good bat to boot.
Ishibashi started catching very early on in his middle school boys team in Chiba. His performances also earned him a chance with the Chiba Lotte Marines Jr program.
Upon entering Kanto Daiichi High School, Ishibashi spent his first spring on the bench. By summer of the same year he had secured a position at first base, batting 5th and his debut at Koshien that year, he had a muti-hit game. In the following fall qualifying games, Ishibashi captured the catcher's mask batting at either 4 or 5 and in the second round against Musashigaoka, hit a solo homer. In December of the same year, he had knee meniscus surgery and was absent from any competitive games until May of his second year.
On the comeback trail, in summer Ishibashi returned to first base and went yard in four consecutive games in the Kanto tournament. In the 4th game of the tournament against Horikoshi HS he hit a grand slam, collecting a total of 6 RBIs and 2 hits in the game.
In fall of the same year, Ishibashi regained the catcher's mask but his team would lose out to Kotaro Kiyomiya's Waseda Jikkyo 1-5 in the 2nd round of the Tokyo tournament.
In his third year in the West Kanto tournament, batting 3rd, Ishibashi hit 4 extra-base hits. His team would however be knocked out in the semi-finals by Nishougakusha University High School. In the semi against Nishougakusha however, Ishibashi showed off his throwing prowess as he gunned down two runners in the game at a pop time of 1.9 seconds.
Ishibashi is a strong armed strong catchers with powerful bat with a good follow through on his swing. He can hit over either fence and has 57 jacks in his high school career.
Scouts have had glowing appraisals of Ishibashi. Scout director Muneo Tanaka had said he had no complaints about Ishibashi saying that out of all the catchers at the draft he had the best fundamental skills commented his has more potential to draw on than last year's 1st rounder Shosei Nakamura. Tanaka further mentioned that his raw skills, body strength and footwork make him a different animal.
Immediately upon being selected, Ishibashi expressed his relief and his gratitude to his family and well wishers. He said his current image of the Dragons was the wave or retirees and the change of the team. He said he wants to do the best of what he can when he joins up with the team. He sets his goal to be like former Swallows great, Atsuya Furuta not only behind the plate but also with the bat. Upon being asked about being teammates with Akira Neo he said humbly that Neo essentially lives on another planet talent wise and wants to be able to achieve that level as well.
Upon meeting with the scouting team post draft, Ishibashi said he has set himself the large task of being Japan Series winning catcher. When he entered high school he is said to have read through the catching treatises of Katsuya Nomura and Atsuya Furuta on receiving the ball. He said he reached for the books when he was reaching the limit of his experience when leading pitchers.
The Dragons don't have a lot of power-bats in general, so this is encouraging. Ishibashi is also the youngest catcher on the team by a long way with Takuma Kato at 26 being the next youngest behind the dish in the team. Ability to play first makes him versatile to get plenty of ABs on the farm. Perhaps a long term successor to the mask in Nagoya but I can't say I recall the last time a high school grad became a regular catcher. It certainly hasn't happened at Chunichi since Tatsuhiko Kimata in the 1960s who similarly joined the team lauded for his ability with the bat.
5. Kenshin Kakikoshi (Yamanashi Gakuin High School)
Left-hand pitcher
Name:
垣越 建伸
Birthdate:
3rd April 2000
Birthplace:
Takayama, Gifu Prefecture
Height:
184cm (6'0)
Weight:
96kg (211lb)
Bats:
Left
Throws:
Left
Max Velocity:
146 km/h (90 mp/h)
Pitches:
Four-seam, slider, change-up, curveball, cutter
A team-mate of Neo's during junior high school, Kakikoshi has not had the high profile of his friend, but he does add something that Chunichi needs desperately and that is in southpaw pitchers. Not over quick, Kakikoshi has a good form and will likely be a diamond in the rough that will need a bit of work.
Kakikoshi played for the Takayama Boys in Junior High alongside Akira Neo and helped the team to the semi-finals of the Gifu prefectural tournament.
Kakikoshi then went on to play for Yamanashi Gakuin High School and made the bench in his second year during spring. In summer of the same year, wearing the #18, he threw one no-hit inning against Maebashi Ikuei in the first round to mark his Koshien debut. In fall of the same year, Kakikoshi became a key member of the new team and threw 30 innings of work in 4 games for 21 earned runs showing determination with his pitching. He threw in all 5 games at the following Yamanashi prefectural tournament racking up 39 innings for 16 earned runs and up until the semi-finals had thrown 30 innings for only 2 runs.
In his third year, in the spring prefectural tournament, Kakikoshi threw his PB fastest pitch in a relief outing topping out at 144km/h. In game two against Yamanashi High School, he took 5 consecutive strikeouts in 2 innings of relief while in the final against Shuhei Takahashi's alma mater, Tokai Kofu HS he threw down a further 4 scoreless innings. At this point he had gathered the admiration of some pro scouts, but a poor outing against Nihon Univeristy 3rd High School in the first round of the Kanto tournament, but dampeners on his reputation.
In the summer qualifying tournament, Kakikoshi returned to form with 26K in 15 innings for 1ER and in the second game of the first round against Yamanashi High School, he fanned 9 batters in a row in 3 perfect innings. In the semi-finals against Kofu Technical HS, he moved back into a relief role due to some back pain recieved in the earl rounds and he marked a further PB in velocity with 146km/h on the gun. Kakikoshi's efforts helped his school reach their 8th consecutive appearance in the summer Koshien tournament.
On return to the tournament, Kakikoshi's team were knocked out in the first round by Kochi Commercial High School in a high scoring 12-14 loss. Kakikoshi was lit up as he conceded 2 home runs and 6 extra base hits in a disappointing game. He was knocked out in the 6th inning with 5 strikeouts and 10 earned runs.
Kakikoshi is a big built pitcher who generally sits between 135 km/h to 140 km/h in a starters outing. His slider sits around 110 to 120km/h while his change-up is at around 100km/h. He also possesses a cutter. Due to back pain suffered in the qualifying tournament this year, he was mainly used in relief where he showed an amazing K/9 rate of 15.60 over 15 innings.
Tomoya Yagi was the key scout for looking over Kakikoshi to begin with and
commented last year that his off-speed pitches were beginning to tail-off just in front of the batter to take strikes. Scouting director Muneo Tanaka had also weighed in pre-draft commenting that he has a relaxed form also mentioning his four-seam as a "big weapon." Yagi also mentioned upon officially greeting Kakikoshi in person that he feels he's one pitch short of making it professionally and expects him to work on a new off-speed pitch before he becomes effective.
Kakikoshi probably is most well known unfortunately for being the former team-mate of Akira Neo during their time in middle school, but Kakikoshi has said he is happy to be able to play again with Neo after they went their separate ways for high school. Neo and Kakikoshi had talked upon graduating from junior high that they wanted to play baseball again together some day and was happy to have a reunion at professional level.
On being selected he aid he was relieved to have been picked by the Dragons as he went to support the team at Nagoya Dome as a child and felt they were a team that was closest to him. He says there's still a lot he has to work on and wants to work on gradually getting up to 1-gun.
A high-school aged lefty that throws a max velocity of 146 km/h is pretty good. Kakikoshi however still seems very raw and will need a lot of work with pitching coaches to become a serviceable starter or reliever. He does however fulfill a need for left-handers in the team with only Shinnosuke Ogasawara, Yudai Ono, Shotaro Kasahara, Toshiya Okada and Hiroto Fuku filling the roster for that role. (Hard to call Ono an option these days) If nothing else, Kakikoshi's presence should help Neo settle as well and it creates a nice, very Japanese story about two young boys from country Japan working with each other to achieve their dream of being pro ball players.
6. Kaname Takino (Osaka Commercial University)
Outfielder
Name:
滝野 要
Birthdate:
8th July 1996
Birthplace:
Matsuzaka, Mie Prefecture
Height:
185cm (6'1")
Weight:
76kg (167lb)
High School:
Ogaki Nihon University High School
Bats:
Left
Throws:
Right
Base-running:
50m in 6 seconds
Addressing an immediate need for young outfielders, the Dragons have used their last pick on Kaname Takino. There's a lot to like about Takino on paper as he has been a regular and done very well in the Kansai University leagues. How he will convert as a professional will be exciting to watch. Born in Mie prefecture, Takino is yet another player that was born within the Chubu/Tokai region widely regarded as Chunichi territory.
In middle-school, Takino played for Matsuzaka Boys as a pitcher and in his third year of junior high school he was chosen to represent Japan at a tournament in China.
Takino entered Ogaki Nihon University in neighboring Gifu prefecture and became a regular as a third-baseman in his second year with the team where he batted 4th in the order. That summer, after hitting 4 with 3 extra base hits, Takino helped his team to their 2nd Prefectural tournament victory. In the following summer Koshien, Takino would get two hits and two steals in a 5-4 loss in the first round to Arita Technical High School. From Spring in his third year, Takino played mostly in left-field and pitched as his team reached once again reached the summer Koshien after Takino batted .550 and threw 15 scoreless through the qualifiers. At the final tournament, Takino was the winning pitcher in the 1st round as a reliever in overturning an 8-0 lead to lead the team to victory over Fujishiro High School. Batting 4th in the line-up, Takino claimed 2 hits and 2 RBIs.
After high school, Takino entered Osaka Commercial University and was a starter from spring in his first year. Mostly batting 4th, Takino hit .286 with 2RBI as DH and was selected in the Best 9. In the following fall league, he capture Best 9 honours once more this time as a right-fielder batting .386 also claiming the rookie of the year award. In all, Takino claimed 5 Best 9 awards as a college player hitting .332 with 36 RBI and 26 steals over his career.
As you can probably tell, Takino isn't one to hit for the fences, however with a bit of build on his frame it might be possible for him to get a bit more power. He has good legs being clocked at reaching first base in 4.1 seconds and can play just about anywhere in the outfield.
Upon being selected, Takino let reporters know that he was willing to go in the development draft if he had to in order to get his chance to play professional ball and says he is very appreciative of the chance the Dragons have given him.
He has also said the the Dragons are a team that he's always been in awe of and says he wants to be a player that hits and shows his speed like Yohei Oshima.
Within the Dragons, Takino has a
sempai
to call on in Iori Katsura who also played for Osaka Commercial University. Takino reportedly called Katsura from whom he received the warm words of "let's do our best together." He also has a high school alumnus
sempai
in Takuma Achira who also attended Ogaki Nichidai.
Takino fills a need for outfield dept of which we have no one worthy of a spot on the farm. Kudo's retirement also increased the need for this particular. There are only 2 outfielders that played on the farm last year that were under 25, and that was last year's 5th round pick, Kosuke Ito and development player Masaru Watanabe. Shota Tomonaga, Masataka Iryo and Issei Endo are all outfield options but given their lack accomplishments given their age and their time with the team, they're possibly lucky to still have their contracts in tact.
Concluding note
Overall, the draft was an extremely successful one and one that Yoda will be happy with. The additions will put pressure players currently in the system as well which will be good. Most importantly there in now a young core of 18-21 year olds in the team that could guide this team for a long time to come if they can reach their potentials. There's always a large element of risk when going after prospects, but there's certainly a massive reward that could be available for one or more of these guys. We will look on with great interest as their careers unfurl.
*
Acknowledgement: Much of the information about player histories leading up the the draft was sourced from the Japanese language resource ドラフト・レポート whom I recommend for any information on Japanese prospects. Much of the player histories are translations and paraphrases of the player profile pages available on the website.