It's that time of the week again and that means were're looking at the series between the Swallows and the Giants. Battles between the trendy Tokyo side and the country's most successful always brings up interesting battles.
The first battle would be a shortened series against the Tokyo Yakult Swallows where the Tuesday was washed out. With Raul Valdes, Katsuki Matayoshi and Jordan Norberto scheduled to start, a slide in the scheduled pitchers meant only the former two would see time on the starting mound at Jingu Ballpark.
Game 10
Dragons 5 - 2 Swallows
WP: Takuya Mitsuma 2IP 0ER 3SO Kamezawa 4-2, Kyoda 4-2
LP: Tomoya Hoshi 1IP 3ER 1SO Ugumori 4-2
HR:
Kamezawa
(10th)
A game of firsts for the Dragons and Takuya Mitsuma claimed his first pro win and Kyohei Kamezawa thwacked his first professional homer in a win over a lackluster Yakult Swallows at Jingu Stadium. The game on Tuesday had been washed out pushing Valdes' start forward a day and giving the team an extra days rest.
It was the Dragons who would take the lead as Yota Kyoda starting things off with a single to score Viciedo in the top of the second. Valdes would once again show off his mettle as he provided another important RBI scoring Hirata to make it 2-0. It was the veteran Cuban pitcher who then threw down an impressive 7 innings keeping consecutive triple 3 man Tetsuto Yamada deathly quiet. Unfortunately with 2 outs on the board, a double given up to Atsushi Ugumori, followed by consecutive base loading walks opened a pinch situation which could not be successfully navigated as a catching error from Viciedo on a routine fly ball at first allowed the Swallows to get back into the game.
Valdes was clearly unhappy with his countryman. Understandably so.
Takuya Mitsuma was brought into the fray shortly after and kept the Swallows honest while Ishiyama and Akiyoshi provided the same stability for the home team. Viciedo's error meant that the Dragons would be heading for an extended innings game for (I believe) the 4th time this season already but it was to be short and sweet.
Kyoda's lead-off single started things positively while a triple from Fujii scored the rookie soon after to restore the Dragons lead. With 2 outs on the board, Kyohei Kamezawa took to the plate and mashed the first professional homer of his career to put the Dragons out of sight at 5-2.
Now with the game only needing to be saved, Shinji Tajima emerged from the bullpen to claim his second save of the year striking out one in the process.
A positive win that was only besmirched by Viciedo's horrendous error. I'm also beginning to become fond of Mori as a manager as he shared a bit of a joke with Takuya Mitsuma at the end of the game pretending to throw his first win ball into the crowd. Probably a great guy to be around when he's in a good mood and he certainly comes off as a bit of a father figure.
Game 11
Dragons 2 - 3 Swallows
WP: Ryo Akiyoshi 1IP 0ER 0SO Yuhei 4-3, Yamasaki 4-2
LP: Hitoki Iwase 2/3IP 1ER 0SO Hirata 2-2
HR:
Hirata
(2nd),
Hatakeyama
(6th)
Katsuki Matayoshi started his first game as a pro and his first start since playing in the independent Shikoku Island League. He took up arms against former Phillie David Buchanan.
The Dragons took the lead in the 2nd inning through a solo Hirata homer.
The lead was increased through an unlikely source as a triple in the same inning from Matayoshi pushed the scores ahead to 2-0. Kotaro Yamasaki would put the Swallows within 1 with his 2-base hit and it was the veteran Kazuhiro Hatakeyama who launched his second homer of the year into the stands of the Yakult faithful to level up the scores.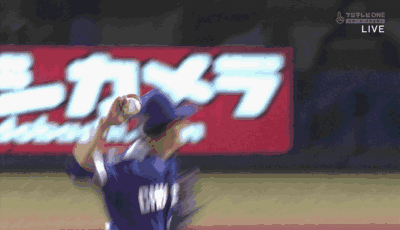 It was a well fought pitchers duel in the end with Buchanan perhaps doing the better overall as he whiffed 8 batter to Matayoshi's 3 but it was the pitcher change that would be Chunichi's undoing. Hitoki Iwase would be brought in to close out the 9th, but it wasn't to be as he gave up a hit and a sac-fly to put a runner at third. Sensing danger, Mori switched in 2015 draft #2 pick, Yu Sato in to finish off the Swallows but a timely single from Atsushi Ugumori saw the avian ball team swoop in for a walk-off victory.
Hey, at least it didn't go to extras this time, right? Some encouraging signs from this series but not from overly important pieces. Mitsuma getting his first win is great, Kamezawa also breaking his homerun duck is a nice thing to have as well but I am starting to worry about Mori's pitching choices. I feel he is leaving arms too late into games and just putting his trust in the wrong people. I love Iwase as much as any other Chunichi fan but I really don't think you can trust him in high leverage situations anymore.
Game 12
Giants 2 - 3 Dragons
WP: Yu Sato 1IP 0ER 2SO Oshima 6-4, Kamezawa 6-3
LP: Ryosuke Miyaguni 2/3IP 1ER 0SO Ishikawa 3-2
Yu Sato would claim his first win of the season after another extra innings marathon saw the Dragons win in a 12th inning walk-off.
The Dragons took the lead in the 7th as a grounder from Kyoda was poorly fielded by Daisuke Nakai at second which allowed Hirata to score. Oshima would make it 2-0 in the same inning with double to score Kyoda. The lead was to however become undone shortly after as Ono pitches, in my humble opinion, a few pitches too many allowing Ishikawa to get on base and be scored by Nakai. A sac-fly from Hayato Sakamoto minutes later would see the Giants on even terms.
Seemingly learning from his mistake against Yakult, Mori sent Tajima out in the 9th to send the game into extras for the umpteenth time this season. Both teams pulled back and forth but it was the Dragons that would break through in the bottom of the 12th as with 2 outs and runners on 2nd and 3rd. Former Dodger, Alex Guerrero hit through the field to claim a single and a walk-off win to claim the Dragons 3rd win in 12 attempts this season.
A gutsy win but the team still isn't getting hits with RISP. The Dragons out-hit the Giants 13 to 8 on the night and only claiming 3 runs is extremely disappointing. Mori also is appearing a bit more old school than I was hoping. He seems to be keeping his starters in as long as they don't concede runs. Ono had pitched 133 balls in the game before getting yoinked and while I know stamina is one of his better attributes, you should be pulling the guy out earlier. There's been far too many reactive pitching changes and not enough proactive moves.
Game 13
Giants 6 - 2 Dragons
WP: Kazuto Taguchi 5IP 2ER 3SO Sakamoto 5-4, McGehee 4-2
LP: Shunta Wakamatsu 6IP 4ER 4SO Viciedo 4-2
Hayato Sakamoto was on fire as the Dragons got dismantled in the later innings while the Giants bullpen stood firm.
It was Yomiuri who took an early lead through Casey McGehee as he scored Daisuke Nakai with an RBI single. The Dragons would however fight back and take the lead in the 3rd inning through an Atsushi Fujii double to make it 2-1 to the home team. It was to be the marauderign McGehee who would even things up again in the 6th while a Wakamatsu wild pitch gave the Giants the lead. It wasn't to end there as Shingo Ishikawa's single pushed the Giants to a 4-2 winning position. With Wakamatsu now withdrawn, the reins were handed to Daisuke Sobue to ride out the 7th inning, but the fireballing adonis couldn't stop Sakamoto and Abe from striking once more to blow out the lead to 6-2.
Masahiko Morifuku and Scott Mathieson threw down the final two innings for the Giants only giving up one hit between them to seal a thumping Giants victory.
The Giants seem to handle their bullpen better and let's face it, it probably is better than ours and Taguchi is probably a better starter than Wakamatsu at the moment. Outclassed to by Sakamoto and a clutch-hitting McGehee. What the Dragons wouldn't do for someone like McGehee at the moment who hits .476 with RISP as of the 19th of April.
Another loss, and very little to write home about.
Game 14
Giants 2 - 0 Dragons
WP: Kan Otake 6 2/3IP 0ER 3SO Nakai 4-2, Sakamoto 4-2, McGehee 4-2
LP: Kazuki Yoshimi 7IP 1ER 4SO Fujii 4-3
Kazuki Yoshimi needed to pitch a perfect game to keep the Dragons in this as it all came crashing down to a poor batting performance where only Atsushi Fujii actually did anything of note.
It wasn't until Yoshimi's 7th inning that the Giants finally took the lead as Abe's follow up to Sakamoto's double edged Yomiuri in front. A pitching change saw Iwase throw down a scoreless inning before Tajima gave up an RBI to Yoshiyuki Kamei following the damage done by Sakamoto and McGehee.
I think Yoshimi's expression on the bench said it all following Abe's ground out in at the bottom of the 7th to end the inning. We just can't buy a run when it counts.
A very sad end to a depressing series of results. It looks like things are going to get worse before they get better. Oshima seems to be the only bat regularly turning up, Kyoda at short, while valuable with the glove is starting to slip with the bat and Sugiyama even is not performing up to the standards he set last year when he had the highest OBP in the team. Production at second also seems to be a major issue, but hopefully Donoue and/or Kamezawa can platoon there and pull something out.
Chunichi's starters are also still without a win. It has been 48 years since a starting rotation has been without a win in 14 straight games from opening day. Seibu Lions in 1979 were the most recent with the Taiyo Whales (now Yokohama Baystars) did the same in 1969. Illustrious company. Mori was a rookie with the 1979 Lions hopefully he knows how to ride out a storm.
3 wins in 14 attempts isn't good reading but...there's always next year?