As of today, Rakuten Eagles 2-gun pitching coach, Tsuyoshi Yoda has been appointed manager of the Chunichi Dragons for next year.
Prepare or don't prepare, there is no gambaru.
New manager, Tsuyoshi Yoda to lead the Dragons in 2019.
Yoda has been repeatedly mentioned in reports in the competition for the next manager which has also seen former Seibu Lions and Chiba Lotte manager, Tsuomu Ito mentioned as a successor to Shigekzazu Mori. If you believe the papers there were only 3 options, Yoda, Ito or more Mori and it appears the ownership have decided a new face was needed.
When selecting their new man, one of the criteria put forward was someone that was a born and bred Dragon. This means, someone originally drafted by the Dragons who, I guess supposedly knows what it means to play baseball in Nagoya. Out of all the born and bred Dragons out there, Yoda probably struck no-one as an obvious choice. As a pitching coach, perhaps, but not as manager. Whatever the case, we now have Yoda (yes, just like the little green Jedi master) to lead the team on the basis he can supposedly rebuild the broken pitching ranks.
As a player, Yoda is probably best known for throwing the fastest ever pitch by a Japanese player (at the time) in 1990 as a rookie out of NTT in the industrial leagues, clocking 157 km/h on the gun which is still equal to the fastest pitch thrown by a Japanese born Chunichi player.
Born in Kyushu, Yoda captured the rookie of the year award after recording 31 saves to lead the Central League. Yoda unfortunately had his troubles with injury (as many hard throwing hurlers do) and apart from 23 saves in his 3rd year failed to register any mound appearances of note. He was released in 1997 and while he had stints at the Fighters and the Tigers, he ultimately fizzled out.
Yoda as a coach with the Eagles.
Between 2001 and 2015, Yoda appeared as a colour analyst on NHK as well as writing columns for Tokyo Chunichi Sports. He started coaching at club level with Thousand Leaves Ichihara in Chiba Prefecture and also had a stint as the pitching coach for the women's national team. He was the Samurai Japan pitching coach at the 2009 World Baseball Classic under Tatsunori Hara and contributed to Japan's 2nd consecutive victory. In 2012 he was once again brought in to the Samurai Japan fold to be pitching coach and in 2015 claimed he first NPB appointment as the 1st team pitching coach of the Tohoku Rakuten Golden Eagles. In the 2015 off-season he was linked with the managerial job at the Eagles but ultimately lost out to Masataka Nashida (whom was removed from his position this year). In 2018, Yoda was demoted to working with the Rakuten 2-gun pitchers and in October was told by the club he was no longer needed.
As for random information about Yoda, he is apparently well known for the breadth of his shoulders and was once questioned by Yu Darvish who has 10cm on Yoda in height "what's going on with your shoulders?" Apparently his shoulder breadth stands at 60cm which is a fair bit for a man of 182cm in height. Those broad shoulders hopefully can hold a lot of the burden of expectant Chunichi fans.
He's also rather famous for inciting a brawl with former Yokohama Baystars slugger, Glen Braggs. There had been an altercation between Dragons catcher Takeshi Nakamura and Whales infielder Yoshiyuki Shimizu in a previous game where revenge was struck through a body blow pitch where Yoda showed little remorse. This boiled over in a following game where Yoda plunked Braggs, barely lowered his head and the brawl broke out. He was ejected from the game along with Braggs as a result. (It's the second brawl in the below video)
He also apparently hates the words 頑張れ (do your best) and 努力 (try hard) and prefers the word 準備 (preparation).
Yoda was managed by Senichi Hoshino and Morimichi Takagi as a player and it was under Hoshino where he shone the brightest. It was also Hoshino that brought him to the team and most likely had a big say on him joining the Eagles backroom in 2015.
Yoda has a clean slate, whether for better or for worse. I'm not sure he's the right guy, but he may well do a decent job. Apparently many of the current Dragons players have no idea who he is so I'm sure they'll be furiously googling highlights and other information tonight.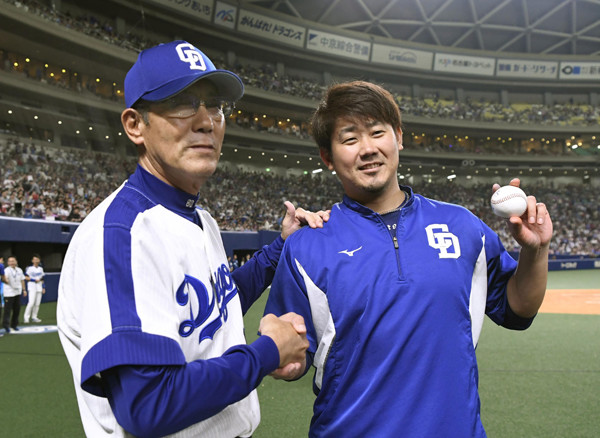 This then leads us to what happens to the rest of the backroom staff and most
importantly Mori himself. Mori has not done a poor job in his tenure. By all means, there is a lot to be applauded for what he has done for a team that is rebuilding and personally I think his removal is premature. The legacy that Mori leaves behind is actually a pretty impressive one when you break it down. The below is thanks to user
@Hirata_6_bot
. Under Mori's watch:
Ryosuke Hirata and Dayan Viciedo have come alive
Has recruited amazingly astutely with the captures of Garcia, Almonte and Rodriguez all of whom have been stars for the team.
Has harnessed the Matsuzaka effect bringing in more spectators to the stands.
Introduced a new batch of young pitchers in Kasahara, Fujishima, Ogasawara and Sato who have begun to find their feet at this level.
Position players are 2nd in the league in WAR
wRC+ is 2nd in the league
UZR tops the league
Least amount of errors in the NPB
Second lowest starter ERA in the league
Second highest QS percentage in the league
Considering all this, it's a bit...well..astounding that we are getting a new manager. The bullpen was awful this year, but had it been even a few ticks better, we would have made it to the Climax Series. Also, in addition to the above, the direction he has taken the team with his recruiting at the last two drafts has to be applauded. He took Yanagi and Kyoda with his top 2 picks in 2016, and then Suzuki and Ishikawa with his top 2 picks in 2017. There is a focus on youth and a focus on quality. There is a sense of direction. Under Ochiai as GM we went after odd picks like Ryosuke Nomura and filled up the farm with bang average mid-20 y/o talent from the industrial leagues. This is why I am very relieved to hear that Mori is heading into the scouting/recruiting department to perhaps become the next general manager. If Yoda is going to be the man on the ground I am very happy that Mori will be the man in the front office to drive the team. The team, if nothing else needs someone adept at identifying talent to drive the team forward and I think Mori has shown that he can be that man.
In terms of staff turn-over it is likely that Yoda may want to bring in some of his own staff perhaps. The team already need to search for a first team batting instructor as Masahiro Doi has confirmed he will be leaving the club at the end of the year. With Araki and Iwase also seemingly joining the backroom after their retirements, there may be a bit of a shuffle to come. Asao has also been mentioned for a backroom role as well. I personally hope that Yoda looks to bring in his old battery mate, Takeshi Nakamura who is the 2-gun battery coach with the Kia Tigers in Korea. He was with the top team and helped lead the team to their first league win in quite some time, but I think he'd be the kind of guy that would help out the team in it's current state. A turn back to perhaps some of the grit and agro that Senichi Hoshino brought to the team might be right formula for the Dragons moving forward.

Yoda's first real work will be attending the draft and pulling out a ticket if the Dragons go into a competition of Akira Neo.

For the time being, I'm skeptical but will approach Yoda's appointment with optimism and an opportunity to make mountainloads of Star Wars puns and perhaps some dank memes. If we can secure Akira Neo, I can add The Matrix puns to my repertoire.