As I've missed a fair chunk of reports and news reporting I thought I'd fill in those of you that aren't as glued to Chunichi news as some of us. Some of the major movements with the team and some other tidbits and impression.
* You might have noticed that
Dillon Gee
hasn't been on the team sheet of late. Unfortunately the Texan hurler elected to return home after discovering a blood clot that needed surgery. Whilst the team were happy to see him recover in Japan, Gee decided that the US was the best place to be. His recovery time seems uncertain and it's fairly unlikely we'll see him again this year. Gee has said on his Instagram that he "could possibly have time to go back." I wish him all the best in his recovery and hope that he does come back. In the mean time however, the Dragons have signed Cuban development player,
Raidel Martinez
to a first team contract to cover for the departed Gee. Martinez seems like he needs to get stretched out a bit more but he has a 1-1 record so far, but needs to tighten up. Ironically the game he won against the Carp was his least impressive performance.
* Southpaw reliever
Toshiya Okada
has finally made his comeback to the first team after suffering from an injury to his arm in the months following his participation in the World Baseball Classic last year. Given the lack of lefties in the bullpen who aren't name Iwase, this is great to see. Okada brings plenty of experience and skill to the bullpen. Welcome back.
* Who would have thunk it but the man in the spotlight,
Daisuke Matsuzaka
hasn't made a complete fool of himself. The former Red Sox pitcher has put together some very respectable statistics in his handful of starts. The Dragons have used Matsuzaka sparingly, giving him one start every 10 games or so, but he has so far done pretty well. A 2-3 record with 26.1 IP and 20 punch outs for a 3.08 ERA is pretty good for a 37 year old who throws a good 10 km/h slower than he did in his prime. Whether the aura of the man who's name represents a generation of players is throwing people off is one thing, but I'm pleasantly surprised by the results. Just don't look at his WHIP. They amount of walks and hits he has doled out is borderline crazy. Matsuzaka's WHIP stands at 1.367 for this season. Ouch.
* Rookie hurler
Hiroshi Suzuki
has been pretty good too. Suzuki has found himself as a very reliable set-up man. Constantly picking up strikeouts and very rarely leaving too many runners on base, Suzuki has had a shining start to his career. A few small blips are here and there, but overall he might well have almost done enough for an All Star call-up if he keeps up his current production. Hopefully he'll take over from Tajima as closer soon, but given that Tajima hasn't been
too
awful, I doubt that'll happen any day soon.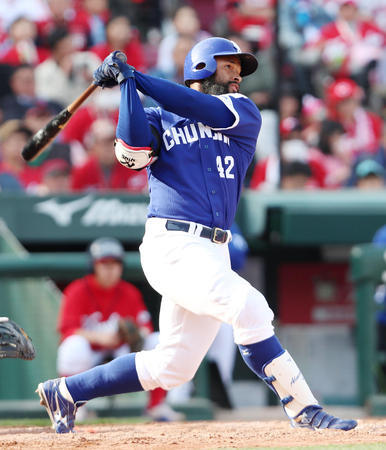 *
Zoilo Almonte
has been real good. His presence has also added +10 to
Chunichi's facial hair department. The Dominican leads the league in average with .363, doubles with 19, is second in hits, second in OPS with 1.037, 3rd in RBI's with 34 and 6th in homeruns with 8. I think we found ourselves a worthy successor to Guerrero and Nanita in left field. Almonte has been a revelation and one can only hope he'll continue his great level of production for as long as possible. His right-left splits as a switch-hitter a both pretty great with the majority of his PAs batting left-handed to righty pitchers. He also has a .475 average with RISP so all I can say is, I love you Zoilo.
* Lastly,
Onelki Garcia
leads the league in ERA at 1.69. The former Dodgers farmhand has been much better than expected seemingly holding on and doing a fantastic job as a starter. So far in two games against the Giants he has only let in one run in 15 innings. Garcia pitched his first career shutout taking 5 strikeouts to calm a 40,000 strong crowd at the Tokyo dome on the 12th of May. Exceeding all expectations, Garcia has been a great little addition to the starting rotation adding a reliable lefty.