Today's post will be the beginning of my new condensed series so I can keep updating you without it taking huge chunks of time out of my life. Let me know if there's something missing that you'd like to see added. Comment on this page or tweet at me @chunichisoul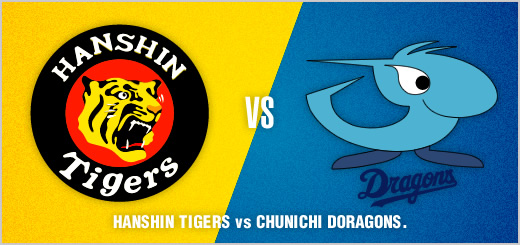 Alright Dragons fans, it's time for a recap of the Golden Week series against the Hanshin Tigers at the Nagoya dome! The Golden Week is a series of public holidays conveniently linked together to give people a bit of time off in May. The games against Hanshin were perfectly lined up with the week which meant earlier play times for all/most to enjoy.
Game 30
of the season was a doozy. Would the Dragons continue their good run against the Tigers or would it all come undone with the loss of Shuhei Takahashi?
In the first inning a wild pitch from Jordan allowed Yamato to reach home to open up the score for Hanshin, 0-1. However, the Dragons would reply immediately as Hirata leveled up the scores with a single to send Ohshima home to make it 1-1. Tetsuya Tani then squared one up to hit right as he sent Hirata home to take the lead, 2-1. Haraguchi would level things up with a sac fly in the 4th, but a solo homer from Katsura in the 5th inning combined with a double from Ohshima in the 7th would give the Dragons an opening win to the series, 4-2.
That would be the end of the scoring and the game as the Dragons closed out as 4-2 winners. A second win and another tidy performance from Jordan Norberto who keeps showing great poise as a starter striking out 6 in his 7 innings. Shinji Tajima grabbed a hold and Koji Fukutani claimed another save. Questions will be asked of Shintaro Fujinami's performance however as he probably should be doing better.
Game 31
would see another sporadic appearance from elusive starter Kazuki Yoshimi. The Dragons starting rotation has been anything but concrete since the start of the season but the reg – dereg cycle that Yoshimi is stuck in is a bit dizzying. Tetsuya Tani started at third base again following Shuhei's injury and the Tigers fronted up Yuya Yokoyama to start things off. Neither pitcher had a win leading into this game it was to be a race to see who would get things going.
Yoshimi in for Jordan would be the only change ahead of this game.
The Tigers would get things underway in the 4th inning as Central League RBI leader Mauro Gomez's single gave the Tigers a 0-1 lead. Yutaro Itayama added another to the score as he put Fukudome home. Haraguchi would rub more than a fair share of salt into the wounds as with Itayama and Gomez on base, Yoshimi's pitch was abruptly dispatched into the bleachers for a 3-run homer, his first as a pro; 0-5 on the scoreboard.
The flurry continued In the 5th as Gomez was at it again getting two RBIs this time to make things 0-7. Not good reading for Dragons fans! Yoshimi was rightfully withdrawn following his poor showing for Ryuya Ogawa. Another pitcher change however would inspire more scoring as Hiroto Fuku gave up RBIs to Hojoh and Haraguchi to put the game beyond all doubt at 9-0. Haraguchi was at his best while Yoshimi was at his worst in a poor, one sided loss to the Tigers.
The Dragons only managed 3 hits in this game (Araki with two of them) and looked absolutely dire at times with the bat. Credit to the Tigers pitchers for doing the job (17 hits!) as they completely destroyed us on the day. It was Yoshimi's first loss in 2 years (a lot of it has been out injured) and 6 years since conceding 5 runs in a single inning in what was an uncharacteristic performance from a man that has notched 20 win seasons.
The game was also marked by a second consecutive no-hitter from Dayan Viciedo, but the big man wasn't in the worrying mood following the game as he is happy with how he's swinging.
Game 32
was to be another one not to write home about for the Dragons as the batting line-up once again failed to launch.
Hernandez was promoted for the error-prone Masahiko Morino and Yoshimi was also de-regged from the team to end the changes to the squad.
Ryosuke Oguma and Randy Messenger would start on the mound for their respective teams but it was the former who would be ruled out early on as he went down with injury. Haraguchi returned a pitch right at Oguma and struck him on the right forearm. Looks like it stings.
The most positive highlight for the Dragons would come early, as Nanita pulled of a worldy to keep Hanshin out of the game.
Hanshin wouldn't really do much better with the bat today but they did it when it mattered in the 7th inning when Daisuke Yamai was put into the stands by a Yamato home solo homer to put the scores at 1-0 where the game would end.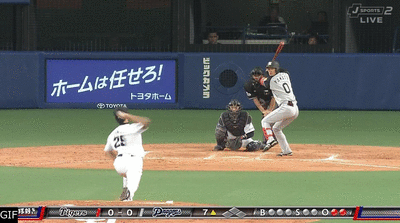 The only real positive to come out of the game today was that Nanita continues his fantastic form with the bat as he got another safe hit away. Yamai's 4th loss already this season does for damning reading and Oguma's injury adds to an increasingly long list of players with niggles and pains.
It wasn't to be a very golden week for Dragons fans, but the Tigers did deserved to win the last two games. One win was all we could come away with and it left the Dragons on an even .500 winning percentage safely sitting in 4th place.
In other news Yudai Ohno is back in training following his elbow discomfort with the hope of making a comeback this month. With Oguma now out as well and Yoshimi still being used sparingly, the starting stocks are looking a little bare as the Dragons look for someone with a reliable arm.